The Viking Times Tasters, Installation Two: La Siesta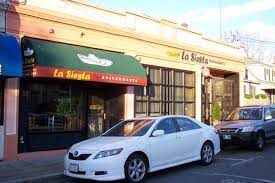 This week, us, along with Jenessa Wadkins and Ben Prew went out to try a true Winthrop establishment, La Siesta. La Siesta's Winthrop location is at 70 Woodside Ave. There is a bar, as well as sit-down space to eat. Right as you walk in, you are greeted by the relaxing dim yellow lights, and are quickly seated. A waiter will come to serve you chips as you make your drink orders, and if you are lucky enough as we were, someone will come around with a guitar, singing to you in Spanish. 
Appetizer

For an appetizer, we all shared chicken nachos. They were very, very good. Despite being covered in melted cheese, guacamole, sour cream, pico de gallo and cilantro the chips remained crispy. You could dip them in the generous scoops of guacamole and sour cream on top, while also getting pico de gallo for a true Mexican flare. 
Entrees 
Zoe: Chicken Fingers and French Fries
I once took on the role of the "picky eater", and definitely was not let down. These chicken fingers had a very nice, crispy breading, and the chicken inside was cooked perfectly. I'm not a huge fan of condiments on my chicken, but they did not need anything extra anyways.They had tons of flavor and we very much enjoyed it. The fries were crispy and salted to perfection, and stayed crispy till the end of the meal. Both compliment each other well, and I can 100% say that any picky eater would be totally comfortable and satisfied at this restaurant! 
Jenessa: Chicken Quesadilla
I always pick this classic at La Siesta. The chicken, as per usual, was grilled and seasoned perfectly. The cheese was delicious – and continued to melt on your tongue. The side of rice was also very good, and as always, adequately seasoned for a balance of spice with the creaminess of the melted cheese in the quesadilla. 
Christian: Chimichanga Burrito
This dish was incredible. The deep fry of the burrito contrasted with the soft inner shell, offering a delicious crunch yet chewy bite. The textures blended perfectly with each other, and made each bite enjoyable. The rice did not overpower the meat at all, all the flavors coexisted perfectly, and the sour cream was very sweet and savory! 
Ben: Steak Fajitas
First off, the presentation of this dish was excellent. The steak was cooked to perfection, with just the right combination of medium rare and char. The complement of rice pico de gallo in combination with the rice and beans was amazing. All the flavors and textures worked together perfectly. Overall, the meal was delicious. 
Dessert
Christian: Fried Ice Cream
La Siesta is one of the only places I order dessert at. I really do wonder how they fry ice cream, but nonetheless, it is amazing. There is a ball of vanilla ice cream, breaded, and fried. It is served over a tortilla-esque bed, drizzled in chocolate syrup, dolloped with whipped cream, and garnished with a maraschino cherry. If you're at La Siesta, the fried ice cream is ESSENTIAL to finish out your meal with. 
Zoe, Jenessa, Ben: Churros
These churros were absolutely incredible. The crunch of them was perfect, and they paired very well with the ice cream, which was also very tasty just by itself. 
La Siesta is hands-down a 5 star restaurant, and a must try. The staff are extremely friendly, and the ambiance is warm and welcoming. A 10/10 from us!