Queen's A Night at the Opera: Album Review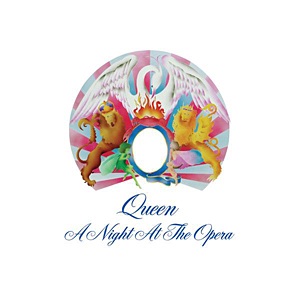 While having massive chart successes with a mix of pop and disco-infused singles, Queen always pictured themselves as an authentic rock band. Freddie Mercury (lead vocals, piano), Roger Taylor (vocals, drums), John Deacon (bass guitar), and Brian May (lead guitar, vocals) had the ingenuity and ideas to move beyond what people previously heard from other famous bands at the time. The list included Hawkind (1969), 10cc (1972), and Led Zeppelin (1968). 
In 1975, A Night at the Opera (ANATO) was the fourth studio album released by Queen. The whole album is a whimsical mix of pop, heavy rock, and even music hall. Queen had seen themselves as old school rockers with the release of this album. Shortly after it's release, it peaked at number four on the Billboard charts and soon became their first platinum-certified album in the US. This was after the widespread criticism the band received. It was also reportedly the most expensive album ever recorded at the time of its release. 
The album has an intricate cover designed by Freddie Mercury who previously went to art school. The cover also has bright colors with animals surrounding it to represent each band member's zodiac sign. Also, the tracking list includes 12 songs that each member took part in writing, tying it together as a whole. 
The album opens up with Freddie Mercury's mad song Death On Two Legs – It is a noisy and sparking piece that attacks the band's former manager for mistreating them. Then, we stroll over to a breezy and lively song Lazing on a Sunday Afternoon  written by Mercury as well. Also, we have Roger Taylor's song I'm in Love with My Car  which is a hard-rocking number dedicated to one of their roadies obsessions with their Triumph sports car. Meanwhile, the touching and heartfelt song You're My Best Friend  was written by John Deacon. It was an ode to his wife, Veronica. Following that, we have '39 written by guitarist Brian May. The song tells the story of an astronaut who travels to a distant place at near the speed of light. Sweet Lady  is a high tempo, soaked hard rock number also written by Brian May, and a personal favorite of mine. Then, we head to Freddie's whimsy song  Seaside Rendezvous  which was recorded with the help of drummer Roger Taylor. Brian May's The Prophet's Song  is Queen's longest recording, reaching 8 minutes. It sports interesting sounds for the band. Love of My Life  written by Freddie for his girlfriend at the time, Mary Austin, went on to be a popular singalong at Queen concerts with its playful and upbeat tune. Following that, we have Good Company  written by Brian May that channels a bit of Dixieland and guitar playing. Freddie's composition Bohemian Rhapsody  included hard rock, classic rock, and an operatic section. This became one of the band's most popular and heaviest songs. Closing off this album, we have Queen's version of the English national anthem God Save The Queen  which ties everything together.
While this album contains some of their most popular songs, critics didn't take this too well. Some believed that this was Queen's finest collection of songs and put them at the top of one of the best rock bands of all time. Others considered this album to be messy and all over the place, not liking the new sound the band was portraying. As Critics faced issues with this album, so did the band. They fought over who got to keep their songs on the album and who got to keep the majority of the royalties. Queen faced a ton of issues with this release, and it did poorly on the charts for a handful of weeks. Something that isn't discussed among Queen's fans is that this album put the group on the right track of where they wanted to be headed. 
 A decade later, Queen put on their best performance of all time in 1986, Live Aid. That day, they made themselves megastars as they played their most famous songs, including Bohemian Rhapsody. Their record sales were now estimated at 300 million. A Night at the Opera sold over 6 million copies, and that was the start of their powerful yet unusual concept album that is packed with catchy tunes that displayed their hard work as musicians who impacted people of all ages.