Hurricane Iota's intense winds and rainfall have caused flooding and evacuations in Nicaragua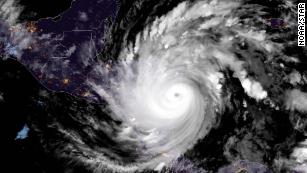 Hurricane Iota has caused quite the damage in Nicaragua and Honduras, along with other Central American countries. The Category 4 storm brought intense winds and rainfall, resulting in floods and power outages. Thousands have evacuated from low-lying areas. Hurricane Iota is the strongest Atlantic hurricane of the year, with the 2020 hurricane season said to be the busiest Atlantic hurricane season ever recorded.
According to APNews, Iota had reached intense winds and rain, prompting it to become a Category 5 storm. However by the time it reached the coasts of Nicaragua, Iota weakened to a Category 4 hurricane. Even though its intensity lowered, Iota still caused havoc in Central American and Caribbean countries. Winds as strong as 155 mph plummeted close to the city of Puerto Cabezas in Nicaragua, only a little over two weeks after Category 4 Hurricane Eta made landfall there.
People have already been forced to evacuate due to Hurricane Eta which only hit a few weeks earlier, so with the added damage Iota is forecasted to bring, thousands of people could be homeless. Flooding has caused significant damage to buildings and houses near coasts and hundreds of thousands of people have moved to shelters according to BBC news. Intense winds have also contributed to damage, spreading debris and wreckage.
Those who have managed to escape the deadly winds and rainfall fear for their home. Some people had begun to repair the damages by Hurricane Eta sustained on their homes and communities, when Hurricane Iota hit, and undid any fixes. Houses close to the regions projected to get hit the worst were abandoned, but fears of flooding ruining homes remains prominent in evacuees minds. Safety is also a concern, as people have drowned and gone missing amongst the debris, floods, and winds.
The central pressure of Iota is stronger than Hurricane Katrina according to APNews. Hurricane Eta had killed approximately 200 people, and Hurricane Iota has already resulted in the deaths of 30 people, but that number is still rising. Due to the fact that many of the regions affected by both hurricanes have lost electricity, the total damage and destruction is difficult to measure.