Trends From Different Decades That Made A Reappearance in 2020
Source: weebly.com
With 2021 slowly approaching, we're all ready to say goodbye to 2020. It has been a long and difficult year for many people all over the world. However, we've had some positive moments in all this chaos. One of them being that we got to see some of the most popular trends from the 60s, 70s, and 80s come back.
  A lot of these trends have impacted society and influenced multiple people and celebrities of all ages. It truly shows how modernized trends have become. Would you try any of these? Down below were some of the most popular trends of 2020.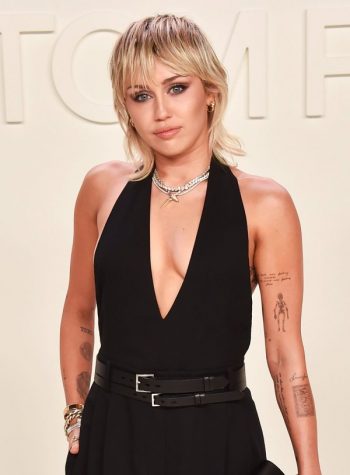 Mullets
In 1980, mullets were in their prime time. The short-long hairstyle has a proud history among many leaders and celebrities. David Bowie, Roger Taylor, and Paul Mccartney were just a handful of the celebs that sported the mullet. However, after singer Miley Cyrus came out with her music video Midnight Sky she appears to be styling a mullet, and fans went crazy. I believe she pulls it off very well and more people should dare themselves to get a hairstyle such as a mullet. 
60s Makeup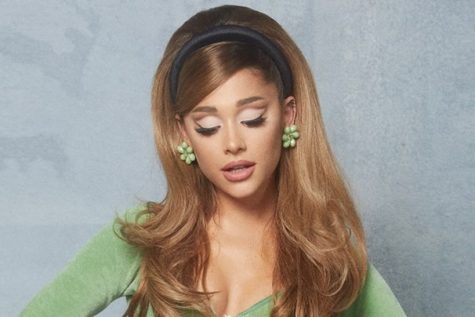 The start of the 1960s saw a similar continuation of 1950s makeup. The makeup involved a flicked upper eyeliner, matte eyeshadow (mainly greens, blues, and greys) on the upper eyelid. Then, very soft blush and lipstick ranging from browns, reds, and corals. Some popular celebrities that heavily influenced that look in 1960 were models Twiggy and Jean Shrimpton. In October 2020, the 27-year-old pop singer Ariana Grande took to her Instagram to show off photos from her new album Positions where she displayed her 60s inspired hair and makeup on the cover, making her fans influenced to try the makeup style on themselves.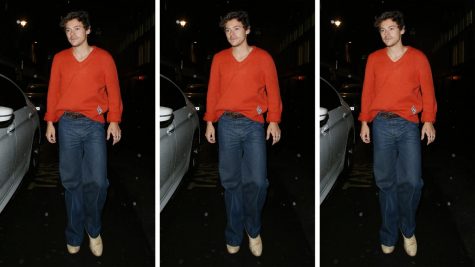 Bell Bottoms 
In the 1970s, Sonny and Cher helped popularize the iconic bell bottoms once they came back into mainstream fashion. The pants are typically flared down from the knee with a bottom leg opening. Singer Harry Styles was seen sporting bell-bottoms, paired with a tucked red v-neck sweater. While these pants are such a loud statement because of their direct connection to the 1970s, it displays that denim can be timeless and versatile for anybody. These pants look like they're worth trying, especially if you're going for a vintage style.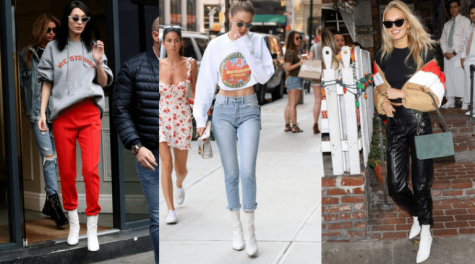 Go-Go Boots
Go-Go boots were the staple of 1960/1970 fashion trends. The square-toed boots with block heels were very popular. Multiple variations including kitten-heeled versions and colors other than white were also popularized. Models Gigi Hadid, Bella Hadid were seen wearing different variations of the iconic boots along with actress Margot Robbie. They're a simple accessory that would match with most outfits.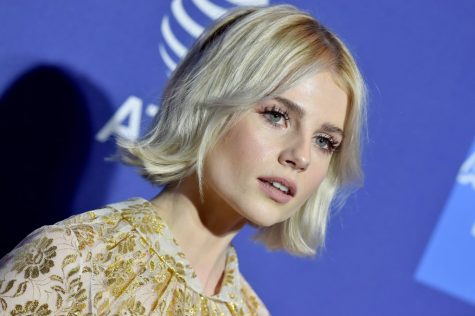 Fringe Bangs 
 The most stylish era for these fringe bangs was in the late 60s and early 70s. This was after french models like Brigitte Bardot, Jane Birkin, and Françoise Hardy sported the fringe haircut into mainstream fashion to become popular again. Actress and model Lucy Boynton appeared at the Palm Springs International Film Festival back in January styling the bangs. The bangs help open your face more, while also framing your face. They're easy to style and very popular among teenagers all over America. 
Have you tried any of these trends? And if you did, would you recommend them to others? I truly believe that bringing old trends inspire people to go out of their comfort zone and try new things to test what they like. It's intriguing to see how modernized most clothing, makeup, and hairstyles have become in these recent decades. Let's see what old trends will come back in 2021!