Opinion: Most iconic moments from President Joe Biden and Vice President Kamala Harris' inauguration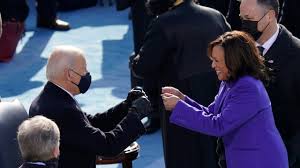 The Inauguration of Joe Biden and Kamala Harris has proven to be one of the most historic moments of the year, so far. President Joe Biden and Vice President Kamala Harris were sworn in just a few days ago and have already hit the ground running. Their inauguration ceremony was something to remember. 
While Vice President Mike Pence was present at the inauguration, the former president was nowhere to be seen. According to NPR, this was "the first time in 150 years" that a president had not attended an inauguration. Trump held his own farewell ceremony. As he left the White House, Trump told reporters, "so have a good life. Thank you," before leaving for his last ride aboard Air Force One to Florida. 
One tradition that has been kept up is for the past president to write a note to the incoming president. This started in 1989 when Ronald Reagan wrote to George H.W. Bush. Trump received a note from Obama in 2017 that stated, "Regardless of the push and pull of daily politics, it's up to us to leave those instruments of our democracy at least as strong as we found them." 
So what has Trump written to Biden? It was confirmed by former White House spokesperson Judd Deere that Trump left a note for President Biden. "It's a letter between 45 and 46," Deere said, according to USA TODAY. When asked about the note, Biden had said that it was "very generous" and had also explained that, "because it was private, I won't talk about it until I talk to him." 
Some of the most memorable moments included iconic performances. J Lo sang "This Land is Your Land" and "America the Beautiful." But, the most surprising part was when she belted out her own song, "Let's Get Loud!"  Twitter and all of social media were in shock. 
Another influential moment was the reading by poet Amanda Gorman. Gorman had read her own poem from "The Hill We Climb," and had become the youngest poet ever to read at the Inauguration, at just 22 years of age. She started her poem with an important line, "When day comes, we ask ourselves where can we find light in this never-ending shade?" She goes on to describe herself as living in a country where "a skinny Black girl descended from slaves and raised by a single mother can dream of becoming president, only to find herself reciting for one." Gorman calls on us to "put our differences aside" and "close the divide that stands between us." My favorite part was when she referenced a biblical verse also referenced in Hamilton, "scripture tells us to envision that everyone shall sit under their own vine and fig tree and no one shall make them afraid." Gorman touches on the recent attack on the Capitol and emphasizes that while "democracy can be periodically delayed, it can never be permanently defeated."
For her performance, Gorman received a gift from Oprah Winfrey, which were earrings and a ring. What's the significance there? Well, back in 1993, when American poet, civil rights activist, and memoirist Maya Angelou had been the poet for Bill Clinton's inauguration, she wore  a Chanel coat and a pair of gloves gifted to her by Oprah. When Winfrey had heard that Gorman would be the poet for this inauguration, she reached out to her. 
"She was like, 'I'm so excited that you're doing the poem,' and she's been really supportive because she knew how nervous I was about going. She said, 'I bought the coat and gloves that Maya Angelou wore when she recited her inaugural poem. I'd love to continue the tradition with you and bring something to your outfit,'" Gorman recounted in an interview with Vogue. 
Gorman received a pair of earrings and a ring in the shape of a caged bird, in honor of Maya Angelou's book I Know Why the Caged Bird Sings. Winfrey posted about Gorman's performance, "I have never been prouder to see another young woman rise! Brava Brava @amandascgorman! Maya Angelou is cheering–so am I."
What seemed to catch everyone's eyes was the fashion. Vice President Harris, Former First Lady Michelle Obama, and First Lady Dr. Jill Biden, all wore monochromatic outfits selected from small, BIPOC-owned brands. Dr. Jill Biden wore a blue Markarian suit. Both Vice President Harris and former Secretary of State Hilary Clinton wore all purple, which played a significant role in Inauguration Day. According to The Hill, "the shade, a mix of the political party colors, red and blue is said to evoke a sense of solidarity, bipartisanship, and unity." But there were also other possible meanings behind the color. Shirley Chisholm, the first black woman to run for president in the 1972 U.S. presidential election, wore all purple when she announced her intention to run for POTUS. 
Naomi Biden and Jennifer Lopez arrived in all white, a likely nod to suffragettes. Meanwhile, President Biden's granddaughter, Finnegan Biden, wore all beige and her cousin, Natalie Biden, wore all pink with a coordinating mask and beige boots. Maisy Biden rocked an all black suit with those Nike Diors.
My favorite look was Michelle Obama's all plum ensemble. She stunned everyone in her head-to-toe monochromatic burgundy plum suit by LA-based Sergio Hudson, whose designs she has worn many times. "Michelle Obama is constantly killing the fashion game. No First Lady has done it or will do it like her. Period!" said one Twitter user. "The King and Queen arrived. Michelle and Barack Obama," tweeted another. It was an outfit for the books.
Lady Gaga's outfit included a bright pink skirt and enormous dove pin, which led many to think that this was a tribute to the Hunger Games. She pointed out that the day's themes were unity and peace, so the dove holding the olive branch seemed fitting. She gave a wonderful performance, as she sang the National Anthem.
Not to be outdone, Senator Bernie Sanders was dressed for the event as well. The hilarious memes about Senator Bernie Sanders and his comfortable wear are still trending. He broke his silence when he was on the Seth Meyers show. When Meyers asked Senator Sanders if he had known what had been going on he responded with "Not at all… I was just sitting there trying to keep warm." He shouted out Vermont teacher, Jen Ellis, who had apparently given him the now famous pair of mittens. 
Leave a Comment
About the Contributor
Mira Ivanis
Hi, my name is Mira Ivanis and I am a junior at the WHS! This is my third year in the Newspaper Club. I am also part of Model UN, Debate, and Yearbook;...