Madrid Experiences Heaviest Snowfall Since 1971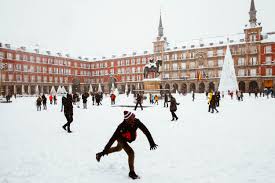 Madrid has experienced their heaviest snowfall in 50 years between January 8th and 9th. Storm Filomena hit central and southern Spain causing at least three deaths and over a foot and a half of snow to cover the capital. Authorities needed to implement the highest level of weather warning in Madrid, according to the New York Times, as a result of the sudden and overwhelming snowfall.
According to the Spanish national weather agency, this has been the most snow the city has been covered in since 1971. Storm Filomena was much worse than predicted according to the Spanish transport minister, José Luis Ábalos. At least three deaths have been caused by the heavy snowfall: one man froze to death and two people were found in a car that was swept away by floods. The Madrid-Barajas Adolfo Suárez Airport was forced to close, and over 12,500 miles of roads were closed or disrupted according to the New York Times.
On Friday, Madrid went under red alert, which is the highest level of weather warning. Soldiers were needed to help clear the snow from the streets, and approximately 3,500 tons of salt is said to be heading Madrid's way to allow for better transportation on roads and sidewalks. Schools and universities were closed until the 13th. Many commuters were even trapped in their vehicles overnight.
Not only has Madrid experienced heavy snowfall, but also very low temperatures, with temperatures reaching 12º F on Monday. This large amount of snow paired with the low temperatures is abnormal for Madrid winters, and is a clear sign of the impacts of climate change. According to Condé Nast Traveler, 2020 was Europe's hottest year ever. This is causing worry for scientists as this freak snow storm occurring within months of the hottest year in Europe is drastic. These extreme changes are yet another example of the ongoing climate crisis, that are only expected to worsen.