Marjory Stoneman Douglas Valentines Shooting Anniversary: What We've Learned Since Then
February 14, 2021, will mark the third anniversary of the tragic shooting at Marjory Stoneman Douglas High School in Parkland, Florida that killed 17 students and staff, and injured 17 other individuals.
Many MSDHS students regarded that Wednesday morning as being extraordinarily average. As always, they began the school day with a daily affirmation blaring from the loudspeaker. That day's words for thought came from American author, Louis Hay, who once said: "Life supports me in every way possible"- an interesting sentiment that almost seems to say that there is a power within all of us that supports our every worldly ambition. It is things like this that lead many of us to wonder how a school that always encouraged students to be positive and passionate could so quickly be brought to ruins by one of the most deadly mass shootings in modern history. More importantly, many are questioning what has changed since the event, are schools safer? What reforms have been made? What's happening with gun control? How do we move on from something so tragic? The endless supply of these kinds of questions is solemnly deafening and firmly grounds the argument that more work and change still need to take place in the aftermath of this fateful day.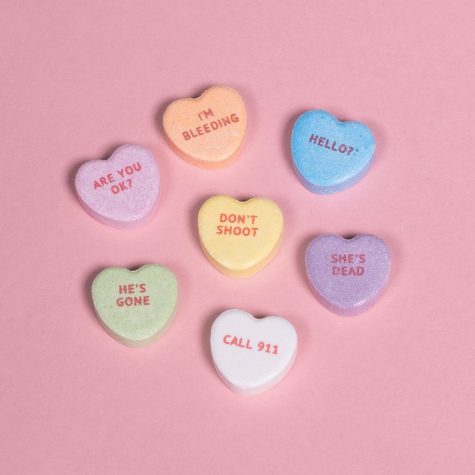 School shootings used to not be as common as they are today. Before this event, the worst incidents had been that of Columbine High School in 1999, and Virginia Tech in 2007 where around 15-35 innocent students and staff had been unjustly murdered at the hands of a gunman. Other students today probably most notably remember the Sandy Hook Massacre that occurred in Watertown Connecticut back in 2012, where most of the victims ranged from ages five to eight. Many have speculated what could be leading to such a spike in violence amongst school children, and there are of course many causes behind the act. 
A lot of it has to do with psychology, as many psychologists today theorize that this increase in gun violence has a lot to do with marginalization and bullying within schools that is plaguing the underdeveloped and impressionable minds of students everywhere. In most cases, many districts also rarely provide access to mental health services, such as school counselors, that could help those struggling. People predict that this could lead to the potential deterring of violence. Though these things are very well true, some argue that the greatest reason for this spike in gun-related deaths has a lot to do with access to  firearms. In 2018 alone, the National Rifle Association made over 400 million dollars from their sale of guns. In effect, many gun-control activists and students have pointed
out how much easier it has become to obtain large firearms, including AR-15s, with some stores like Walmart selling them alongside groceries in certain parts of the U.S.
It seems the greatest problem resides in how easy it is to obtain not just simple handguns, but large industrial firearms that have the potential to be especially dangerous with little to no light background checks.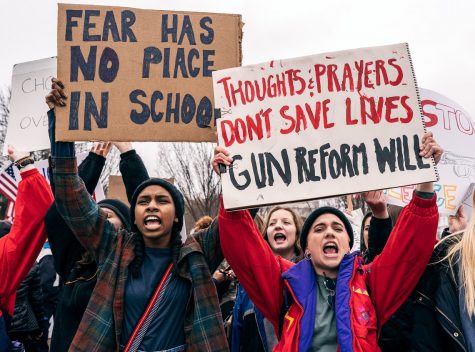 Since then, the question of safe schools are has been a focal point in the discussion of gun control. More schools have certainly implemented active shooter training, but many were displeased as some districts encouraged teachers to arm themselves with basic classroom supplies or even rocks in the event a shooting should occur. Some states have made strict background check regulations to own a gun, and other schools have begun championing the use of clear backpacks and metal detectors, leading some to believe that legislators are trying to lessen the impact of school shootings rather than prevent them much at all.
Though treatment can be just as affective as prevention, expecting students and teachers to enter a building where they have to risk their lives with only school supplies, and perhaps rocks, to protect themselves is horrid. When pupils and staff alike walk into an average day of learning, they are no longer solely focusing on just becoming more knowledgeable, but also becoming school shooting defensemen as new hiding, defense, and medical aid tactics (such as bleeding control training) are being mandated. I find a great deal of sadness in seeing an environment that was meant to be dedicated to sharing and expanding knowledge now cracking under preventable violence stemming from lack of mental health services and necessary gun control. 
Right before the last bell rang on February 14, 2018, a student gunman opened fire into classrooms filled with his peers, killing 17 of them; Alyssa Alhadeff, 14, Scott Beigel, 35, Martin Duque, 14, Nicholas Dworet, 17, Aaron Feis, 37, Jaime Guttenberg, 14, Chris Hixon, 49, Luke Hoyer, 15, Cara Loughran, 14, Gina Montalto, 14, Joaquin Oliver, 17, Alaina Petty, 14, Meadow Pollack, 18, Helena Ramsay, 17, Alex Schachter, 14, Carmen Schentrup, 16, Peter Wang, 15. These 17 students and teachers walked into a building created for them to learn and expand their knowledge, and at the end, 17 sets of families were left mourning their loss instead. It is incredibly disheartening to know that schools have turned into the sites of massacres when its attendees are only trying to receive something as simple as education. People are no longer inclined to hearing politician's thoughts and prayers on the matter. Reflecting on these incidents without change is pointless, and each time we as a nation have to mourn the loss of more students and teachers to preventable violence it stands as an empty promise to those everywhere that some care more about owning a gun and making money than human lives. Surely Parkland's shooter was mentally distressed and had a bad upbringing, but as activist and survivor Emma Gonzalez points out, "he wouldn't have harmed as many people with a knife" further highlighting how a lack of gun control is the largest factor concerning these shootings. As the nation approaches the third year mark of this tragedy, it is important to know that students want more than a day of remembrance, they want a lifetime of change.
*This opinion article reflects the voice of the writer and does not necessarily represent the views of The Viking Times as a whole.  Like most news outlets, The Viking Times is a non-partisan media platform.**