Covid-19 vaccines to be distributed at the 'Happiest Place on Earth'
As of now, the United States does not have the most efficient strategy when it comes to distributing the COVID-19 vaccine out to the public. According to a graph depicting COVID-19 vaccine doses that have been distributed per 100 people per country (this does not mean the total of people vaccinated) in the Our World In Data website, the United States is considered to be the forth country with the most vaccines administered. However, the United States only has an average of 0.5 doses per 100 people daily (as of January 31st, 2021) despite the country having the most COVID-19 cases.Even though the United States had projected that around 20 million people were to be vaccinated by December of 2020, only less than 24% of that goal were vaccinated. It is even pointed out that the country might be repeating the same mistakes as when they were distributing COVID-19 tests.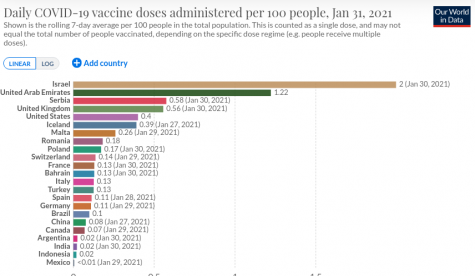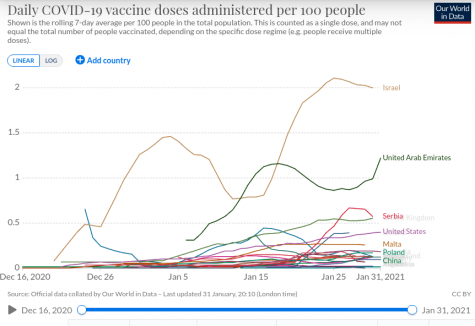 Linear graphs (below is the line graph while above is a histogram) of daily vaccine distribution rates among several countries, with Israel as the lead distributor. Measured as from January 31st, 2021 and updated daily. Photo courtesy of Our World In Data. 
By mid January, Disneyland California announced that they were organizing a Covid-19 vaccination program in their parks. Their program sets out to be the largest vaccination site in all of Orange County, which is essential for Californian vaccination distribution. California is one of the states with the lowest vaccination rates per 100,000 residents, according to the Centers for Disease Control. 
A few vaccination sites have already been established and they are what Orange County calls a "Point-Of-Dispensing site". These Point-Of-Dispensing (POD) sites in Disneyland will be able to vaccinate around a thousand people per day, which will surely make a good percentage of California's vaccination rate and if not at least Orange County's. The vaccination sites are already functioning as a part of Disneyland's establishment. 
Other establishments have also begun distributing Covid-19 vaccines. Petco Park, in San-Diego, had begun distributing around the first week of January and by today have already surpassed 100,000 vaccinations. Fenway Park announced their vaccination site program would start on February 1st and be managed by CIC Health, a tech-health company in Cambridge, Massachusetts. Gillette Stadium also announced that they would be distributing vaccinations on January 18th. These companies will only help the United States increase their vaccination distribution, and hopefully be able to push, if not surpass, the country towards our goal of 20 million people being vaccinated.
Sources
"California's Disneyland to Become Covid Vaccination Site." BBC News, BBC, 12 Jan. 2021, www.bbc.com/news/world-us-canada-55636323. 
Cota-Robles, Marc. "Disneyland to Host Orange County's First Massive Vaccination Site." ABC7 Los Angeles, KABC-TV, 12 Jan. 2021, abc7.com/disneyland-disney-resort-anaheim-vaccination-site-orange-county-pod/9575035/. 
Lopez, German. "America's Messy Covid-19 Vaccine Rollout, Explained." Vox, Vox, 6 Jan. 2021, www.vox.com/future-perfect/22213208/covid-19-vaccine-rollout-coronavirus-distribution. 
Ritchie, Research and data: Hannah. "Coronavirus (COVID-19) Vaccinations – Statistics and Research." Our World in Data, ourworldindata.org/covid-vaccinations. 
Service, City News. "Petco Park 'Super Station' Surpasses 100K COVID-19 Vaccinations." FOX 5 San Diego, FOX 5 San Diego, 5 Feb. 2021, fox5sandiego.com/news/coronavirus/county-reports-1-6k-new-covid-19-infections-55-more-deaths/. 
Westerholm, Tom. "Here's a Look at Fenway Park Converted into a COVID-19 Vaccination Site." Boston.com, The Boston Globe, 28 Jan. 2021, www.boston.com/sports/coronavirus/2021/01/28/fenway-park-covid-19-vaccination-site-pictures.