OPINION: The Issue With "Shadowbanning" On TikTok
In June of 2020, the hashtags #BlackLivesMatter and #BLM were trending on multiple social media platforms. Some included Instagram, Facebook, Twitter, and Tiktok. These hashtags were to spread awareness on protests, information on how to stay educated, and some on even how to get justice for innocent black men and women who were victims of police brutality.
In these hashtags going around in June, the popular video app TikTok was facing a backlash. TikTok is an app where you can take videos of you dancing, cooking, doing art, showing tutorials, and even making funny videos. It's heavily popular among the younger generation. However, millions of creators on the app started making videos about the BLM protests, the death of George Floyd, supporting small black owned businesses, and even making art in honor of the black men and women who suffered from police brutality. Though, Tiktok began to shadowban these specific videos, even when multiple people have called the app out.
Now, what exactly is shadowbanning and why is it a problem? Shadowbanning is the removal of content without warning. This means your photo/video will not show up on the algorithm, receive likes/shares/comments, and won't even show up on the hashtags you added in the caption. Here is where the issue comes to play. Back in June, TikTok came out with a statement, apologizing to members of its Black community who have felt unsafe, unsupported, and suppressed while using TikTok. Yet, the app continues to face allegations from black creators and ot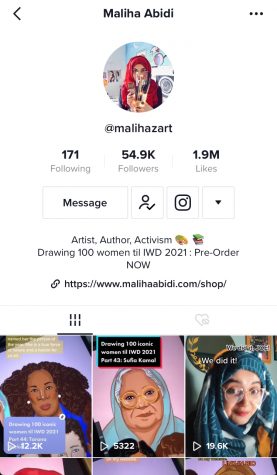 A TikTok artist I follow, Maliha Abidi (@malihazart – who you should check out!) began posting art videos where she draws 100 iconic women until International Women's Day. Many of these women are POC, and she recognizes them for their accomplishments. Though, she recently called out Tiktok saying, "Tiktok STOP HIDING STORIES OF WOMEN OF COLOR!!!" and she further mentioned how disappointed she was that her videos were not being seen. Other creators believe this is a violation of community guidelines for removing these videos off the hashtags and algorithm.
Like Maliha, other creators on the app claimed that their videos relating to other things (cooking, tutorials, dancing, etc.) had millions of views/likes/comments, but when posting something relating to BLM/other human rights movements, their views went down and they barely got attention. It's extremely disheartening to know that information and resources to help actively oppressed people of color are being shadowbanned and overlooked.
Social media has become very common in our everyday lives, especially in the younger generation. With everyone getting Instagram, Snapchat, Twitter, Tiktok, etc. It's one of our main sources of information to get news and stay educated. I find it difficult to spread awareness when shadowbanning wipes over the important stuff no matter how many times we repost, like, comment, or share.
TikTok added that they would take "concrete actions" to build a better, more inclusive platform. But some Black creators and activists believe TikTok's promises were short-lived. I think TikTok needs to be more diverse. TikTok is a steppingstone, but you can never rely on TikTok because it's not consistent.
*This opinion article reflects the voice of the writer and does not necessarily represent the views of The Viking Times as a whole.  Like most news outlets, The Viking Times is a non-partisan media platform.**