Racism in the Royal Family: Meghan Markle and Harry Speak Out
Whether you follow up with the British Royal Family or not, the tabloids, news, and radio must've certainly kept you up to date on their most recent endeavors. When most think of the royal monarchy, a word like scandalous certainly crosses the mind as its long reign has certainly seen a fair bit of controversy. Besides royal weddings and the pregnancy announcements, some of the biggest stories to rock the castle are most notoriously hard to do with the beloved Princess Diana who tragically died in an alleged car accident on August 31, 1997. Known as the "Queen of People's Hearts" many nationwide mourned the loss of one of the kindest and endearing members of the royal family. However, though loved by many, even Princess Diana had her fair share of haters, most of whom had come from her own family. Considered to be a "problem" to the family for already being divorced, unable to keep up with the fast-moving life of a royal, and for breaking a lot of protocol, she was effectively alienated by most members of the monarchy. On top of her already poorly misconstrued image in the eyes of the royals, her husband's subsequent affair with Camilla Parker Bowls did not make her life much better. Yet, the face of adversity never stopped the beloved princess who took part in numerous charities, even before her title was stripped, and was the patron of over 100 charitable organizations at one point. Her legacy lives on through her two sons, William and Harry, who are on their way to becoming the next heads of the monarchy.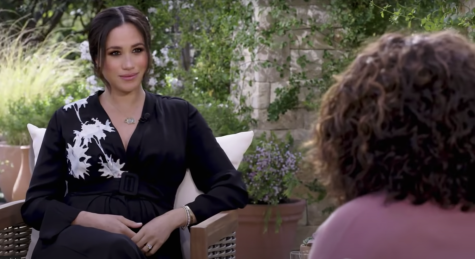 Though all eyes became fixated on Prince William since his union to Kate Middleton back in 2012, many have now begun to look to the Prince's younger brother, Harry, now that he is building his own life with Meghan Markle. The couple wed back in May of 2018, but have now found themselves at the center of what many are calling a "royal crisis" after revealing their plans to step back from their royal duties. What many questions is why the pair would seemingly separate themselves from the royal lifestyle? One many find themselves dreaming of. Well, in the tell-all interview with Oprah Winfrey Meghan and Harry opened up not only about their choice to leave, but also how racism impacted that decision. 
The Royal Family is known for its historically white-European ancestry dating back to nearly the start of their bloodline. Meghan Markle is of a mixed-race coming from a caucasian father and black mother, but refused to declare one specific race because she liked living "ethnically ambiguous." While that is a perfectly good sentiment to admire, it appears that some members of the royal family, and the people/press, could not look beyond Meghan's color before casting their judgment. Even before the two wed, there was a great controversy not only amongst the family but also the media, as the attacks on Meghan began. "No competition, you can't buy class" were the words written on a sign held up by reality star, Katie Hopkins, comparing a picture of Kate Middleton to the new Duchess of Sussex, Meghan Markle outside Windsor Church on her wedding day. If that weren't bad enough, other sources like The Sun, People Magazine, and The Daily Mail were often cited for criticizing Meghan for doing some of the same things Kate Middleton did. While one headline for Kate reads, "Pregnant Kate tenderly cradles her baby bump while wrapping up royal duties ahead of maternity leave" a similar one by the same news source for Meghan projects: "Why can't Meghan Markle keep her hands off her bump? Experts tackle the question that has got the nation talking: Is it pride, vanity, acting- or a new age binding technique?" These racially motivated attacks don't end outside the castle though, as Meghan and Harry cite that even family members treated her horridly. Harry confessed that brother William was "hesitant" about his union to Meghan believing she'd be a bit of a "disruptor" because she "didn't fit in well." Further, who could forget when Princess Michael of Kent allegedly deliberately wore a racist brooch in her first time meeting with Meghan. The accessory worn was a piece of blackamoor jewelry, which effectively glorified images of slavery. The constant criticism and racially insensitive attacks make it abundantly clear why anyone in Harry and Meghan's situation would want to get out. 
Though we'll never know what the last straw was that led to Harry and Meghan officially stepping down, many theorize it had a lot to do with the royal family's comments about the skin color of Harry and Meghan's unborn child. Archie Harrison Mountbatten-Windsor was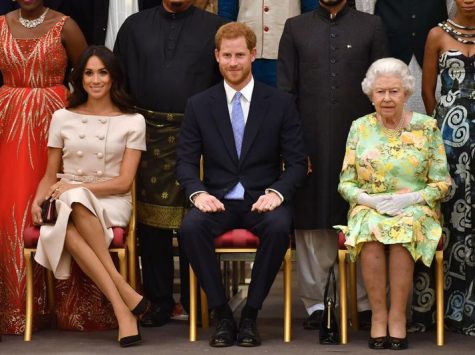 born on May 6, 2019, but before his arrival, Meghan and Harry revealed to Oprah that some undisclosed royals were concerned about how "dark" the child would be.
"In the months when I was pregnant … we have in tandem the conversation of he won't be given security, he's not going to be given a title, and also concerns and conversations about how dark his skin might be when he's born," Meghan told Winfrey who could only respond with gaping disbelief. It is incredibly disheartening that rather than looking at Archie as a new member of the family the same way they did with William and Kate's children; George, Charlotte, and Louie, they only focused on how "eurocentric" or "white" he would look in comparison to the rest of the family. The couple would later announce they were stepping back from the royal family in a statement that shocked all of England, and the couple soon moved to California thereafter.
However, when stepping down, the Queen efficiently stripped the titles of Harry, Meghan, and Archie, and cut off all forms of income and protective services to them as well. Most shockingly, Harry's honorary military titles were even taken from his as well. In the interview Harry discussed how he and Meghan were relying partly on his mother, Diana's, inheritance and when asked how she would react to all this, Harry simply replied that she would be "angry" because "all she'd ever want is for us to be happy."
Although the couple surely experienced this hardship together, it was Meghan who was forced to take the brunt of it all- beyond things she may have even revealed.
When speaking about her experience Markle had a lot to say about how it impacted her mental health, stating, "I just didn't want to be alive anymore — and that was a very clear and real and frightening constant thought" she said to the stunned Oprah Winfrey. The constant onslaught of criticism, hatred, and blatant racism certainly caught up with Meghan who felt like an outsider in her own family. Recently, Piers Morgan of Good Morning Britain left the show after criticizing Meghan's discussion.
"I don't believe a word she says, Meghan Markle," he fired, "I wouldn't believe it if she read me a weather report and that fact that she fired up this onslaught against our royal family, I think is contemptible." With that statement broadcasted, hundreds called in with words of complaint, and Meghan herself filed a claim against Piers unprofessional and rude words. Markle has made the importance of mental health known on numerous occasions and stood by her decision to open up about her struggles and to denounce anyone who tries to invalidate those who deal with these issues. 
At the end of the day, the Meghan and Harry sit down with Oprah should not simply just be regarded as a TV entertainment special or hot gossip, but rather a wake-up call. For too long the royal family, and many institutions alike, have been allowed to get away with both blatant and subtle racial attacks. Accountability is a step in the right direction, but it will take a change in heart and beliefs to truly create any change. Harry and Meghan coming forward to have this conversation many royals walk on eggshells around are especially brave. Following the incident, Buckingham Palace released a statement on behalf of the Queen that read, "The whole family is saddened to learn the full extent of how challenging the last few years have been for Harry and Meghan. The issues raised, particularly that of race, are concerning. While some recollections may vary, they are taken very seriously and will be addressed by the family privately. Harry, Meghan, and Archie will always be much-loved family members."
No one knows how genuine this statement truly is, because, from a public standpoint, there is much we still don't know and may never learn. However, we must listen to the stories being told and continue to hold all royals and the media outlets accountable to bring about change.