George Floyd: What we Know about the Derek Chauvin Trial
On May 25, 2020 Minneapolis police officers arrested 46-year old George Floyd, after a convenience store employee called the police after Floyd bought a pack of cigarettes with a counterfeit $20 bill. In less than 17 minutes, police showed up. This was where officer Derek Chauvin pinned Floyd down, kneeling on his neck for 8 minutes and 46 seconds. In multiple videos posted online, the clip shows Floyd crying out for help from bystanders saying, "I can't breathe" over and over again. Chavin refused to move his knee the entire time even when Floyd fell unconscious for a full minute and 20 seconds after paramedics arrived at the scene. Floyd was later pronounced dead at a nearby hospital at 9:25 p.m. On May 29, the Hennepin County Attorney, Mike Freeman, announced third-degree murder and second-degree manslaughter charges against Derek Chauvin, the officer seen most clearly in witness videos pinning Floyd to the ground.
On Tuesday, March 9, the highly anticipated trial of former officer Dereck Chauvin began where he faces a third-degree murder charge.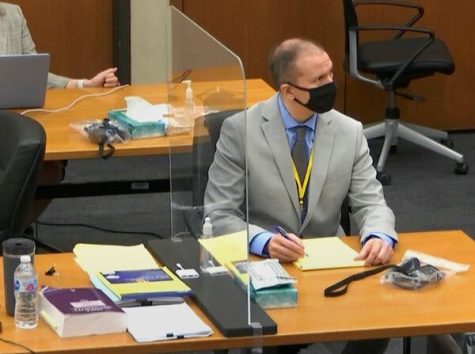 Chauvin's defense attorney, Eric Nelson, was asked if he believes Chauvin is responsible for Floyd dying.
"I don't think I can say one way or another. I mean, not here," the man replied. "You know, maybe at the time, I had my opinion. But with some distance, I don't think I can say." The judge described the third-degree murder charge as a narrow issue in the case and said he planned to move forward with jury selection and other pretrial matters.
Within days of Chauvin's arrest, he agreed to plead guilty to third-degree murder, but William P. Barr, then the U.S. attorney general, stepped in to reject the agreement, which had also included an assurance that Chauvin would not face federal civil rights charges. If convicted of second-degree murder, Chauvin would likely face about 11 to 15 years in prison, though the maximum penalty is up to 40 years. The maximum penalty for the added third-degree murder charge is 25 years in prison. Chauvin also faces a lesser charge of second-degree manslaughter.
Chauvin has been free on bail since October and has been present in court since the trial moved ahead this week. "The charge of 3rd-degree murder, in addition to manslaughter and felony murder, reflects the gravity of the allegations against Mr. Chauvin," Minnesota Attorney General Keith Ellison said. "We look forward to presenting all three charges to the jury."
Five jurors are now seated for the trial, as the court works to select 12 jurors and two alternates. When they're chosen, jurors are told to report back to the courthouse on March 29, when opening statements are scheduled to begin.