MA Covid-19 Vaccination Plan approaches Phase 3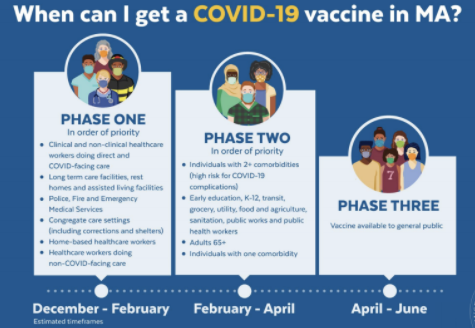 As Massachusetts reaches the end of Phase 2 of their Covid-19 vaccination course, Phase 3 is upcoming for the public. Phase 2 of the plan makes people who are 60 or older and/or those with 2 or more medical conditions eligible for the vaccine. Starting on April 5th, 2021, people who are 55 and older or those with just one medical condition can receive the vaccine. For more information about Massachusetts' Covid-19 vaccination phases, click here.  
Certain workers are also now eligible for the Covid-19 vaccine, specifically restaurant and cafe workers, K-12 teachers and school staff, public workers, grocery and convenience store workers, medical supply workers, and more.  
If you have any of the conditions mentioned above or on the Mass.gov website, click here to take a vaccine eligibility test. 
On the other hand, Phase 3 allows everyone who has not been eligible for the past two phases, including children under 21 years of age. Phase 3 will initiate on April 19th, 2021. 
Since only a limited amount of vaccine doses will be administered throughout the state at once. Setting up an appointment before April 19th will be beneficial to receive the vaccine as early as possible. Do put in mind that once you set up an appointment that there is a chance that you will have to wait around a few weeks due to high demand, and since the United States has surpassed six-hundred thousand cases. 
As someone previously exposed to Covid-19, I find receiving the vaccination essential to preventing the spread of the virus, even if you'd have to wait a couple of weeks. You can pre-register for the Covid-19 vaccine here. By pre-registering, you can see if you can take the vaccine sooner and see which locations are distributing the vaccine.