OPINION: France's ban on religious head coverings for Muslim women displays racism, misogyny
It's been less than a month since Switzerland imposed its ban on Muslim women and girls from wearing niqabs and burqas in public, and its neighboring country, France, is set up to enact an even more strict ruling on religious headwear. In case you're not aware of Islamic culture and tradition, a niqab is a face veil worn to conceal a woman's hair, neck, shoulders, and face, so that only the eyes are visible, while a burqa is a full body veil and often includes a mesh screen for the wearer to see through. The pretense behind wearing these traditional pieces is for a woman to express her piety, views on sexual modesty, rejection of Western notions of sexuality, and desire for increased mobility or privacy in a social environment dominated by men.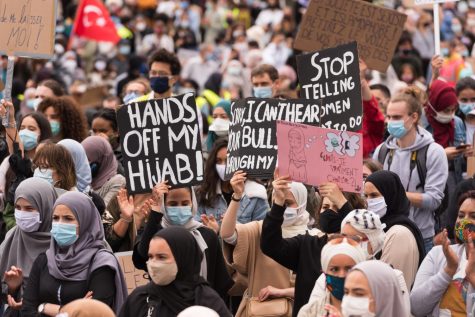 France has currently taken a more strict stance against these religious garments as officials are working to outlaw the wearing of the niqab, burqa, AND hijabs-  a traditional headscarf within the Islamic community. As of March 30, the French senate has voted in favor of the "Separatism Bill" that would essentially prohibit female Muslim minors in the public space from wearing any "conspicuous" religious sign or clothing that would "signify an interiorization of women over men." Furthermore,  hijabi mothers will also be prohibited from accompanying school field trips if they are to wear any form of the religious headscarf, and all forms of burkinis (swimsuits with built-in hijabs/burqas) would be banned at public swimming pools. The law is currently not in effect, but any action may very soon be as it awaits approval by the National Assembly. 
Muslims worldwide are shocked and saddened by the news that France would deliberately try to ban and invalidate pieces of religious garments based on pure islamophobia and a misunderstanding of their culture. While France views these traditional headscarves worn by women as a sign of them being "controlled" or under the submission of their male counterparts, this is far from the truth. Though the reasoning behind wearing the head covering may vary from woman to woman, many express that they choose to do so by free will to signal pride in their ethnic identity, express their modesty, out of respect for their God, as resistance to standards of feminine beauty that demand more exposure, etc. The answers vary, but the overarching point is that France's ban stands as a complete violation of their freedoms and religious rights. 
I find a lot of hypocrisy in the fact that traditional religious headscarves worn by Muslim women are often demonetized by society for the same reasons France has given, particularly because many institutions seem to have no problem with Catholic nuns wearing the 'habit' head covering as part of their religion. Do not be mistaken, this ban is simply not the doing of a "culture clash" or a conflict between secularism and religion, but rather sorely hidden racism. The origin of the problem once again comes back to rest in two plain facts: deep-rooted Islamophobia and the desire to control women's bodies. Muslims have lived in France for generations, and slowly but surely, the country is becoming uninhabitable for so many simply due to blind hatred. As a society, and as a world, we always wish for peace- it's what we strive for each day. However, I find absolutely no evidence of these hopes ever being fulfilled seeing as we are continuing to allow businesses, institutions, and now even entire countries to openly partake in bigotry.
***This opinion article reflects the voice of the writer and does not necessarily represent the views of The Viking Times as a whole.  Like most news outlets, The Viking Times is a non-partisan media platform.***