WHS Spring Spirit Week 2021 Review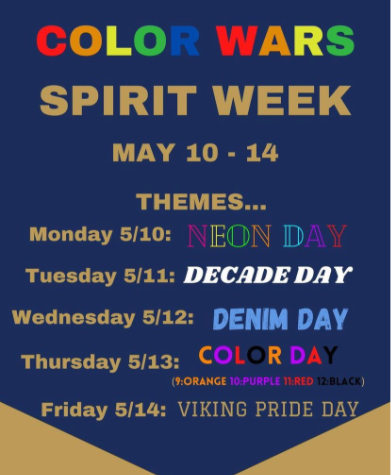 Last week was Spirit Week at Winthrop High School, and the study body and faculty really showed up for the occasion. Hallways were immensely (yet vibrantly) decorated, and student pride was showcased clearly throughout the week. This was the fourth time this year that students dressed up to coincide with a theme each day for a week. Dress up days for the WHS Spring Spirit Week 2021 included Denim Day, Decade Day, and Neon Day!
Not only did students dress up to show their school pride, but each grade also had their own floor to showcase their excitement. The sophomores and the juniors really went all out, with creative posters, balloons, and streamers.
As holder of the WHS superlative, "Most School Spirit," senior Jami Snow says, "Spirit week really helped spark my creativity. I never really was someone that would do spirit weeks because I was scared of looking goofy or out of place. Because of the pandemic, I saw that I never really done those spirit weeks, so having 4 this year really made up for that. Doing the spirit weeks is a great way of just throwing yourself out there and celebrating an event that is meant to spark fun events." Spirit week is an awesome way to have fun during school, and a great way to show off your personality!
On Friday, with the actual pep rally event, students took to the field and enjoyed the show! They watched classmates represent their grades and compete against others in games like tug-of-war and water balloon toss. Friday was the perfect afternoon to enjoy the event, with lovely weather. WHS STUCO really outdid themselves with this
The next time there is a Spirit Week, remember what Jami said, "I really recommend that everyone tries to participate in any spirit week each year of high school, because when you become a senior, you are going to realize that you missed out on memories, on fun things that you can remember going into college. Have fun and dress up."