One Size Fits None?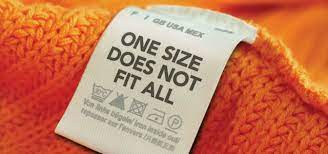 "One Size Fits All" It's a phrase that's becoming more prominent on clothing websites and in popular shopping centers. In its simplest form, the term is meant to render the idea that a shirt, a pair of pants, a sweater, etc. SHOULD fit everyone. But is that a fair assumption?
The fashion industry has been under scrutiny for years over its negative impacts on the environment as micro trends sweep social media, its perpetuation of unrealistic body standards, and its inherent lack of diversity in race and sizing. Collectively, these factors band together to highlight the problems with fast fashion, but also with the infatuation with having a perfect and almost child-like outward appearance.
Sizing, for women's clothing, in particular, has interestingly shrunk to more than half of what it used to be. For example, in 1957, a famous model, Twiggy was quoted as wearing a size 8 in shirts and dresses. As of today, 2021, the size is worn by the model is no longer considered to be of that average size, but rather a 0. This drastic decrease in sizing has left many like myself confused as to what's up with the efforts to shrink women's appearances? Why has the fashion industry made it their goal to get women looking as "small" and measly as possible?
This problem compelled my interest, particularly in the "one size fits all category" because who is to say what size works for EVERYONE? Even more important, what is often overlooked about this label is what clothes it is applied to. Stores today have dedicated sections of themselves to "plus size fashion" or "petite wear" to accommodate all the beautiful women who fall between different ends of the scale. These items are marketed as what they are, whether they're for the naturally petite, the more robust and curvy, the average, the midsize, or all of the above. However, one-size fashion is not marketed towards any specific type, lending itself to harmful generalizations. For example, if a shirt that is an xs is marked as "one size fits all" it insinuates that THIS is what the average person should be able to fit in. While the sizing variations amongst different stores is a nightmare in and of itself, the problem only metastasizes when we push the notion that EVERYONE should be able to be a size small, and that there's something wrong with you if you're not part of the "fits all" club.
My mom once asked me: "what does it even mean when clothes mark their clothes as a size zero? That you don't exist?" I think about this often, because although some people have naturally skinny statues, I ponder the reasoning behind labeling clothing like jeans a size zeros, why not just say petite? I believe the problem is rooted in the fact that we idealize women being as small as possible, and making a general assumption about what "average" size is, truly lends itself to increased trends of low self-esteem and even body dysmorphia as people, especially women, begin to value their worth based on what they can fit into. One of the best pieces of advice I've heard is, "never be afraid to hold power and take up space" and in a society that feeds off of women shrinking themselves down for others, I urge all women to think of this sentiment.
***This opinion article reflects the voice of the writer and does not necessarily represent the views of The Viking Times as a whole.  Like most news outlets, The Viking Times is a non-partisan media platform.***