OPINION: Facebook Whistleblower Revealed; Their Report Confirms What Researchers Have Known For Years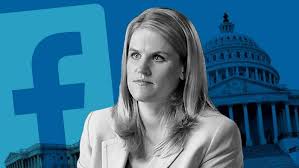 There is no doubt that social media has taken a toll on people's mental health, especially for young teens. Now, Facebook faces a historic crisis; a former data scientist has exposed just how far Facebook goes to harm its young audience. Frances Haugen testified before a Senate subcommittee on Tuesday. According to NPR, Haugen stated that Facebook "sows division and undermines democracy in pursuit of breakneck growth and astronomical profits."
Frances Haugen had worked at Facebook for almost two years after working at Google, Yelp and Pinterest. Her job was to study for the social network's algorithm "amplified misinformation and was exploited by foreign adversaries. 
Haugen said that Facebook chooses to maximize it's growth rather than to implement safeguards on it's platforms, the same way it has hidden from the public and government official's internal research that had showcased the dangers of Facebook products. 
"The result has been more division, more harm, more lies. More threats and more combat. In some cases, this dangerous online talk has led to actual violence that harms and even kills people," Haugen said. 
According to NPR, before Haugen had left the social network, she had copied thousands of pages of confidential documents and shared them with numerous lawyers, regulators and The Wall Street Journal. 
Haugen was not the first to express concerns over Facebook. However Facebook CEO Mark Zuckerberg publicly denied any of the concerns Haugen had raised in a lengthy blog written Tuesday evening.   
"It's disheartening to see that work taken out of context and used to construct a false narrative that we don't care," Zuckerberg wrote. He then clarifies that he is "particularly focused"on the concerns raised over the impact Facebook's products have on children stating that it is very important to him that "everything we build is safe and good for kids."
At one point during the hearing, Republican Sen. Jerry Moran of Kansas turned to Democratic Sen. Richard Blumenthal of Connecticut and said they should "put aside their partisan differences" and focus on reining in Facebook. 
"Our differences are very minor," Blumenthal said, to which Moran replied, "I share that view."
"If you closed your eyes, you wouldn't know if it was a Republican or a Democrat," Blumenthal said. "Every part of the country has the harms that are inflicted by Facebook and Instagram."
Haugen lawyers have also filed eight complaints with the Securities and Exchange commision, focusing on Facebook's public statements about issues including how much Facebook knew of the organizers who had planned the January 6 Capitol riot using it's platform, how effective it is at removing hate speech and how Instagram makes body image issues worse. 
Haugen's attorney alleged that Facebook had violated U.S. security laws by "lying to investors." Federal regulators and state prosecutors have not yet specified how the authorities plan to respond. 
While the federal federal whistleblower protections provide legal cover to Haugen for providing the private Facebook documents to the SEC and Congress, experts say that "her leaks to the press could trigger legal action from Facebook."
This is not the first time concerns have been raised over the exploitation of children using social media. In 2018, it was reported that 24% of teens had been impacted in a  negative way, 31% believe it can be used in a positive way, and 45% have no bias. However, in a survey conducted in 2020 in which 6,000 individuals between the ages of 10 and 18 were interviewed, half of them reported that they had experienced cyberbullying. Cyberbullying has one of the most negative impacts on mental health.  
This hearing proved what we already know. Social media corporations exploit users for profit. While part of me believes that Facebook and social media platforms can be used to connect individuals over their love for dogs, dancing, and art, it is clear that when it comes time for these large media networks to crack down on the hate that these platforms spread, too often, they issue a slap on the hand or look the other way. 
The dangers of social media have been downplayed time and time again. This needs to stop. Congress needs to implement restrictions on Facebook that ensure it will not be used in ways that harms others. Bipartisan regulation from Congress is needed because Facebook has shown that it will always choose profits over people therefore action must be taken to ensure that social media platforms like Facebook are finally held accountable, because they have shown that they are incapable of holding themselves accountable. 
***This opinion article reflects the voice of the writer and does not necessarily represent the views of The Viking Times as a whole.  Like most news outlets, The Viking Times is a non-partisan media platform.***
View Comments (1)
About the Contributor
Mira Ivanis
Hi, my name is Mira Ivanis and I am a junior at the WHS! This is my third year in the Newspaper Club. I am also part of Model UN, Debate, and Yearbook;...