An Interview With The Winthrop School Committee Candidates
Town of Winthrop will be holding its bi-annual town election this year, on Tuesday, November 2nd. The positions that are up for election include Town Council President, School Committee members, Town Council members, and Library Trustees. I chose to interview the School Committee candidates for this year's election. There are 7 candidates, with 3 open seats; and 2 incumbents are seeking re-election. In alphabetical order, the candidates are Julie Barry (incumbent), Ellen Galuris, Celeste Heinonen, Suzanne Leonard, Brianna Molloy, Layne Petrie, and Jennifer Powell (incumbent). 6 out of the 7 candidates with the exception of Ellen Galuris could be reached for comment, and 5/6 that were asked for input responded, with Brianna Molloy not returning further requests for comment.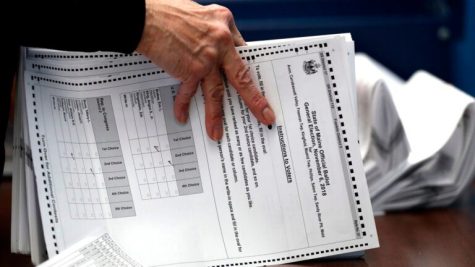 They were all asked the same questions: 
1. Please tell me about yourself, your background, and why you are running.
2. What makes you feel that you're a qualified candidate?
3. What is your opinion on masks in school?
4. Is there anything else you would like to add?
In alphabetical order, the candidate's responses will be displayed.
Julie Barry:
Please tell me about yourself, your background, and why you are running. (1)
I am a lifelong resident of Winthrop, graduated from Winthrop High School in 1992 and received my bachelors degree from the University of Massachusetts in 1996.  My husband Erik and I have two daughters in the Winthrop School system.  Kaylin is in the 11th grade and Josie is in the 8th grade.
 As a full time working mother since my oldest daughter was born, I've been lucky to have been able to balance motherhood with a rewarding career that has seen me travel the world.  I've also been able to make time to volunteer at my children's schools from the time they were in Kindergarten and now I am intimately involved in their education at the secondary level.  I have always made it a point to know what is going on at each of their schools and to understand the opportunities and challenges that our administrators, parents and teachers face everyday so that I can be of help when appropriate.  As my children grew older and my oldest daughter went to high school I felt the need to get involved in a deeper way in order to better understand decisions being made about budgets and policies that impact our children's education and overall wellbeing.  My father was a teacher and coach in the community for many years and my aunt has been an educator her entire career and is now at Chelsea Public Schools.  Having the perspective as a parent and as the child of an educator has given me the ability to experience our school system from different viewpoints. 
I have been a marketing executive for over 20 years with a focus in public relations, corporate communications and corporate social responsibility.  I have managed budgets of all sizes into the hundreds of millions of dollars  and have led initiatives to audit and optimize spend to insure that dollars are spent in the most efficient way possible while maximizing and improving return.  Many of the corporate social responsibility programs I've put together were built around a core value that all children deserve equal access to education, literacy programs, nutrition and healthcare.  In April of 2014 I visited the garbage dumps of Nom Penh, Cambodia and helped children get to shelters at the Cambodian Children's Fund (CCF) where they were taken care of in a community based charitable environment committed to educating children.  I worked with the CCF for five years to help support nutritional programs, provide materials for STEM based educational curriculum and ultimately to open a world class educational facility called the Neeson Cripps Academy.
 In March of 2019 I was voted in to the school committee to fill a seat that had been vacated.  Within 2 weeks our worlds were turned upside down by Covid-19.  What followed were 18 of the toughest months we've ever faced as a community and it is time to get back to planning proactively and focusing on optimizing funding to add programs that are missed like foreign language in the middle school and the band program.  I want to work with my fellow committee members and school administrators to make sure we have programs in place to support and retrieve any learning loss and also programs to accelerate learning for those that are ready.  I want to talk about enriching our students' lives with additional guidance and adjustment counselors by building life skills, supporting emotional and mental health and focusing not just academic excellence but attaining and assuring future success in the trades.  
What makes you feel that you're a qualified candidate? (2)
As a School Committee Member I will be a voice to effectively advocate for the families in this community and to make sure we can secure the funds necessary and implement policies and programs that make our children's overall educational experience better so that we can build the future generation of critical thinkers, effective communicators, conscientious citizens and creative achievers prepared to take their journey to the next level and fulfill the districts Vision of the Graduate.  
Serving on the school committee for the last 18 months has given me invaluable experience that I will build on in the coming months and years.  I feel I am well positioned to move policies forward to improve the education of all students by communicating effectively and cross functionally with fellow school committee members, parents, teachers and administrators.  I am also well versed in budgeting, optimizing spend and doing more with less and I hope to be able to drive conversations that will result in adding programs that have been lost back to our school district. 
What is your opinion on masks in school? (3)
Looking forward I'd like to see the mask mandate lifted.  It would be ideal if we could achieve an 80% vaccination rate at the middle and high schools so that we can move to a model where those who are vaccinated can go without masks. 
Is there anything else you would like to add? (4)
The Mission of the Winthrop Public Schools is to provide progressive learning experiences through a rich program of  studies and high-quality instruction that educate, develop and support all students to reach their full  potential and appreciate the diversity in our world as conscientious members of society.
The number 1 reason I am running for re-election is because I care deeply about the children in our community.  I promise if I am re-elected that I will always put children first and foremost to achieve our school districts' mission.   I am also very interested in hearing from students about what they would like to see improved in their schools.  My email is: [email protected]
Celeste Heinonen:
Please tell me about yourself, your background, and why you are running. (1)
I'm Celeste, a mom of 3 little kids.  I loved growing up in Winthrop and want to help you all share that experience!  I want to be a voice for the parents in the community as well.
What makes you feel that you're a qualified candidate? (2)
I feel there are a few things that make me qualified.  I have a degree in education.  I am also a finance manager and think I can put my business skills to use.  But honestly, being a parent!  We should have a say in our children's education.
What is your opinion on masks in school? (3)
Should be parent choice!  We need to talk to DESE about that though.
Is there anything else you would like to add? (4)
Go Vikings!
Suzanne Leonard:
Please tell me about yourself, your background, and why you are running. (1)
My name is Suzanne Leonard and I am grateful for this opportunity to introduce myself to you. I am a mother, I am an educator, and I love the Winthrop community. I currently work as a professor of Literature and Writing at a university in Boston, and I am a published author. My 7-year-old daughter, Anabelle, is a first grader at the GFB. I am running primarily for three reasons: I have a child in the Winthrop school system; I have over 20 years of experience in the educational sector; and finally, I have prior administrative experience that is directly relevant to my work on the School Committee. This all means that I have a vested, personal interest in the school system, and I possess the skills and experience to make positive, proactive change.
What makes you feel that you're a qualified candidate? (2)
I believe I am the candidate with the greatest birds-eye view of what the school system needs to meet the increasing pressures of 21st century education. Because I have worked in schools for over 20 years, and taught hundreds of students, I understand the ins and outs of education. As a teacher, my goal is to create a space where learning is accessible for every student. I have the same aspiration for my daughter, and for all of the students in WPS. I understand the unique strengths of our schools and also the challenges they face. My experience illustrates that I am the most qualified candidate for this position.
What is your opinion on masks in school? (3)
As a mother whose daughter spent the majority of last year online, my primary interest is in ensuring that are schools are safe, accessible, and stay open. My priority is keeping students, teachers, and staff healthy so that we never again have pivot to online learning, as we did in 2020. As we have seen over the last few months, COVID continues to present new and unforeseen challenges. I will follow state guidance on masks so that our students can continue to learn safely and do in person.
Is there anything else you would like to add? (4)
Yes: I have lived in Winthrop for over nine years. My husband is a pilot based out of Logan, and once, at Belle Isle Seafood, I watched the plane I knew he was flying take off. Some of my favorite aspects of our town are the beauty of our beaches, our small-town feel, and the passion of our community. I love seeing WPS students walk to school with their friends and neighbors as they begin or end their school days. During the last academic year, I listened closely as Winthrop students, educators, parents, staff, and administrators talked about the schools and their hopes and fears. While this was a unique and very difficult situation, it also inspired me. The last 20 months have taught me that we must cherish our communities, and we must work hard to make them thrive. I am willing to do that work.
Layne Petrie:
Please tell me about yourself, your background, and why you are running. (1)
My name is Layne. I've lived in Winthrop since 2015 when I bought my home, and am now a mom to a kindergartener. I have worked for two different school districts, and am currently a special education administrator in Boston. I own a small business, which I started in 2018, and have done work for graduate programs at two different universities. Presently, I'm also the inaugural president of the Greater Boston Association for Behavior Analysis. I have always been involved in (and value) public schools and human services. I believe that my skills as a leader, my commitment to students and educators, and my love for the community of Winthrop make me an ideal candidate for School Committee. I want to use my skills to help make decisions for students, families, and the community of Winthrop. 
What makes you feel that you're a qualified candidate? (2)
I am a product of public schools, am a parent of a public school student, and am an employee of a large school district, so I have the ability to see topics of conversation from a variety of first-hand lenses. I want to be accessible to students, staff, families, and members of the community for questions and conversations. I believe in collaborative problem-solving, and I'm genuinely dedicated to making informed decisions. I have experience with public school budgeting, and I have ideas to improve programming for students that I would love to see come to fruition. For example, I'd like to see partnerships with local businesses that would give general and special education students exposure to vocational opportunities that they might not otherwise get in Winthrop Public Schools. I have ideas about how to implement a bus program that I believe is completely doable and financially feasible. I'd like to explore the option of partnerships with local state colleges for dual enrollment programs so that high school students can earn high school and college credits in tandem without having to take AP exams. 
What is your opinion on masks in school? (3)
I think everyone is tired of wearing masks at this time. I think that the current guidelines to have staff and students wear masks is in place for safety, and I'm more concerned about doing what we can do to keep schools open and to permit students to continue to have access to sports, music programs, and other extracurricular activities. I'm open to conversations about lifting the mandates, when the state guidelines permit, particularly as the rate of vaccinated individuals climbs. 
Is there anything else you would like to add? (4)
They say that it takes a village to raise a child. My hope, as a member of the School Committee, is to encourage community involvement with public schools. I am so encouraged to see seven names on the ballot for School Committee, as that shows how much passion and dedication for the children of Winthrop exists in this community. I hope that we all are able to continue to advocate for what will push WPS forward.
Jennifer Powell:
Please tell me about yourself, your background, and why you are running. (1)
The most important thing we can do as a community is to provide excellent schools that allow students to have a good experience while preparing them for their future. I want a school system that gives our students confidence in themselves, supports them in doing their best and offers them opportunities to pursue and develop their interests. I first ran for the School Committee four years ago because I wanted to be a part of making sure that happens. 
I'm a mom of five students who attended Winthrop Schools and got involved in many activities. My youngest, Cori Jane, is a junior involved in drama, soccer, and track. I know the strengths of our teachers and administrators, and I understand the challenges we face. We are a diverse community with diverse needs and we have limited resources. We need to be creative and innovative to meet our goals. I am running for reelection because I want to build on what we've accomplished.
What makes you feel that you're a qualified candidate? (2)
I am qualified for this role because of my experience on the board these past four years along with my job and community activities. I am the vice-chair of the committee, chair of the Policy Subcommittee, chair of the WTA Negotiations Subcommittee, and a member of the Budget Subcommittee.
I run a marketing communications business that I started after nearly 20 years as a journalist. I work with people all day helping them to get their message out and connect with their audience. In my job and on the committee, it's really about bringing people together. We need to be curious, listen to each other, strive to understand each other's perspectives, and then work together to find solutions.
I bring to the committee my experience as a board member of Mi Amore, a local organization that helps to bring food and other resources to families in need, and as a board member of the Cottage Park Youth Sailing Committee, organizing a summer sailing program.
What is your opinion on masks in school? (3)
I support whatever measures are necessary to keep students in school. I saw firsthand how difficult it was for students to attend all of their classes on Zoom and how disappointing it was to not be able to do activities like sports, drama, and clubs. We have been and will continue to follow the state guidelines. Those guidelines are changing to allow students to opt out of wearing masks if at least 80% of the school population has been vaccinated.
Is there anything else you would like to add? (4)
I spend a lot of my time on the School Committee looking at numbers, talking about policies, and trying to figure out how Winthrop is doing compared to other communities and expectations. It's all big picture and sometimes seems abstract. But I never forget that behind those numbers are students walking in the door by 7:35, going from class to class to class, and balancing homework with activities, jobs, and time with friends. I always keep in mind that the decisions we make have a direct impact on those students. They are my priority.
---
This concludes our interview section.
We thank all the candidates who took the time to respond to our questions. Ellen Galuris could not be reached for comment, and Brianna Molloy did not return further requests for comment.