Jim Crow Museum of Racist Memorabilia: "Why I Collect Racist Objects"
The Jim Crow Museum of Racist Memorabilia at Ferris State University, Big Rapids, Michigan, displays a wide variety of artifacts depicting the history of racist portrayals of African Americans in American pop culture. All of the objects in the museum are tied together by a common theme: They are steeped in intense racism.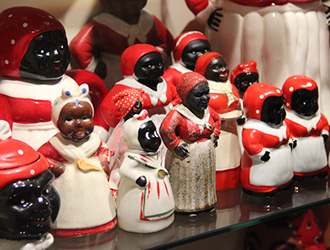 "The item was small, probably a Mammy saltshaker. It must have been cheap because I never had much money. And, it must have been ugly because after I paid the dealer I threw the item to the ground, shattering it," says founder, David Pilgrim, who began collecting racist objects when he was just 12 years old. By the time David had become obsessed with collecting these objects, he was an undergraduate student at Jarvis Christian College studying in the Sociology Department.
David kept his collection at home and rarely brought out pieces until 1991 when he decided to open the museum. "She was an antique dealer in a small Indiana town. I visited her and told her about my collection…I described how I used racist objects to teach students about racism. Again, she was not impressed… I will never forget the feeling that I had when I saw her collection; it was sadness, a thick, cold sadness. There were hundreds, maybe thousands, of objects, side-by-side, on shelves that reached to the ceiling. All four walls were covered with some of the most racist objects imaginable…I was stunned. Sadness. It was as if I could hear the pieces talking, yowling…It was a chamber of horrors. She did not talk. She stared at me; I stared at the objects. It was a testament to the creative energy that often lurks behind racism…I wanted to cry. It was at that moment that I decided to create a museum."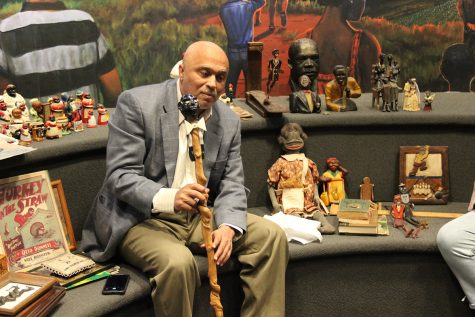 The museum is using objects of bigotry to help teach others and promote justice. "It's all about teaching, not a shrine to racism…it's to get people to think deeply," says David. The 1.3 million gallery features a wide variety of things such as the origins of Jim Crow, racist caricatures, Blackface, and anti-Black imagery. Most of the objects "are anti-black caricatures, everyday objects or they are segregationist memorabilia," he said. "Because they represent a cruel, inflammatory past, they should either be in a garbage can or a museum."
David has also created a traveling exhibit called "Hateful Things" to teach people about the horrors of Jim Crow. Another traveling exhibit called "Them" focuses on material objects that defame non-blacks, including women, Asians, Jews, and Mexicans. "Again, our goal is to use items of intolerance to teach tolerance…If your skin is dark then you know why I do what I do."