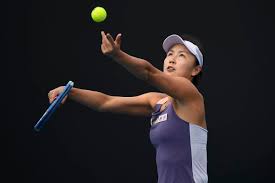 Where Is Peng Shuai?
December 12, 2021
Worldwide sensation Peng Shuai disappeared from the public's eye for weeks in November. This came right after she accused former Chinese Communist leader Zhang Gaoli of sexual assault.
Peng, a former doubles world number one and three-time Olympian, claimed in a now-deleted post on Weeble that retired Vice-Premier Zhang sexually assaulted her three years ago. According to the New York Times, after the allegation the Chinese government "removed almost all references of Peng on social media within the country" within minutes it was posted. In a podcastepisode created by The New York Times, The Daily, Matthew Futterman–a sportswriter for The New York Times–details the possible lengths gone to censor Peng; "Chinese officials did everything they possibly could to stop any discussion of this…there are people who report that they mentioned her in private chat groups and all of a sudden their chat group gets zapped out." Peng then completely vanished from public life. Her disappearance outraged top officials and fellow athletes in tennis.
However, amidst the "global chorus" of concern, on November 17, CGTN Europe, a Chinese state-affiliated media, posted an email Peng Shuai wrote to WTA Chairman and CEO Steve Simon. In the email, Peng completely "disavows" her previous allegations of sexual assault adding, "I'm not missing, nor am I unsafe."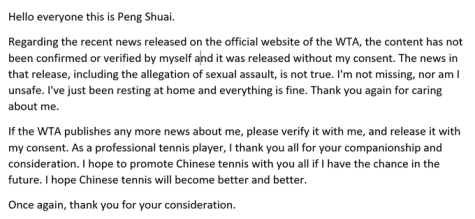 On November 19, The White House demanded proof of her safety and even condemned China's censorship. The United Nations contributed, with UN Human Rights Office spokesperson Liz Throssell calling for an "investigation with full transparency into her allegations of sexual assault."
A few days later, the editor of a Communist Party-controlled newspaper posted video clips that showed Peng eating at a restaurant and attending a tennis event in Beijing; a few days later, the International Olympic Committee reportedly held a call with Peng Shuai, the second time after having first talked to Peng on November 21.
The second meeting took place just before the WTA announced an immediate suspension of all tournaments in China in concern of Peng's wellbeing.
The IOC shared a statement in which they expressed their concerns for her wellbeing and detailed their meeting with Peng; "We have offered her wide-ranging support, will stay in regular touch with her, and have already agreed on a personal meeting in January," they said. The IOC also said Peng "explained that she is safe and well, living at her home in Beijing" and wishes to "have her privacy respected at this time."
On November 30, the EU released a statement, urging the Chinese government to, "provide verifiable proof of Peng Shuai's safety, well-being and whereabouts" and to "conduct a full, fair and transparent investigation into her allegations of sexual assault."
Fellow tennis stars Novak Djokovic and Naomi Osaka reacted to the disappearance early on in November, expressing great concern and prompting further investigation into Peng's disappearance.
Zhang, who retired in 2018, and the Chinese government have yet to comment on Peng's allegations.
On December 1, the WTA announced that they would be suspending all tournaments in China over concerns for Peng's safety. In a statement, Simon said, "I very much regret it has come to this point. The tennis communities in China and Hong Kong are full of great people with whom we have worked for many years. They should be proud of their achievements, hospitality, and success. However, unless China takes the steps we have asked for, we cannot put our players and staff at risk by holding events in China. China's leaders have left the WTA with no choice. I remain hopeful that our pleas will be heard and the Chinese authorities will take steps to legitimately address this issue."
Last updated on December 12.