2021: A Year in Review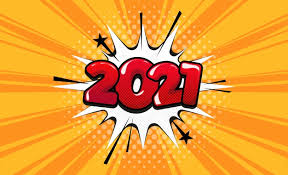 This year was a lot of things. Exhausting, sad, happy, shocking. It was one of those years where no one was quite sure what was going to happen in the next week or so, which created both a sense of fear and a sense of excitement. Christian Buonopane and I, Zoe Long, wanted to go through this year and highlight what we found were the most enticing things that happened  in 2021. Without further ado, a 2021 Year in Review!
January: 
January was an interesting month in both politics and pop culture. Very soon into the New Year, a mob of Donald Trump supporters stormed the United States Capitol in an attempt to stop the ratification of the 2020 Presidential Election. Speaker of The House Nancy Pelosi and then Vice President Mike Pence were about to ratify the election results, making Joe Biden President. The rioters stormed through the line of Capitol police, and even broke into the chambers of Congress. Many of the rioters posed in Congressmen's office, taking pictures in Speaker Pelosi's office. Of the rioters, 4 were killed, and so was one Capitol police officer. The attempted coup failed, and Joe Biden was sworn in as the 46th President of the United States. On a less serious note, we found out that Kim Kardashian and Kanye West officially divorced. Jojo Siwa came out as bisexual, and Olivia Rodrigo released the future chart-topping hit single "drivers license". 
February: 
Donald Trump's attempt to conceal his tax returns was defeated in the Supreme Court. This opened the door for the Manhattan District Attorney to investigate the Trump Organization's finances. In Muskogee, Oklahoma, a shooter killed 6 people, 5 of which were children. Shots fired were reported at 1:30 A.M. There is still no motive that has been found. On February 7th, 2021, at the Raymond James Stadium in Tampa Florida, the Tampa Bay Buccaneers won the superbowl. They defeated the Kansas City Chiefs, 31-9. Over 25,000 fans were present. On February 22nd, the United States officially surpassed 500,000 deaths due to Covid-19.
March: 
On Monday, March 8th, the long awaited trial of Derek Chauvin began. It took almost a year after the murder of George Floyd for this case to begin. This death caused protests to erupt all over the country. He was on trial for three charges: second-degree unintentional murder, third-degree murder and second-degree manslaughter. We didn't find out the long-awaited results until next month. As George Floyds anniversary of passing was approaching, this month we grieved the one year anniversary of Breonna Taylor, who was shot while she was asleep in her bed. Another tragedy that was on the minds of the people in the month of March was the collapse of the large apartment building in Cairo, Egypt. This caused at least 18 people to be killed and 24 others were left injured. In less saddening news, the 63rd Annual Grammy Awards Show was held in the month of March. Artists such as Harry Styles, Billie Eilish, Taylor Swift, and Dua Lipa all brought home awards. With all the tragedy that we were either reminded of or shown in this month, the familiarity of this award show definitely brought comfort and excitement.
April: 
We started off April incredibly strong with the release of Fearless (Taylors Version). We have an in depth look at and review of this particular album on our website, which I completely recommend checking out. This was Taylor Swift's first "Taylors Version" album to be released and her fans went wild. Simultaneously, people came to find out that 533 million Facebook user's information was leaked. The breach spanned over 106 countries and peoples addresses, phones, names, birthdays, and more were in the public eye. Although Facebook was sympathetic, they haven't since learned from their mistakes and improved their practices to prevent this from happening again. Toward the month the results of the trial of Derek Chauvin were released. He was found guilty on all three charges: second-degree unintentional murder, third-degree murder and second-degree manslaughter, and sentenced to 22.5 years in prison. 
May: 
"Friends" had it's cast reunion. James Corden hosted the show, and all the co-creators, Marta Kauffman, David Crane, and Kevin Bright served as the executive producers. The reunion featured all the main actors: Jennifer Aniston, Courtney Cox, Lisa Kudro, Matt LeBlanc, Matthew Perry, and David Schwimmer. Olivia Rodrigo's "Good 4 U" was topping Billboard's top 100, as the new artist's music exploded. Rodrigo has seen smashing success, with many other songs such as "Deja Vu" and "Jealousy, Jealousy" becoming very popular. 
June: 
On June 26th in Winthrop, Massachusetts, Nathan Allen crashed a stolen plumbing truck into a building and then proceeded to get out and shoot two people of color. The amount of unrest that existed in the town the entire week after that was something I will never forget. Having a very serious hate crime happen in a small beach town is not something you hear of every day. The details that came out about this case after the fact were chilling to the bone. Writing was found of him spewing racist, anti-semitic, and sexist rhetoric. He drew swastikas and wrote "Racism is healthy and natural". The whole tragedy definitely shook me for a few days. In much less depressing news, Doja Cat released her hit album "Planet Her".  It skyrocketed immediately, becoming #1 on charts not even a month after its release.
July: 
Not much happened in the Month of July as most people were probably soaking in summer while it lasted. One very interesting event that I remember happening in July was the beginning of the auction for a slice of Princess Diana's wedding cake. It was eventually auctioned off in August with a final offer of over 2,000 dollars. American rapper Dababy was also receiving backlash for various homophobic comments he had made. Major celebrities ended up calling him out on this such as Elton John and Madonna.
August: 
On August 13, 2021, a Winthrop woman was severely burned and injured during a laundry room explosion at 4 Irwin Street. She was taken to Mass General. The building was deemed uninhabitable, as the damage had spread to every floor of the building. On August 31, the Taliban officially declared victory over the United Stats at Kabul airport, after the United States withdrew its forces. The Taliban had gained control over almost every major city within Afghanistan, as thousands of United States military members, Afghan allies, and Afghani citizens fled on military planes to safety.
September: 
Winthrop High School students returned back to full in-person classes after going remote in March 2020. Whilst in person classes did partially resume in January 2021, some students were still remote. Students and staff had long anticipated the return to school, and were eager to get back into classrooms. Michelle Wu and Annissa Essaibi-George were the top two vote earners in the Boston mayoral preliminary election, and the two moved on to face off in November. This was a historic primary, as the new mayor (regardless of who won the general election) would be Boston's first female mayor, first mayor of color, and first female mayor of color.
October: 
During the filming for the movie "Rust" in Santa Fe, New Mexico, actor Alec Baldwin shot and fatally struck cinematographer Halyna Hutchins on October 21, 2021.  Hutchins was only 42. Baldwin claimed that they had checked the weapon multiple times, and it was not loaded. Of course, this begs the question that has been asked many times before: why not just use a prop gun? No criminal charges were filed as of yet against Baldwin for shooting Hutchins. Baldwin has been cooperating with police, and expressed his remorse during interviews, although stated that he felt no guilt. The American Society of Cinematographers posthumously inducted Hutchins as a member in November. Scarlett Johansson and Disney's legal issues came to a close. Johansson accused Disney of breaching their contract, as Disney released "Black Widow" on Disney+ as it was released in theaters. Johansson had claimed her financial stake (potential earnings) had been greatly reduced. She estimated she was entitled to more than the $20 million she had received. Disney vehemently denied all of the allegations, and eventually, Disney Studios Content chairman Alex Bergman expressed his relief, saying he was happy to come to an agreement with Johannson.
November: 
If you are not caught up with the story of Kyle Rittenhouse we have a very amazing article that was published last year about his actions and his trail, which happened to occur in the month of November. On the 19th, Rittenhouse was found not guilty on all charges. As I said, a much more in depth synopsis is on our website and I believe that everyone should check that out! Another extremely serious event to happen in the month of November was Astroworld. This bone-chilling tragedy raised a lot of questions and put a lot of heat on Travis Scott. A much more in-depth synopsis of the event can be found on our website. In less serious news, Kim Kardashian and Pete Davidson are rumored to be dating after being seen holding hands in public and kissing on SNL. Red (Taylors Version) was released and Jack Gyllenhaal was suddenly at the mercy of a lot of Taylor Swift fans. And lastly, the Jewish holiday of Hanukkah began.
December: 
Marvel fans ended the year very happily with the release of the third Tom Holland Spiderman Film: "Spiderman: No Way Home". This film included characters from the Andrew Garfield and Tobey Maguire films, exciting audiences even more as they were apprehensive to see if Andrew and Tobey would also be joining Tom on the big screen. As someone who has seen the movie twice, I know the answer, but won't share it.  In much, much sadder news Betty White, an incredible actress and comedian, passed away at the age of 99. Her career in Hollywood spanned nearly eight decades, receiving eight Emmy awards and a star on the Hollywood walk of fame. Unfortunately, she passed away a few weeks shy of her 100th birthday. People Magazine was planning on helping her celebrate this large milestone with a special movie event: Betty White: 100 Years Young. No one is sure if this event is still happening or not; although I'm sure if it does it'll come with a lot of crying. She continues to be such a matriarch of acting and comedy, bringing so much joy and laughter into all of her years of life. The movies that she is in now will have a bitter-sweetness they did not have before, but it is wonderful knowing she spent all of those years making so many people's lives so much brighter. 
Let us know if we missed anything that impacted your year in a large way! We both hope everyone had an amazing 2021, and are going to have an even better 2022. This past year was full of divide and debate, which I believe we all need a break from. Although at the same time there were many developments in pop culture and music that excited people like never before. Let's make 2022 even better!