The Viking Times Tasters, Installation One: Thai Taki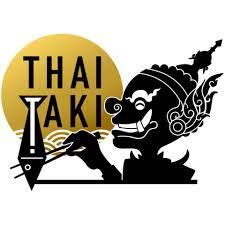 This week, we (Zoe and Christian) went with our friend Jenessa Wadkins to try Winthrop's newest restaurant: Thai Taki. Thai Taki recently opened at Michael's Mall, where JW's used to be. They feature a bar, sushi, as well as classic Thai food. The atmosphere of the restaurant is calming and comfortable. Their staff is efficient and attentive, and made sure to accommodate to Christian's nut allergy, recommending us their best dishes that did not include nuts. Here is a deeper look into what we got: 
Appetizer
For an appetizer, we all split the dumplings. They were delicious. They were soft on the inside, and the veggie-pork filling added a nice level of heat, keeping them warm as we ate them. They came garnished with toasted garlic and scallions, and with a side of soy sauce. 
Zoe: Crispy Chicken and French Fries
I picked out simpler dishes to make sure that any type of eater could be accommodated at this restaurant, and the hypothesis was proven correct! The chicken was tender, with a great crispy breading and the fries were classic and salted well. Any picker eater would feel right at home with these two dishes, and they were incredibly affordable as well! 
Christian: Winthrop on Da Beach (Sushi Roll) and Miso Soup
Winthrop on Da Beach featured a roll of sushi filled with one long piece of shrimp tempura, avocado, and cucumber. The shrimp tempura bread was delicious, and was crispy on the outside and soft and chewy on the inside. There was another piece of cooked salmon over the top, adding another level of flavor to the dish. The miso soup is a classic, a warm small bowl of miso with tofu and seaweed. 
Jenessa: Basil leaves with Chicken and White Rice
This dish was a Thai classic and is perfect for spice lovers. With a nice blend of yellow and red peppers over sauteed chicken with white rice, it wasn't only delicious but had incredible presentation. This dish was undeniably good. 
How was the service?
Amazing. We were seated right away, despite the restaurant having a reasonable amount of patrons. Our waitress was very helpful, and helped find alternatives for Christian's allergy. Our food came fairly fast, was warm, fresh, and delicious. And the cherry on top: Parking was incredibly easy, as there were many spots open at Michael's Mall.
We definitely recommend giving this restaurant a try!
Stick around for more restaurant reviews from the Viking Times Tasters!