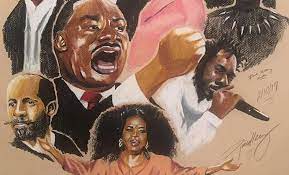 Black History Month: Groundbreaking Black Artists 
February 18, 2022
Black History Month is a month in which we pay tribute and honor the contributions of Black Americans across U.S. History and society. Black History Month started with a group known as the Association for the Study of African American Life and History (ASALH). This group was started by Harvard-trained historian Carter G. Woodson and prominent minister Jesse E. Moorland in 1915, where they would later sponsor the first week of the holiday. They then established the second week of Black History Month to be the week after the first  in order to coincide with Frederick Douglass's birthday. Schools and communities nationwide were inspired to organize local celebrations, host performances and lectures and establish history clubs. Since 1976, every U.S. president has designated the month of February as Black History Month. Many other countries, such as Canada and the UK, have also followed and devoted a month to celebrating Black history. 
For hundreds of years, Black artists have shaped American Art. Much of America's art evolution was and is inspired by Black artists, who've created masterpieces using their "familial background and personal experiences." Here are some famous Black artists who have shaped art to what it is today. 
Augusta Savage
During the 1910's, a groundbreaking movement known as the "Harlem Renaissance" was emerging in New York City. This was the "golden age" of art, literature and music that "transformed the Harlem neighborhood into a cultural hub" for Black people.
One artist by the name of Augusta Savage, contributed not only works of art, but also advocated and created organizations, such as the Harlem Community Art Center, where she led sculpting classes and helped launch the careers of aspiring artists, including Jacob Lawrence. Savage moved to New York City from Florida in 1921, where she attended The Cooper Union for the Advancement of Science and Art and earned her degree. She would then be asked by the Harlem Library to create a bust of W.E.B. Du Bois, a civil rights activist and writer–a piece that "put her on the map." A majority of her contribution to the Renaissance was attached to teaching and advocacy.   
Jacob Lawrence 
Born in New Jersey in 1918, Lawrence completed his Migration Series at the age of 23, illustrating the Great Migration in a 60-panel series.
The Great Migration was a "mass exodus" of over 6 million Black people fleeing the segregated South to urbanized areas across the nation. 
Lawrence's work was imagined to throw avant-garde shapes and bright tones, and was later labeled as a "landmark in the history of modern art" and "a key example of the way that history painting was radically reimagined the the modern era" by the Museum of Modern Art. 
Nor only was Lawrence an artist, but he also taught at several universities. Lawrence received numerous accolades for his work; in 1941, he became the first Black artist to have work featured in the Museum of Modern Art's permanent collection and in 1990 he received the U.S. National Medal of Arts.
Jean-Michel Basquiat
Jean-Michel Basquiat was born in 1960 in Brooklyn, New York. Basquiat began his journey as a hero when he was just a teenager by joining SAMO, a graffiti tag used in the streets of New York City from 1978-1980. Later as a young adult, Basquiat would become well known for his "chicken scratch designs" that were often accompanied with a crown. Though he tragically died at just 27, Basquiat's career is forever remembered for his take on themes such as oppression and self-identity. His works can be found in top museums around the world, selling at auctions for tens of millions of dollars.