Opinion: Don't Say Gay Bill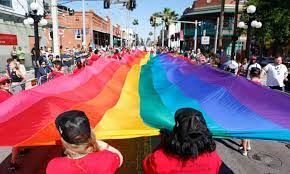 On March 28th Governor DeSantis of Florida signed off on the controversial bill becoming known as the Don't Say Gay Bill. The bill will ban any teachers of ages kindergarten to grade three to talk about sexual orientation or gender identity. This has been met with much backlash, which is where the name came from, but there are many questions about what the bill really means.
The law itself states, "Classroom instruction by school personnel or third parties on sexual orientation or gender identity may not occur in kindergarten through grade 3 or in a manner that is not age appropriate or developmentally appropriate for students in accordance with state standards". This wording seems to be very broad, and much may be left up to interpretation. 
The broad wording may cause worsened consequences for teachers. An argument could be made against teachers who are trying to follow the law, but view something as age appropriate where a conservative parent may not. Being crucified by the law shouldn't be left up to the subjective idea of if something is "age appropriate". Many different people have many different ideas as to what that means. It causes a huge gray area and authorizes parents to become law enforcers. Any parent, no matter what they believe, can sue any teacher, even if they are the only one complaining or that believes the teacher is breaking the law.
Many teachers are living in fear now in Florida. Paula Stevens, a first grade teacher from Clearwater Fl, brought up the question of how to deal with students who have two fathers or two mothers. She wonders if she should let them talk about their family if she could get persecuted for it. There are many situations where teachers could be put into a scary situation due to a curious kid.
Although the bill has been met with a lot of backlash, it has also inspired many other states to introduce similar bills. Many are scared that this bill will just be the tip of the iceberg. Despite this, businesses have criticized the law. There is a petition growing that condemns anti-LGBTQ legislature, which has been signed by many companies, including Disney, Starbucks, Lululemon, and Target.
The Don't Say Gay Bill in Florida is an unfair bill that was made with the goal of persecuting teachers rather than protecting children. The broad wording will allow for teachers and districts to be sued without even realizing they are doing anything wrong. The immediate backlash from the public and many businesses that is continuing to grow will hopefully be able to slow and stop the recent surge of anti-LGBTQ legislation.
**This opinion article reflects the voice of the writer and does not necessarily represent the views of The Viking Times as a whole. Like most news outlets, The Viking Times is a non-partisan media platform.***