Peeps: The Controversial Candy 
Easter is around the corner and this means the iconic marshmallow candy, Peeps, is going back in stock. In the recent years of its popularity, Peeps have more than just their regular flavors. Now, they have cotton candy, chocolate dipped, coffee, wild berry, and many many more. This week, I decided to ask around WHS and asked about their opinions on the candy. Personally, I love them. I think they're adorably shaped, maybe a little goofy, but they taste amazing.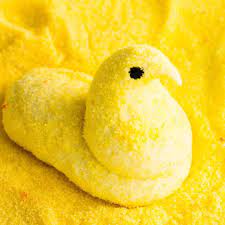 First, I asked a few of my friends, here is what they had to say: 
Junior, Zoe Long: Ew. They are disgusting and I will never eat one.
Senior, Jolena Zaccaria: They are disgusting but if they're there I might eat one.
Senior, Dan Tracy: Oh my god they're so bad.
Senior, Analise Bruno (ashamed to be related to her): I'm sorry but there is nothing appetizing about eating a squishy block of sugar shaped like a farm animal.
Sophomore, Mira Ivanis: I like marshmallows but I've never had peeps before.
Sophomore, Nadia Aldweib: I don't really eat them but they're decent.
Sophomore, April Ferguson: I love Peeps I think they're so good.
Senior, Evan Bernstein: They're much cooler to look at than taste. But, I do enjoy the texture of the sugar.
Junior, Rachael Romano: I strongly dislike them. I hate marshmallow 
Sophomore, Lucy Girard: Peeps are so gross. They're disgusting and I stand by that.
Sophomore, Sarah Delehanty: My grandmother likes stale peeps better, and I hate to say this but she's right. Peeps might be one of the best candies around. It's delicious and fluffy.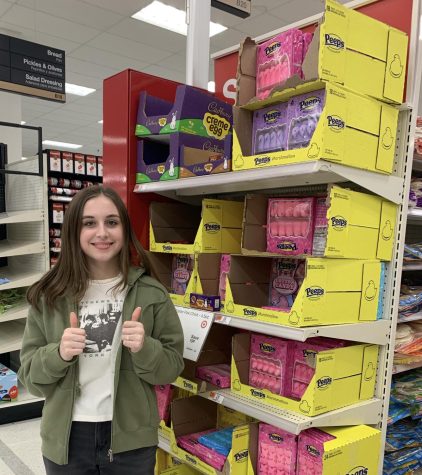 Then, I was going to ask a few of my teachers such as Mr. Donnelly, Mr. Lowe, Mrs. Kelley, and Ms. Irvine but after the responses I got I will no longer be attending their classes. I'm truly offended. 
Ms. Irvine: I think they're gross and completely disgusting. It's a no from me.
Mrs. Kelley: I think Peeps are hot garbage rolled in sugar. The only thing Peeps are good for is putting them in the microwave and watching them explode.
Mr. Donnelly: The only reason I look forward to getting peeps in my easter basket is the wonderful feeling I get when throwing them away.
Mr. Lowe: They're disgusting. It's the worst piece of candy you can get.
After those responses, I decided to do a review. I tried the chocolate dipped ones, and the coffee. I simply give both a 10/10. They're amazing, and made to perfection. I was actually shocked the coffee ones were going to taste that good. I highly suggest those ones if you want to try. I may be one of the only people in WHS who enjoy Peeps, but I've accepted my fate and decided that everyone's opinions are wrong. (Thank you to April and Sarah for being the only sane people who like them!) Happy Easter!