Men & Domestic Abuse: The Johnny Depp & Amber Heard Trial
Everyone is familiar with famous actor Johnny Depp who is most famously known in the acting world for his versatility in the roles he plays. Depp is known for starring in many blockbuster films including Pirates of the Caribbean, Charlie and the Chocolate Factory, Edward Scissorhands, Fantastic Beasts, What's Eating Gilbert Grape, and A Nightmare on Elm Street. However, what many have noticed is that Depp has taken an absence from the big screen in the past few years, with the choice not being entirely his own. 
Recently, it has come forward that many directors and companies are refusing to work with Depp over domestic abuse allegations coming from a former partner, Amber Heard. In 2018, he was asked to resign from his role in Fantastic Beasts after losing his lawsuit to the tabloid The Sun who called him a "wife-beater" (with the wife in question being Amber Heard). Yet, with more evidence coming to light, it's apparent Heard's claims may be laced with some lies and speaks to the treatment of male domestic abuse survivors.  
To provide some context, Heard and Depp married one another in 2015, and filed for divorce the following year in May of 2016, with word that Heard was throwing in a restraining order on an abuse claim. Depp's lawyers alleged that Heard was attempting to secure a premature financial resolution by alleging Depp had been "physically and emotionally abusive" throughout their marriage. Eventually the two settled and the restraining order was dismissed, but just as things seemed to be mellowing out another lawsuit was filed when Heard wrote an op-ed to the New York Times again claiming that Depp was abusive.
The trial has now been taken to court and is being live-streamed for the public to watch. No matter whose side you're on, here's what we know so far: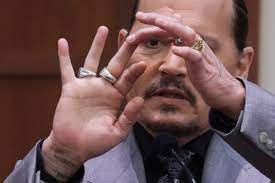 Johnny Depp did struggle with drinking during their time together which did result in damage to some objects including glass cups and cabinets, but never to Amber Heard, so Depp claims. In released audio played for the court, (secretly recorded by Amber) Depp is heard arguing with her and hitting cabinets, but again, not harming Heard. On the stand, Depp did admit to using the C-word against Heard and getting outraged but also attributed some of his behavior to the bad headspace he was in. Those who testified ascertained that Depp did previously have issues with substance abuse, but never drugs, which Heard's legal team seemed to be pushing, 

Depp countered Heard's abuse claims with his statement that she had thrown two vodka bottles at him, with one severing the tip of his finger.

In her divorce settlement, Amber Heard promised to donate all the money she obtained to the Los Angeles Children's hospital, but no receipts or confirmation from the hospital to ever verify that this is true. It is evident she lied about this act. 

Depp admitted to sending rather volatile texts to Heard,

During their relationship Heard frequently threatened suicide if Depp ever were to leave her. 

Heard previously accused Depp of breaking her nose, but according to Depp the two both accidentally headbutted. He mentioned that when checking the tissue she threw in the trash he did not find blood, but rather red nail polish. 

After a fight on her 30th birthday, Heard restricted security to not let Depp back into their penthouse, and advised them to show a picture of her feces on his bed. 

Heard did admit to slapping Depp after a secretly recorded audio was released where she can be heard saying "stop being such and f***** baby."
*The trial is still ongoing
The former couple had their marriage counselor take the stand who did testify that she felt both engaged in some forms of abuse in their relationship. There are certainly a lot of holes that still need to be covered in the case, but if you've been following there are clear discrepancies in what Amber is pushing in comparison to what occurred. Much of what her legal team has presented can be pretty easily contradicted by the truth. Much of what Amber alleged in the past has proven false. Furthermore, her defense seems to be borderline pestering Depp and his witnesses, often seen asking them the same or very common sense questions repeatedly. 
Men suffer from domestic violence in the same way many women do (though less percentage-wise), but the rate of reported cases is significantly lower. This is for a lot of reasons, many having to do with societal pressures placed upon men, scaring the thought of being made a joke of, or lack of resources. I would argue that there is this huge stigmatism around men professing that they've been abused because, much like in Depp's case, they will often be dismissed. There is this sentiment floating around that men should just "suck it up" or "take it like a man" which only discourages them from making their voices heard out of fear of appearing cowardly. I think it is incredibly important to believe the victim, and I don't necessarily side with Johnny Depp because he's a famous actor. Sometimes you have to look past societal impositions to see the fact of the matter. Whether Herds or Depp's claims are true, let it be known that only Depp lost his jobs, which again spotlights this sometimes apparent double standard engrained by toxic masculinity.