The Viking Times Tasters, Installation Five: The Winthrop Arms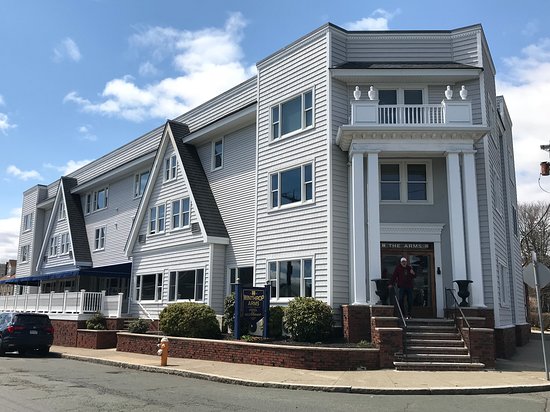 Welcome back to another installation of The Viking Times Tasters! This week, Zoe Long and I, along with special guest Chelsea Long went to the Winthrop Arms for dinner. Despite the restaurant being very busy as it was Confirmation night, we were seated promptly. The atmosphere was comforting, and calm.
For our appetizers, we ordered mozzarella sticks. Here's what we all thought about them:
Christian: My favorite part about the mozzarella sticks was actually the marinara sauce. It was hot, and kept the mozzarella sticks warm as I dipped them. It was sweet, but not too sweet.
Zoe: Mozzarella sticks are one of my favorite appetizers to order at any restaurant, and these did not disappoint. The cheese was melted perfectly, and had an amazing contrast with the crunch f the outside crust.
Chelsea: They were crispy on the inside, but warm and flavorful on the inside. They satisfied every last craving and it was a very delightful experience.
For our main course, I got buffalo chicken mac and cheese, Zoe got chicken fingers, and Chelsea got an order of sweet potato fries.
Buffalo chicken mac and cheese: The Arms buffalo chicken mac is definitely the best around. It is a classic that I always get. The pasta is tossed in a creamy cheese sauce, and then the buffalo chicken is breaded, tossed and sauce, and put on top. It is then baked, allowing the dish to retain its heat. Like any good mac and cheese, it is creamy and soft on the outside, while being crispy on the outside. It is absolutely one of the best options on the menu. The buffalo sauce it not too spicy.
Chicken fingers: Will I ever order anything new? Probably not. Chicken fingers are a classic dish, and this restaurant proved that point further. The chicken was cooked incredibly well, and breaded just right to add a bit of crunch. Personally, I believe they could have used some spice or seasoning, but then again they were flavoral and very satisfying on their own.
Sweet potato fries: These fries had a good taste, but the consistency was questionable. They were very soft and left more to be desired, but again the taste was great. 
Overall, we had a very enjoyable time. The staff were efficient and helpful. Chelsea did feel though that there were a limited amount of vegetarian options on the menu, but that would not hinder us from coming here again. We left the restaurant very satisfied. We give the Winthrop Arms a 9 out of 10! It is located at 130 Grovers Ave, and open every day.