Met Gala 2022: A Comprehensive Fashion Review
The Met Gala is an annual event run by British Journalist, Anna Wintour, located in New York, that celebrates a culmination of history and art through fashion. Beyond being just some major red-carpet event, the event is also one the biggest fundraiser events for NYC racking in 16.4 million dollars in donations for 2021, and 17.4 million this year. Its $30,000 ticket fee, and $200,000 tables, mainly paid for by sponsors and outside companies, are what help support the Costume Institute of the Metropolitan Museum. Though the direction of donations funds is slightly controversial, the point is the gala isn't just some celebrity affair, it has a purpose. 
This year's theme was "gilded glamor", a time in American history where excess and grandiosity were the emblems of fashion at the time. Unlike the previous year's theme of "camp" this one had a rather cut-and-dry concept that left a decent amount of room open for interpretation, yet, many still felt like a lot of the celebrities missed the mark. The first disappointment came from the absences of met gala icons Zendaya, Timothee Chalamet, and Taylor Swift who skipped for unclear reasons. The second disappointment came in the form of totally missed marks in the apparel area. For reference, here is what the inspiration for gilded glamor should have been: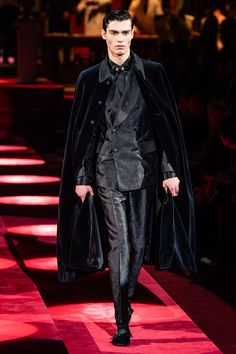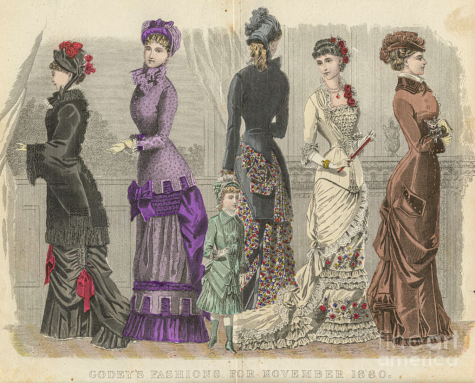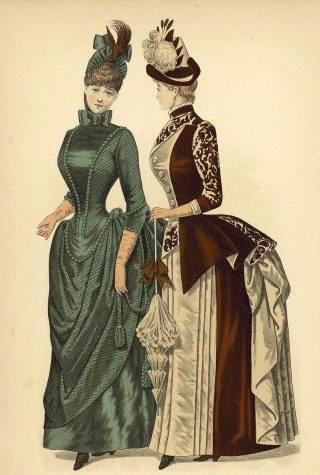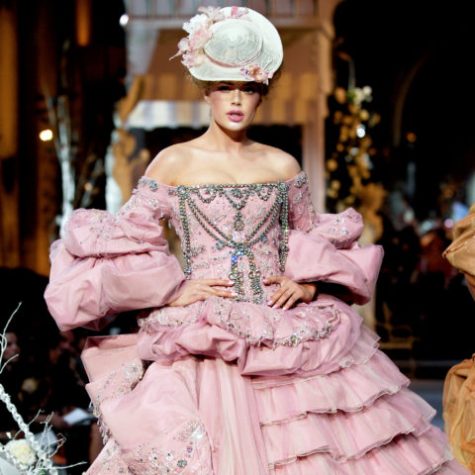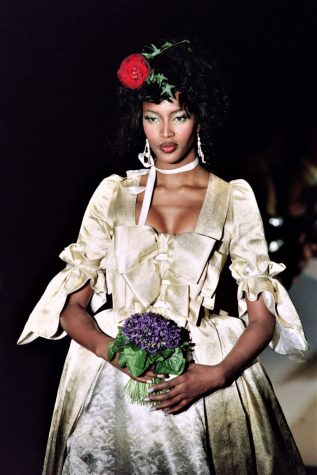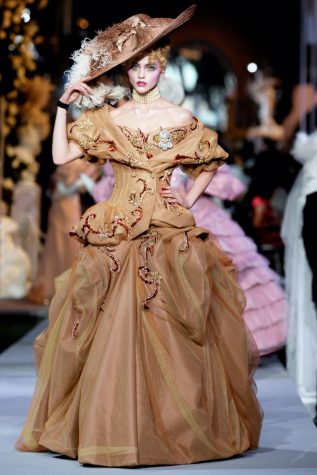 However, not much of this was seen on the carpet, but not all hope was lost. Some celebs did rise to the occasion and made their mark on the runway. Without further ado, here are some of the best, and worst, looks that stepped out onto the shiny red carpet of the Met (in MY opinion ;):
1.Blake Lively
When has Blake Lively ever disappointed us on Met Gala Monday? From the "Catholic Imagination" to "Heavenly Bodied" Black has come to serve the best fashion has to offer, and this year was no exception. Starting with a gorgeous bronze layered dress, and transforming into a longer ballgown with a train and a pop of blue in both the underskirt and gloves allowed her to steal the show. Not only did she outdress her husband, but she also managed to stay perfectly on theme 10/10.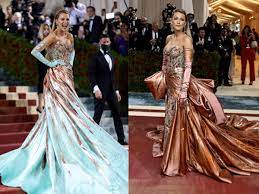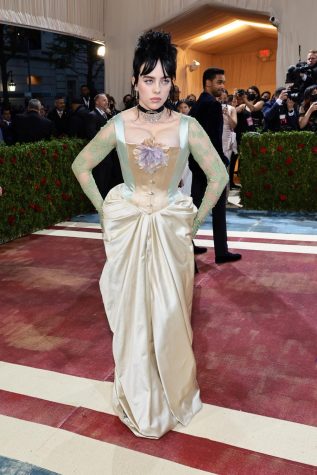 2. Billie Eilish
Billie's look seems to be a bit more controversial with some loving, and others hating the look. I think the look was great, mostly because it was exactly on the theme. From the modern corset to the very gilded hairdo, I think Billie hit the nail right on the head. I wasn't a fan of the big flower sprouting from the neckline, but other than that I think the build of the dress was fabulous. 8/10.
3.Sebastian Stan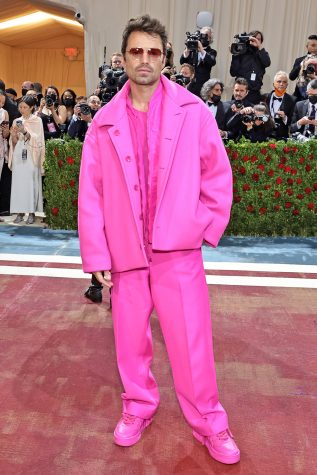 No, just no. Sebastian, did we even consider the theme? I love his acting, but I'm sorry to say Sebastian missed the mark big time with his neon pink puffer fit. Last I checked, neon colors didn't exactly make an appearance in the gilded age, nor did the build of his outfit match the energy of the night. I'm sorry, 4/10.
4.The Kardashian-Jenner Clan
What is the Met Gala without an appearance from the Kardashian-Jenner clan? Known for some of the most iconic, and misguided looks, of Met Gala history, I of course have to give my thoughts on the whole family's fits- especially considering Kim's dress sparked some controversy alone. 
Kylie- I'm sorry but no 🙁 Unfortunately, this outfit is not giving me gilded glamor, it's giving me a more casual bride. There are just a lot of elements at play here that, in my opinion, don't work. Why the baseball cap? The veil? The white? I don't know, I didn't get what she was going for, 3/10.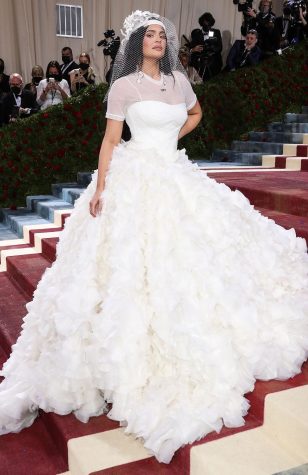 Kendall- Slightly better, but I don't understand why everyone is ranting and raving over this dress. It's black, has layers, and a multitude of ruffles. In no way is it giving me "gilded glamor", and I think the only reason people like it is because she's a model. However, I do like the bleached eyebrow moment 5/10.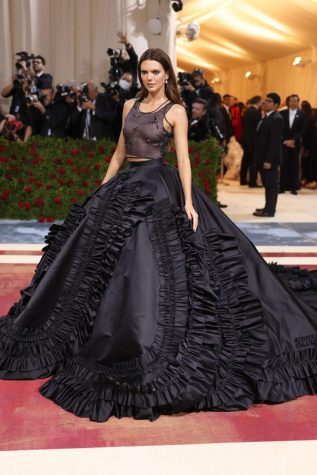 Kris- Well, it's certainly giving me first-lady vibes, and the fit of the yellow dress and curled hair is very reminiscent of Jackie Kennedy to me for some reason. It wasn't exactly on theme, nor was the color or build of the dress my favorite, but I think it worked for her, 5/10.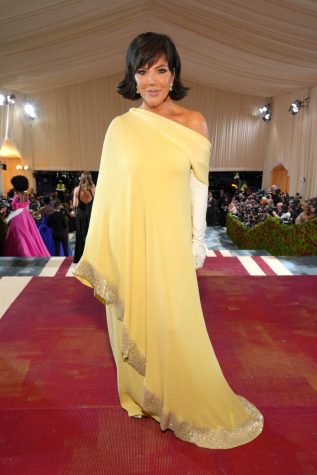 Khloe- Probably the best dressed of the Kardashian sisters. The dress isn't perfect, I'm not a huge fan of the abstract sleeve moment, however, I do love the bodice and think it matches the gilded theme perfectly. The dress overall certainly could have served us more, but again, it wasn't terrible 6.5/10.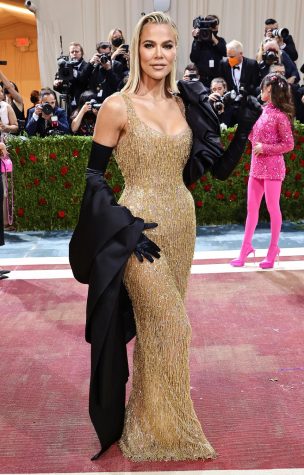 Kourtney & Travis- I'm sorry but the whole get-up made me think that they just searched through their wardrobe and pulled out a bunch of different pieces and slapped it into one outfit. Kourtney's outfit just has a lot of elements, blazer, skirt, blouse, and the dress that are not exactly working in harmony, nor are on theme, so I think this was, unfortunately, a definite miss, 2/10.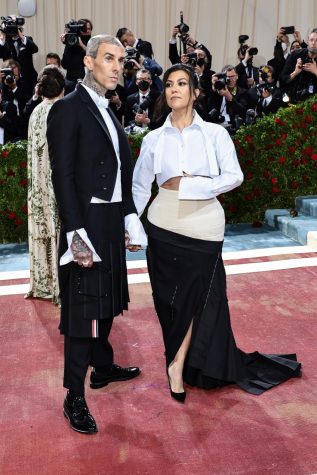 Kim- Somehow she got away with wearing a dress worn by Marilyn Monroe as she sang the iconic "happy birthday Mr.President" song for JFK. The dress was controversial for many reasons, with many arguing that the dress was a piece of history that should have remained untouched. I would have to agree, although from behind-the-scenes clips it's clear Kim has great respect for Marilyn and the dress. I think that the outfit is not Met-Gala-worthy, it is a literal piece of American history and should be treated as such. I also don't think the nude makeup worked with the slick back white bun, red lips and more Marilyn-Esque hair would have elevated the fit. Pete also looked like her accessory, not her date. However, the fact that she boasted about starving herself to fit into the dress itself (since it could not be altered) lost her some points 4/10.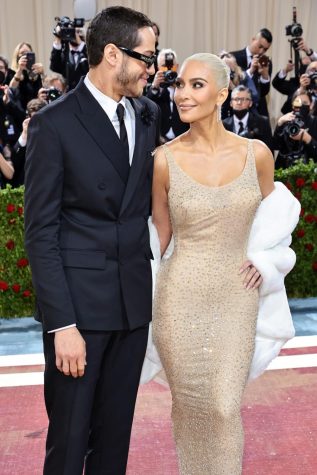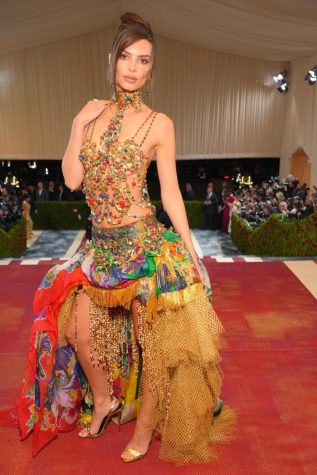 5. Emily Ratajkowski
I'm thoroughly confused by her interpretation of the theme. The dress does not have a defined bodice, but rather just a bunch of hanging elements and a variation of fabrics. This reminds me of something you would see at Carnival in Rio, and I would appreciate it in that respect, but I don't know, it just didn't match the theme. 4/10
6.Lizzo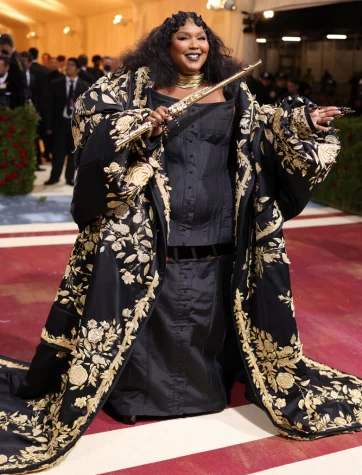 Okay, so I LOVE the overcoat with the gold detailing, it's definitely giving me gilded glamor. Even though I think it's hard to fit such a dark-colored dress into a theme based on extravagance I think she did it well. Her makeup was just right for the occasion, and the jewelry was a perfect added touch. My only complaint is that I don't like how the bottom of the dress is separated, but otherwise, with the golden flute in her hand, I think she really checked all the boxes with this fit, 8/10.
7. Olivia Rodrigo
I know this opinion is going to be controversial but I have to say it: the dress was gorgeous and she looked gorgeous but in no way did this follow the theme. Purple is the color of Olivia's entire brand, as well as butterflies. I think it's great that she incorporated that into her look, however, it has no semblance to the American Gilded Age. Personally, it feels like The Met was just a pit stop on her Sour tour. However, I won't lie, the dress is BEAUTIFUL 6.5/10.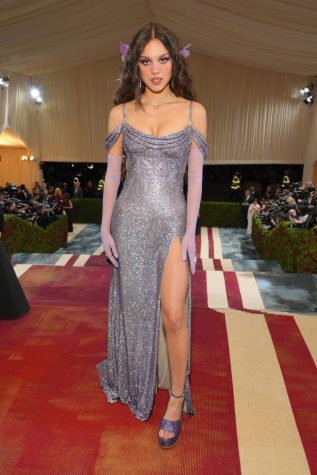 8.Gwen Stefani
I have so many questions, the first being why neon? I don't understand why neon colors are being tied to America's Gilded Ages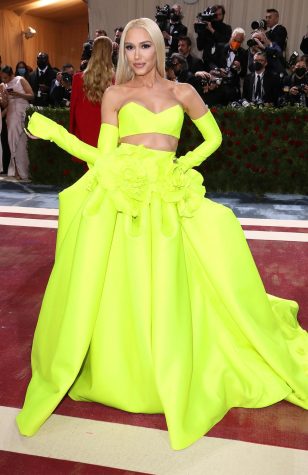 when golds and many more natural colors defined the time. The entire build of the dress is way too casual for this theme and does not match the energy of the Met itself. The ruching is too much, and for a theme based on extravagance, this one goes too above and beyond that standard. 1/10.
9. Gigi Hadid
I'm disappointed because Gigi has given us SO many good fits, especially from the heavenly bodies year, but this time around I think it was a miss. No doubt the build of her fit was cool, and I admire that she didn't go the typical route of wearing a dress, but the coat was just a bit too much for me, it's very reminiscent of Cardi B's outfit from the Catholic Imagination theme. I just don't get gilded glamor, it's way too modern in my opinion, 5/10.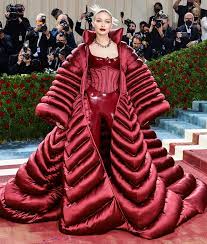 10. Megan Thee Stallion
AMAZING. She nailed the gold color scheme and the dress had a very simple bodice, but beautiful detailing. I think my favorite part is the feather-detailed shoulders because it screams gilded ages to me. The dress balances beautiful ornate detailing with more extravagant elements in the sleeves to make the whole piece work. 9/10.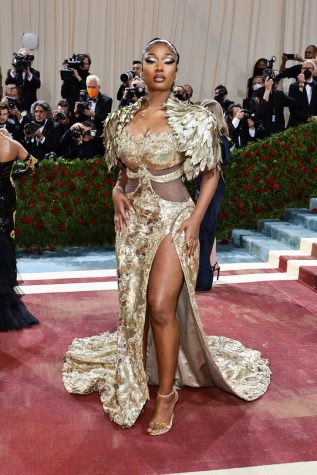 11. Sarah Jessica Parker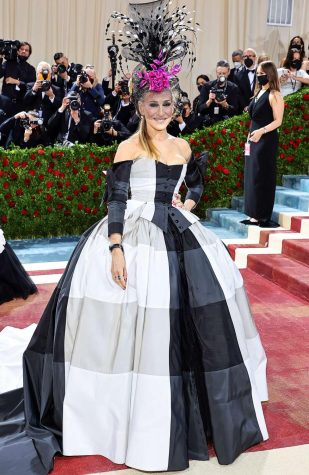 For someone who played a fashion-obsessed person on TV, you would think Sarah would have nailed the theme, but you're wrong. To start, the dress is black and white gingham almost which in no way is reminiscent of the Gilded Ages. The buttons, cut of the dress, and the dreaded sleeves don't even elevate this dress to be good enough apart from the fact that it did not follow the theme. Then there is of course the hairpiece which looks like something you would find straight out of the Kentucky Derby. I'm sorry, her makeup was great but I am not a fan of her fit overall, 2/10.
12. Emma Stone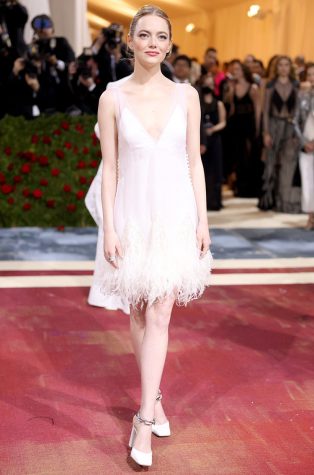 Okay, Emma's dress wasn't TERRIBLE. It did miss the theme quite a bit, but I think its main issue is that the Gilded ages were about extravagance, and this dress was just painfully too simple to compete with that. I love the light pink color, but the shape and the feathers don't really do it justice, but again, it wasn't horrid it just left me wanting more. 5/10.
13. Camila Cabello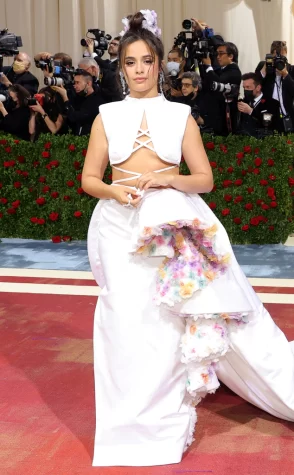 No. The theme was lost here, and it's giving me very much DIY Easter Sunday dress. We are working with half a train, a half side of ruffles, a cut-off top, a high-neck, and then random flowers? The elements here are a bit too much for my taste and I don't think they blended cohesively enough to work, this was not my favorite. We were getting somewhere with the hair, but this felt like a miss overall.2/10
14. Amy Schumer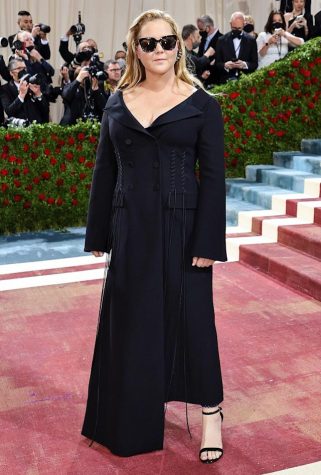 No, on so many levels. Apart from my personal opinions on Amy Schumer, in no way do I think this dress works. Remember how I said it's hard to make darker colors work for this theme? Well, this is a prime example of why. It's giving me a trenchcoat, work dress, and office attire wrapped into one. In no way am I sensing any cohesion between the elements of this piece, and it's also way too simple to even remotely come close to what the objective was. It reminds me of something right of The Matrix honestly 1/10.
15. Janelle Monae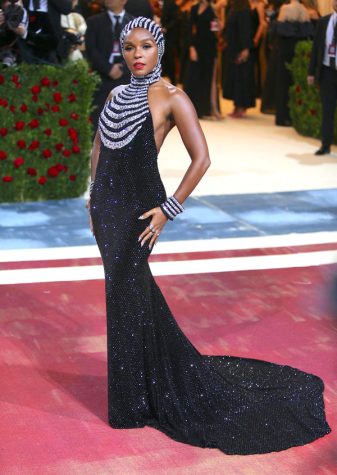 STUNNING. I think she nailed a modern twist on the extravagance of the Gilded Ages, which is quite hard to do, but she made it work. The simplicity of the build, but ornateness of the detailing and jeweling of the dress is what makes it perfect and iconic in so many ways. I love it. 9/10
16. Emma Chamberlain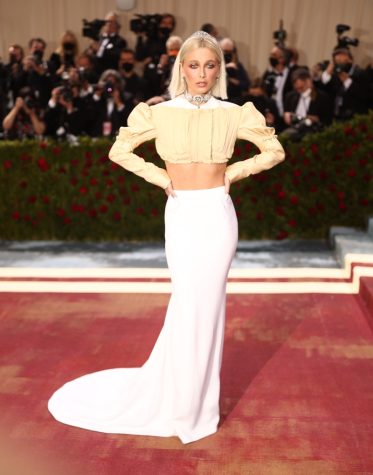 Okay, I get the vibe she was going for, but I have mixed feelings. First of all, I LOVED the hair, the platinum bob was adorable and matched her fit. As for the dress, the design of it was very much of a gilded age, especially the collar top piece. However, I did feel it was missing the extravagance or "glamor" part. It was on the more simple side which matched everything else she had going, so I appreciate that. 8.5/10.
17. Laura Harrier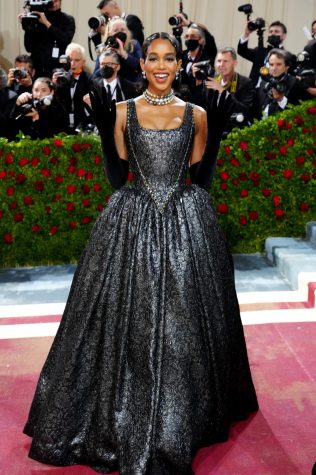 Hands down one of the best dressed people there and she was only reporting on the event. The shape, design, and detailing of the dress are GORGEOUS and are THE definition of Gilded Glamor. The dress spoke for itself without needing a mile-long train or a thousand ruffles, the jeweling and perfect fit was good enough. I cannot articulate how much I love this dress, I would wear this if I was invited. 10/10
18. Cardi B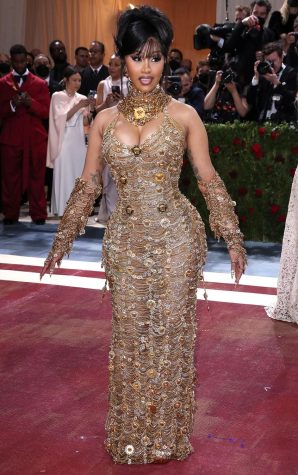 Was it my favorite dress? No. However, I did feel she was right on the money with the theme. The color and very ornate gold jeweling carried the piece, though I understand why it may have been too much for people. I also like that her hair went with the theme because it's just as important as the dress. Not bad overall. 7/10. 
19. Madelaine Petsch
The dress certainly had no sparkly or ornate defining features, but I think that the fabric she used instead was perfect. The sleeves aren't my favorite, but it matches the whole shape of the dress to match those old-fashion Gilded Age type of dresses. It was a more modern take on the usual ball gowns, but I personally liked it. I cannot get enough of the fabric, and her hair fits the vibe of the dress too. 7.5/10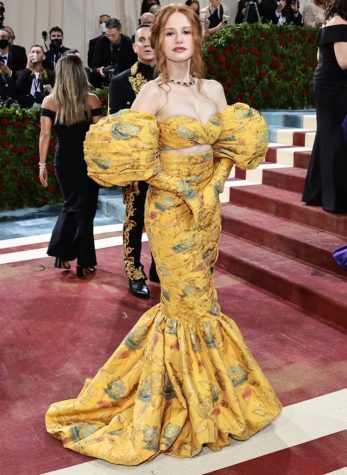 20. Maude Apatow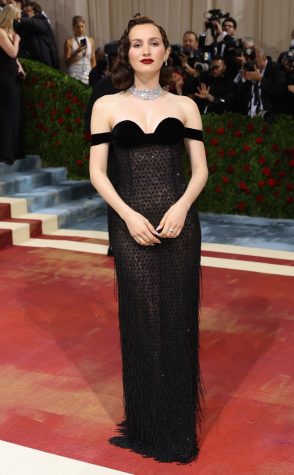 Okay, this dress was giving me more 1920s flapper, but I don't hate it. I suppose it may not fit the theme PERFECTLY but the elegance and the beading are what's getting me. I don't think the dress was so obscure in construction that it looked out of place, but it wasn't a stand outlook of the night. I would 100% wear this dress because I think it's gorgeous, it just maybe could have been on the theme more. It still left something to be desired for me, 7.5/10
21. Shawn Mendes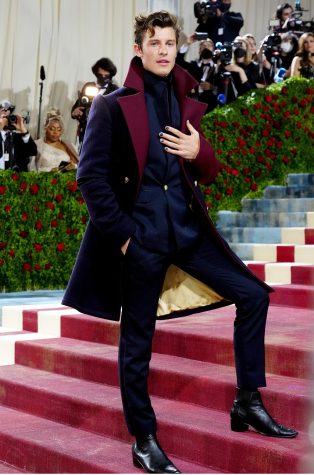 I feel like the bar is never set exceptionally high for men because most of them can just slap some variation of a suit on to get by, but I don't think this happened here. Shawn pulled out with the fancy button overcoat with a navy base and red accent. He may have missed that "wow" factor, but he looks like he was pulled straight from the Gilded Ages and I think his attempt was admirable. 8/10.
It's no secret that celebrities don't always get to dress for these events, and only have a limited amount of looks to choose from, so absolutely no judgment on them, these just reflect my honest opinion of how I felt the garments fit the theme and looked as a whole. I think what "Gilded Glamor" truly is, is still up for debate, so thoughts on these pieces were subjective. I still think previous years such as "Heavenly Bodies" and "The Catholic Imagination" had more celebs on the theme and in more interesting garments, but this year wasn't nearly as bad as last year, so at least that's something to celebrate!