WMHS cafeteria food: awesome or average?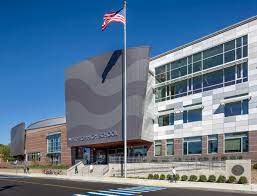 By Kaylin Barry
How do the students at our middle/high school feel about the cafeteria food? Is the food bad or good? What food would you like to have at school? Is it healthy enough? What changes could be made? To find this out I interviewed James Sicurella, a graduating senior, Josie Barry, an incoming freshman, and Vice chairman of the school committee, Julie Barry.
James thinks that the cafeteria food is slightly below average, as someone who gets the school lunch every day, that says something. He wishes that the food was better quality for all students to enjoy, he wishes that the chicken patties were better and that something as simple as chicken finger and french fries were served. He doesn't think that there are many healthy options, as salads are only offered sometimes and are very few. However, he does appreciate that the chip and snack options are on the healthier side, as there are reduced fat and low sodium chips. The change he wants to see in the lunches are the portion size and that we should have more options for lunch. Personally I would agree, but I also think that the biggest issue is that by the third lunch there's barely enough meals left for every person that would want one.
Josie, A Winthrop Middle School student, graduating 8th grade this year, rarely ever gets school lunch. She thinks it's gross, she thinks the food is mushy, with no flavor and she feels uncomfortable when she eats it. She feels this way because she doesn't feel like the food is real. She thinks the sandwiches and hamburgers have fake meat in them. She wants the food to taste better and wishes that the middle school had healthier options, something as simple as a salad bar, so students could pick and choose what they want. That goes for every meal.
Julie Barry, A mother of kids at the middle high school, and on the school committee, believes that the schools as a whole should offer healthier options and a better variety of food. She believes that not many kids get lunches because they are not interested in the same dull foods being served everyday. "If students were interested in the food being served then they would get the food and enjoy it more, we need more of a variety." She thinks they need fun options, such as interactive food bars, a potato bar, a salad bar, a pasta bar. If kids could design their own meal and what was on it, they would have a much better time eating lunch.
With these interviews, what do you think? Does WMHS need to change up their lunch plans? Do we need to advocate for ourselves for better food? What can you do to improve our school?