The Final Day – Mrs. Aronson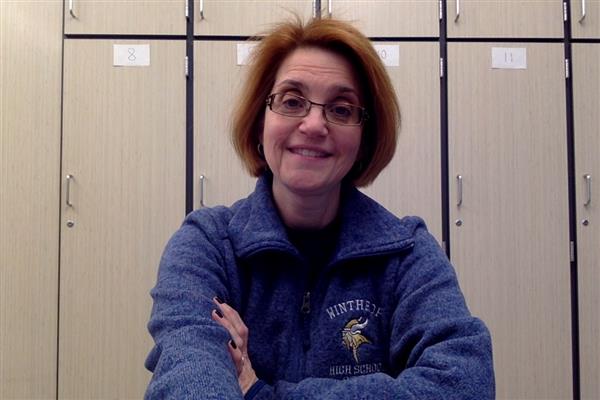 Winthrop High School is full of so many amazing staff members and students! Unfortunately, this means that whenever one of these teachers has to leave, it's a very hard goodbye. Mrs. Aronson, a beloved Algebra 2 teacher, is retiring this year. I had her in my freshman year and she was an incredible teacher. It was so nice to catch up with her after not seeing her for a while because of Covid-19. She is such a kind person and teacher, so if you weren't lucky enough to have her in class I would definitely reach out and create a friendship with her! We, at the Viking Times, wanted to catch up with her about her years at Winthrop High and what she plans to do in the future!  Without further ado, here's all you need to know about Mrs. Aronson:
1. How long have you been working at Winthrop Schools? 
I have actually worked at Winthrop Schools two separate times. I taught in middle school in 1989, and then left in 1992 in order to start a family. I came back to teaching here in 2005. I took over for a maternity leave, but then just ended up staying and have been here ever since. My first time getting this job, I just applied, but when I came back I knew a lot of people and already had Winthrop Schools on my resume, so it was much easier that time around. All in all, I have been teaching for around 23 years. 
2. What are you going to miss the most about Winthrop High School? 
I am going to miss the people the most! The students, the teachers, the faculty, everyone! I am going to miss the camaraderie and everybody in the building. I just enjoy being here, and every aspect of it, but it is definitely time!
3. What inspired you to become a teacher? 
I wanted to become a teacher to make a difference. Every teacher says that but it is really, really true, I wanted to make a difference. I fell in love with math and I wanted to pass that passion onto students. Even students that don't particularly enjoy math I was striving to create a bit of a spark! 
4. Are there any fun or special memories that you would like to share? 
There is one time that ALL of the other teachers like to bring up and that is when a mouse fell out of my ceiling. It was back when this building was still the old high school. This story somehow comes up a lot. In fact, as I have been walking around saying my goodbyes, a lot of people have brought it up to me. It turned out to be a beautiful teaching moment. We caught it and let it free outside. I tried to convince the students that it was dust at first, but then it started moving around. What I love about this job is that every single day is different here, and we never know what the day is going to bring. Everyday is different, but is also the same. 
5. How do your students inspire you? 
My students inspire me everyday. I enjoy watching them learn and watching them grow. Especially at this time of the year, when all of the students are also able to recognize how much they have grown. 
6. Did you teach any current coworkers in the past? 
Yes, I have taught so many! I taught Miss Delsolio, Mr. Tarantino, Miss Costigan, Miss Dorso, and Mr. D'amico. I also taught with Mr. Crombies' dad, Mr. Donellys' dad, and Miss Costigans' mom. 
7. What do you like about teaching Algebra 2?
I love teaching Algebra 2! I teach it all day, everyday, it's all I do! I like the challenge, and that is it is a bit more in depth than Algebra 1. That way you have seen all the material before but then you have the chance to do a bit more with all you already know. 
8. Do you have plans to come back and substitute? 
I don't plan on it, but it all depends on what's going on in my life!
9. How are you feeling about your retirement? Are you excited, or is it a bit bittersweet? 
It is totally bittersweet, this whole retirement. 
10. What is your first goal of retirement? 
My first goals are to pay more attention to my house and to my family. Both of my kids  have moved away from home and I want to be able to visit them whenever I want to and when they need me to. 
11. Do you have any travel plans? Or any overall fun or interesting plans? 
I don't have many plans for traveling except to see my children, who I mentioned in the last question. One of them lives in Seattle and the other lives in DC, so I will be visiting both of those places. My fun and interesting plan is to do nothing for at least one year. I did join a book club, which is something I have been looking forward to doing after retiring. 
12. Any parting messages? 
I do not have any words of wisdom, but I am going to miss everybody and I do want to come back to visit. I also want to let everyone know that I love when my students reach out to me after graduation when they reach any sort of milestone, or just to say hello. 
I hope you enjoyed learning more about Mrs. Aronson's time here, and her plans for the future as much as I did. A huge thank you to Mrs. Aronson for speaking with me, you're going to be missed by so many!