Natural Disasters of Papua New Guinea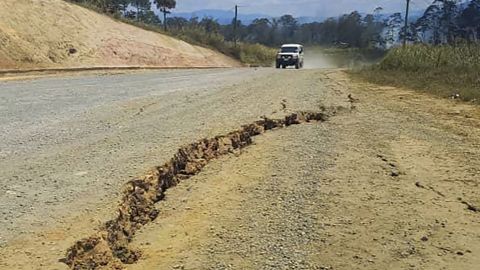 If any of you have been following the news lately, you would know of the natural disaster that wreaked havoc across an Australian nation. This past Sunday, September 11th, Papua New Guinea was struck by a 7.6 magnitude earthquake. An earthquake of this size and magnitude is capable of causing serious damage. 
    The extent of the damage was not clear at the start as the earthquake had hit a remote area in the eastern part of the nation. The quake occurred at 9:46 am local time and struck approximately 67 km east of Kainantu and about 80 kms northwest of Lae. It hit at a depth of close to 90 kilometers near a small town of around 8,500 people. Shortly after, another earthquake of a 5.0 magnitude hit 70 km north of the initial hit at the epicenter. 
    In comparison to a prior earthquake of a 7.5 magnitude in 2018, this one did not cause nearly as much damage. Papua New Guinea is known to experience earthquakes due to its proximity to the "Ring of Fire" on the Pacific Ocean. This particular area has constant seismic activity in response to friction between tectonic plates. Residents are often warned of both earthquake and tsunami dangers.   
    Reports from September 11th bring the death toll to a minimum of four individuals and injury of at least four. There was also a great deal of damage done to property and essential infrastructure. As a result, an outage occurred throughout the Eastern Highlands and impacted the many civilians who reside in the area. The sheer force of the earthquake left behind cracked roads and damage to power grids, internet cables, and highways. Multiple landslides also occurred as a direct result and took the lives of some. 
    As of two days ago the death toll has climbed up to seven people. According to the Morobe Provincial Disaster Director, Charley Masange it could take some time to assess the extent of the damage and injuries caused by the earthquake. He stated that the scattered population and lack of large buildings in and around the epicenter might have prevented a larger disaster for Papua New Guinea. 
    There will surely be more reports to follow on this disaster but as of now this is the information revealed to the public. This is most definitely not the first and certainly won't be the last earthquake to hit Papua New Guinea.