Teacher Spotlight: Ms. Audra Irvine
As the 2022-2023 school year is beginning to settle in, so has Winthrop High School's new academic teachers, and more specifically one of our lovely new biology teachers, Ms. Irvine! Arriving at a new school can be difficult, for both students and teachers. Coming together as a school community to create a welcoming environment for our new teachers is important, so be sure to come by room 317 to introduce yourself! I've decided to ask Ms. Irvine various questions to get to know more about this new biology teacher and make her feel more familiar with the school.
1.) What is your name, and what subject do you teach here at Winthrop High School?
"I'm Audra Irvine. I'm new to Winthrop High School! This year I am teaching Honors and CP Biology classes, mostly to freshmen."
2.) Why did you choose to teach your particular subject?
"​I have always felt strongly that teachers are at their best when they get to teach what they are most passionate about, and I am genuinely passionate about biology and A&P."
3.) What do you like most about Winthrop High School so far?
"Hands down, the best thing about WHS is the PEOPLE! Everyone from Winthrop— students, staff AND parents— have been so genuine and so friendly. That is much appreciated and so encouraging.  I also really love that there is so much diversity in such a small geographic space! There are more than a dozen native languages alone spoken at home among the fraction of the freshman class I teach! That's value right there."
4.) What led you to work here at Winthrop High School?
"Initially, the need to shorten my commute from home in Boston (Dorchester) to the last school at which I worked, pushed me to look around, but in the end, to be honest,  I chose Winthrop for the vibe I got from the people in leadership positions. I felt like we had similar values and ideas about how to do right by kids."
5.) What are some of your favorite activities outside of work?
"Hmmm… I LOVE field hockey and tennis, trying new restaurants, traveling, and (above all) jogging/exploring/snuggling with my baby girl, Bianca! (P.S. Bianca = 85lb red nose pitbull, for context here.)"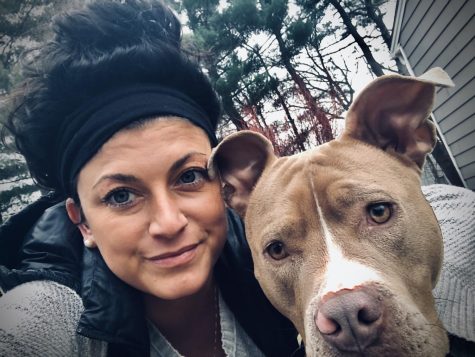 I hope this article has allowed readers to be given an insight into one of Winthrop High School's newest science teachers, Ms. Irvine! I am currently taking her biology class and anticipate an incredibly fun-filled year. She is immensely easy to like and has such a humorous and good-natured personality. I am more than thrilled to be a student in her classroom, as is everyone who has her as a teacher.