Roger Federer, Former World No. 1, Retires at 41
Roger Federer, a Swiss tennis player who reinvented the sport of tennis as we know it to be today. He mastered numerous tricks necessary to grant him the title of world No. 1 and popularized many of the old ones by reinventing them, such as the infamous 'tweener.'
There are times in a match when an opponent draws the player close to the net with a short shot or a lot, so the player has to rush to the net and regain their point. However, once the opponent has successfully done that they may either blow it past one of the corners or lob it over the player's head. This is where Federer gained gasps from the people the most; not only would he reach the ball and hit back over the net successfully, but he'd be able to do all of this while launching the ball at a straight line at almost 120 mph. That's about as fast as a majority of tennis players can serve!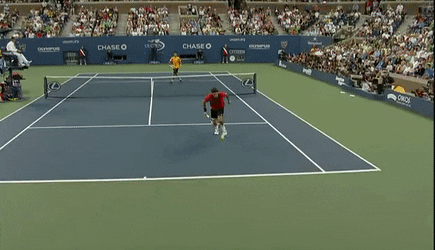 Roger Federer marked his career with a total of 5 consecutive US Open titles, 8 Wimbledon titles, 369 Grand Slams (36 consecutive Grand Slam quarter-finals and 23 consecutive Grand Slam semi-finals), and played 81 grand slams as well. He has a record of being the No. 1 player five times for 310 weeks–he was also the eldest ever to become No. 1 at age 36. All of these achievements are "all-time records," according to Zee News India.
However, Roger Federer has officially retired following his final match at the Laver Cup just last week. He is seen in the final moments shaking hands with the players before sitting side by side with Rafael Nadal, crying and hugging others.
"We'll get through this somehow, will we, right?! Look, it's been a wonderful day," Federer says at the Laver Cup, "I told the guys I'm happy, I'm not sad. It feels great to be here. I enjoyed tying my shoes one more time – and everything was the last time…It is amazing, it is [to share the court with Rafa and the others]."
Rafael Nadal, also a former No.1 player and one of the esteemed greats tweeted, "Dear Roger, my friend, and rival. I wish this day would have never come. It's a sad day for me personally and for sports around the world. It's been a pleasure but also an honor and privilege to share all these years with you, living so many amazing moments on and off the court."
Personally it is heartbreaking watching one of the greats leave the court for the last time. Federer was the athlete I grew up watching wanting to play like so bad. He earned his title and respect with years and years of hard work so it is very sobering knowing that there'd be a day where he would officially leave the sport. However, looking back on his career and his accomplishments, there is no greater gift the audience could ask for from an athlete who gave it his all.
MArca     Federer posted on his Instagram, "The last 24 years on tour have been an incredible adventure. While it sometimes feels like it went by in 24 hours, it has also been so deep and magical that it seems as if I've already lived a full lifetime."