Student Spotlight: Robert Noonan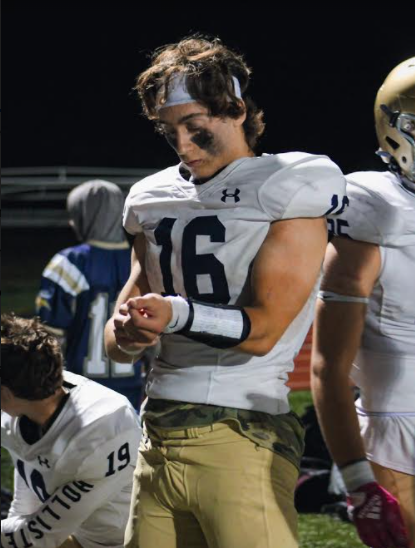 Winthrop High School has tons of great students overall. All of them work hard and are excellent members of our school and town community. This week we decided to focus on one student in particular, Robert Noonan. Robert Noonan is a 2- Varsity sport athlete and is the quarterback and captain of the Winthrop High School Football team. I decided to ask Robert some questions about football, school, and himself!
Life In Football:
Casey Petersen: What is your place on the football team?
Robert Noonan: "I am a quarterback and a middle linebacker."
CP: What do you like about being in this position?
RN: "I like how in any point of the game the play is in my control." 
CP: What is your favorite part about playing football?
RN: "I like being around the team and I like how close the team gets."
Then we decided to ask Robert about his future in both academics and in football, and a little bit about his personal life. This is what he said:
CP: How do you find a balance between football and student life?
RN: "It is hard because we don't have a lot of time, however we have study hall after school so it is less stressful than it should be."
CP: Do you want to have a career in football?
RN: "When I am older I want to become a coach after seeing however far I can go with playing." 
CP: Where are you applying to school?
RN: "One of the main schools I'm going to apply to is Curry College in Milton, because I know people that go there and I have heard good things." 
CP: What are some things you like to do?
RN: "I like watching television, and I like to go out to eat with my brother and our friends" 
CP: What is it like to be the Captain of the football season?
RN: "It is very difficult because everyone is looking up to you, and you have to do everything perfect to be a good leader."
CP: Do you play any other sports?
RN: "Yes, I have played hockey since I was 5."
Thank you Robert for answering our questions, and thank you for reading! It was wonderful to learn more about what being the high school varsity quarterback is like. Make sure to attend all upcoming football games, home and away, to support Robert and our Winthrop Vikings!