Winthrop Viking Girls Powderpuff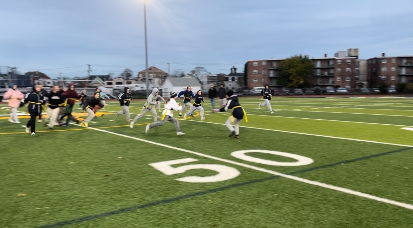 This Saturday, November 19th, some of our Winthrop High School Seniors will be taking on Revere in the yearly Powderpuff game. This year we are coming off of an intense 28-0 win last year, with the goal to keep that winning status. While the main focus is on practice, I caught up with Lily Tallent (QB1) to ask her about her thoughts before this huge game. Here is what she had to say :
Casey Petersen: "How do you plan on staying focused for this upcoming game?"
Lily Tallent: "I plan on watching film from last year's game and continuously looking over the playbook. I think that the team dinner on Friday will help the team as a whole get not only focused, but pumped and ready for game day."
CP: "Who do you think will be a large asset in this game?"
LP: "I believe that Maddie Stiglets and Mia Norris will be huge assets to our offense and Casey Petersen is our best blocker. I know she will make sure that Revere is stopped."
CP: "What has been your favorite memory so far?"
LP: "My favorite memory so far was during practice when I went through everyone on the punt return and scored a touchdown."
CP: "So, overall, are you confident in the team's ability to win this game?"
LP: "I am very confident in our teams ability to win this game. Our defense is extremely strong and our offense is also very fast. I believe that this combination will destroy Revere."
CP: "What are you most excited for on game day?"
LP: "I am most excited for the atmosphere, the energy, and taking advantage of this once in a lifetime opportunity."
Not only is Lily excited for this game but so am I! The thought of representing Winthrop High School in Revere is a surreal opportunity and I know it will be cherished by all the girls playing at this upcoming game.