Thanksgiving Foods Ranked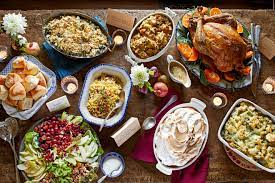 Around this time of year as Thanksgiving inches closer debates regarding the holiday's food start to circulate around. There are plenty of different Thanksgiving foods that are considered a must by some people. Everyone has their own opinions regarding which foods are best and are often extremely passionate about the reasons.  
Today I'll be ranking popular Thanksgiving foods based on their many different appealing aspects.  
First up would be my personal favorite
Mashed Potatoes
Mashed potatoes are a staple for many at their table on Thanksgiving. For the longest time ever since I was young I could always count on my mom's garlic and herb mashed potatoes to be a big part of my family's meal on Thanksgiving. The different flavors all blend together to create the perfect ratio of ingredients. Mashed potatoes can be made in many different ways and everyone has their own take on the perfect bowl of mashed potatoes.
2. Turkey
Turkey will be found at the center of each table on Thanksgiving. It's the first thing anyone thinks of when Thanksgiving is mentioned. There's so many different parts of the turkey that people love in particular. I personally love eating the dark meat of a turkey because it has more flavor.
3. Gravy
Gravy is loved by many people and can go with just about anything on the table at a Thanksgiving meal. It adds the perfect amount of flavor to an otherwise boring and bland dish. It enhances the taste of the food and I will always be sure to top my mashed potatoes and turkey with plenty of gravy. 
4. Pumpkin Pie
Pumpkin pie has always been an important part of my family's Thanksgiving meal. After we've stuffed ourselves full of food from the whole table we'll bring out dessert. Pumpkin pie has always been among the desserts bought for the occasion. The combination of the pumpkin pie and the over the top amount of whipped cream hits the spot after a wonderful home cooked meal. The pumpkin flavor isn't too much and the crust gives for  a nice balance of soft to hard within the pie.  
5. Mac n Cheese
Mac n cheese is something that so many of us have grown up with. It's so popular that it became a part of the table at Thanksgiving. It's simple yet delicious at the same time. People are hardly disappointed by the mix of creamy and cheesy in the ideal bowl of mac n cheese.
6. Stuffing
Stuffing is in simple terms a mix of everything. The different spices and seasonings add many flavors that blend nicely together. I don't really have too much to say in regards to stuffing as my family doesn't usually make it but it is very popular among the different Thanksgiving foods served.  
7. Sweet Potatoes
Sweet potatoes are more often than not seen at a Thanksgiving table. I feel as though sweet potatoes are a hit or miss with many people. I'll only ever eat a spoonful of sweet potatoes with my food, it's not something I would usually take second helpings of. The way in which they are prepared makes all the difference. Sometimes sweet potatoes are much too sweet for my taste buds but they aren't completely off of my plate at Thanksgiving.
8. Cranberry Sauce
The final food item on my list would have to be cranberry sauce. I have never been the biggest fan of cranberry sauce. In my opinion it is too sour for my liking and I usually don't ever have it on my plate. I don't know many who particularly enjoy the taste of cranberry sauce.
Well that's all I have for rankings of popular Thanksgiving foods. There are so many different opinions on things like these so don't get too riled up if you find yourself disagreeing with my choice of rankings.  
What foods will be piled up on your plate this Thanksgiving and which ones will you be avoiding like there's no tomorrow?