The Lady Vikings Win Again; Revere Hasn't Touched The Endzone in Two Years
Zoe Long, Co-Editor-In-Chief
December 2, 2022
About two weeks ago, on December 19th, the Lady Vikings took on Revere at our annual Powderpuff game. Last year, the girls absolutely destroyed Revere with a score of 28-0, and this group continued the legacy with an amazing score of 24-0. This means we have not let the Revere Powderpuff team in the endzone for two straight years. With touchdowns from Lily Tallent, Maddie Stiglets, and Abby Holmes, and two point conversions from Mia Norris, Gaby Golden, and Julia Holmes, the Lady Vikings were on fire and focused on keeping the
trophy at home. I was eager to catch up with a player from the team and know more about the practice process, game day, and how they felt about the entire experience. I chose my good friend, Lily Tallent, who played a large role, which you'll learn about soon, in the Powerpuff team. Talking to her was lovely and learning more about the girls season was so interesting! Without further ado, here's what Lily had to share about the 2022 Powderpuff season!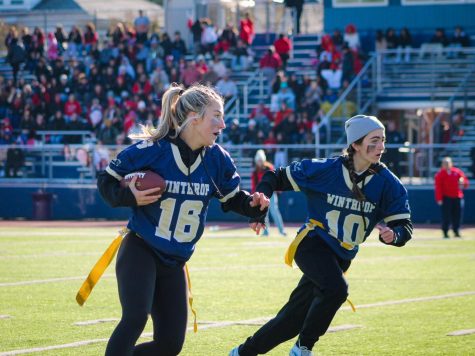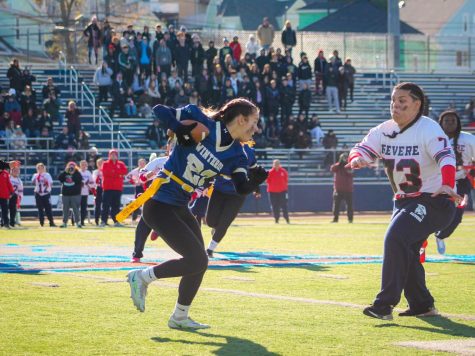 I first began with asking Lily what her position was on the Powderpuff team this year. Lily played the position of quarterback in Powderpuff and exclaims that she "absolutely loved this position". She went on to say that the position had a "sense of leadership and trust that came with it". I went on to ask Lily what the practice process was like to prepare for this big and important game. She explained that the girls "jumped right into practicing our offense almost immediately". However, she did share that some practices "were more laid back" and those were the ones that were "most fun and memorable". Building off of that, I wanted to know what Lily's favorite team memory was from this Powderpuff season. She shared that her favorite practice or team memory was "the last practice when I received a punt return". She explains the play further by saying: "I ran all the way through a crowd of defenders and scored even though Maddie tackled me to the ground after I was already in the end zone". Moving on to game day, I asked Lily about the energy of the team leading up to the match. She says that "everyone brought tons of energy for game day", and that she believes it "definitely helped us win the game". Lastly, I asked Lily what her favorite moment from game day was. She shared that her "My favorite moment in the game was when I ran into the end zone for a touchdown"!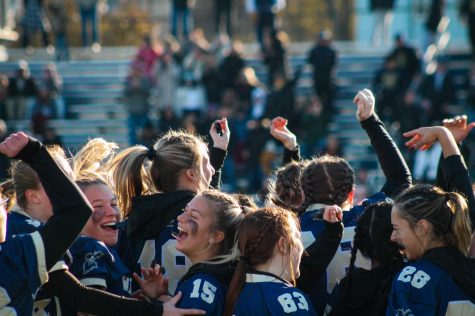 Catching up with Lily and learning more about the Powderpuff season was delightful. Our Lady Vikings continue to impress and show Revere who is best at the game! We hope that future Powerpuff teams continue the legacy and keep the trophy at home. I would like to extend a huge thank you to Lily Tallent for talking with me and even bigger congratulations to our 2022 Powderpuff team!