The Indoor Track Team is Sprinting into a Terrific Season
At last, the indoor track season has commenced! The team is thrilled to be back and better than ever. With phenomenal senior captains like Daniel Nieves, Ben Prew, Libby Carney, Sophia Munson, Cori Powell, and Jenny Delehanty, they are sure to thrive in every way possible. I caught up with some of the captains as well as other team members to take a deeper look into how this season has been going thus far.
The key to an enjoyable season is being able to connect with your team members. I decided to ask how the team has been blending with one another so far. Dan states, "We've all been getting along extremely well. We've been bonding as a team and engaging in various games to make practice fun for everyone." Ben also says that the team has got a very tight crew with a good bond. He remarks that "though we're small in numbers, we have a greater connection because of it!" Libby goes on to add, "The team has been working together incredibly! The upperclassmen have been showing the ropes of the track and field to all of the underclassmen. Everyone is truly putting their greatest effort into being contributing members of the team." Senior runner Delia Parco mentions that the team has been getting along wonderfully, and that the underclassmen are providing lots of energy and excitement. She mentions, "The captains have really been stepping up. The foreign exchange students are awesome to have on the team as well."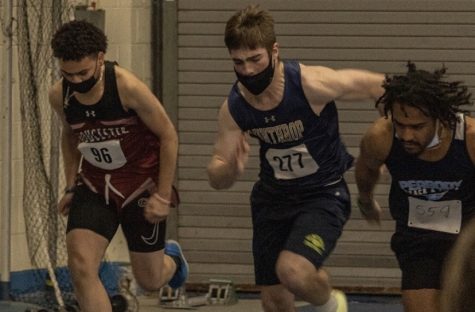 It's tremendously important to correct previous mistakes and make improvements with every step taken. I asked if there are any aspects of the team that significantly need refinement. "We need to actually focus on practicing our events when we need to," says freshman runner Arianna Cappuccio. Dan adds, "As a team, I would say that we just have to improve our explosiveness and overall speed." Ben additionally mentions that the team "needs to get a lot better at specializing." He says it's still quite early in the season but as they go through the year, they're going to have to improve on their specialties. "I think that everyone could work on making sure they're at practice each day. That way, we'd all be able to improve and do better as a team," Libby states. On top of that, Delia notes, "The team definitely needs to work on their attendance. We can also try to improve at working together to make practice more fun, as well as cheering each other on and sticking with positive attitudes. Additionally, we should try different techniques to really bond with each other, like team dinners!"
With every improvement that needs to be made, there are also many aspects of the team that are hugely impressive! Dan claims that the team has exceptionally strong miler runners and very strong short distance runners, too. Ben also goes on to comment that "the team gets along really well and we push each other because of it." Libby says, "The team has shown so much enthusiasm and liveliness at practices which has made the process of getting in shape a lot more enjoyable." Delia further adds, "I think that, as a team, we are really great with our sportsmanship and cheering on other members. The leadership among everyone has been excellent."
Everyone seems to be working incredibly hard, so I asked how the team has been preparing for this season. Dan says, "We've been working on getting back in shape for the season and trying our very best to improve everyone's fitness." Ben remarks, "We've recently been working on our form. Our team members have been staying in good shape during the off season, and now we're just refining it." Libby also notes that the team has really been putting in their full effort at each and every practice.
The upperclassmen on the team have been making sure to keep a welcoming and positive attitude towards the new underclassmen team members. I asked if there are any specific individuals that the seniors think are doing particularly well. Dan comments, "Sean Dolen has been working his hardest at each practice and has overall been doing tremendously well." In addition, Ben says that Seth Sacco is "just an overall tank and a freak athlete," and that "he's absolutely bound to be good." "I think that Chelsea Long and Arianna Cappuccio have both been working outstandingly hard to meet their goals," says Libby.
The senior captains are working their absolute hardest to make the team the best it can possibly be. It's their very last indoor track season at Winthrop High School, so they're making it count. Ben says, "Being captain has been such a fun experience. It's great getting to help keep the boys organized and on track so that they can perform to the best of their abilities." Dan further mentions that although he was a captain last year, he finds this year a lot different because it's been very fun to coach the freshmen that will support the team for future years to come. Libby states, "I'm really grateful to have earned the position as captain. I love serving as a role model for underclassmen on the team and I hope I can be someone they look up to!"
It's been so enjoyable being able to catch up with all of the wonderful runners on the track team, and being a member of the program myself! The sport is a great outlet to work towards goals and also be able to socialize with other people in Winthrop High School while doing so. I wish the team a great deal of luck for this upcoming season!
Make sure to support the Winthrop High School indoor track team next Thursday, December 22nd at their meet against Gloucester!