Girls Ice Hockey is Charging Into Yet Another Undefeated Season
In this 2022-2023 season, the girls are continuing to amaze while being undefeated for the last two seasons. Last year, the girls were able to obtain the NEC title with a record of 18-0-1  in the regular season. The girls biggest rivals for the past decade have been the Peabody Tanners. This year, the girls took down the Tanners with a score of 3-1 at home on December 28th 2022. This season the girls have maintained a 7-0-0 record, making them first in line to win the NEC championship. I caught up with Senior Center Mia Norris (C) and Senior Defenseman Abby Holmes (C) to ask them about the season.
Casey Petersen: "How have you girls, as captains, showed leadership throughout this season?"
Mia Norris: "As a captain of this team alongside the Holmes Triplets, we make sure that both, on and off the ice, we are leading our team. From the start of the year, we knew the best way to win is to create a winning enviornment in the locker room before even starting on the ice, No matter if we are having ups or downs, we make sure to use our voices and also give the girls someone to approach when needed."
Abby Holmes: "We show leadership by always giving our all in practice, and leading by example. We try our best to encourage and push the youngest girls on our team and never give up on the team when it starts to get hard."
CP: "What would you say is the key to winning all of these games?"
MN: "I think the key to winning all of these games is truly preparation. 99% of the game is won by what happens the days leading up to the game and in the locker room before. We also are just an extremely hard working bunch, who always have each others back and do whatever it takes to win."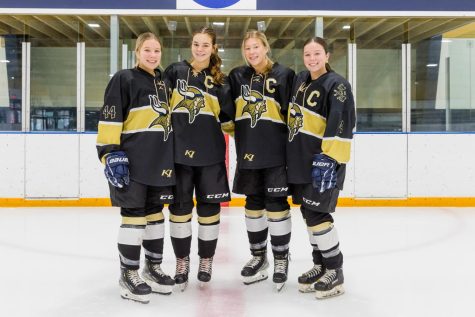 AH: "The key to winning has to be how close we are as a team. Most of us have been playing together for a while now and know how each and everyone plays. We know to never stop pushing and always taking it one shift at a time. If we make a mistake, we go out the next shift trying even harder."
CP: "Who on the team has really stepped up this year?"
MN: " Our team this year is very young. We have four senior Captains and then Hannah Parker, Sami Dimento and Adrianna Rizzato who have truly shown leadership on and off the ice. Also our goalie Riley is a freshmen and has stepped up tremendously  and shown that she can take whatever comes to her.
AH: "Our goalie Riley had really stepped up this season. She gives her all every game and never gives up on herself. From practicing last year to becoming the starting goalie this year, she has truly improved like no other."
CP: "What is one thing you are looking forward to in the rest of the season?"
MN: "I am just looking forward to continue winning and bonding with the team. As it is my senior year, I hope we can try and win it all!"
AH: "I'm definitely looking forward to playoffs this year. I think we can make it pretty far and I cant wait to see what is in store for us. I hope all of our hard work pays off and we can succeed the way we want and finish off the season strong."
Good luck to the girls on the rest of their season, keep up the good work and bring home the NEC title. And a special shoutout to Senior Captain Emma Holmes who just hit 100 points in the Medford game! We are proud of you. Congratulations!!