'Tis the Season! Winthrop High School Drama Society Presents this Year's METG Festival Performance: Frankenstein
The Winthrop High School Drama Society has started the school year off strongly, with remarkable productions of The Wizard of Oz and Dinner Theater: Count on Me. Finally, the time of year has rolled around yet again where both cast and crew alike have to work their very hardest, preparing to compete against various other high schools at the Massachusetts Educational Theater Guild Festival. It is a wonderful opportunity to create, share, and respond to theatrical performances, and to overall build collaborative relationships and skills. Winthrop High School is currently preparing for their production of Frankenstein, and they will be participating in the Preliminary Round taking place at Attleboro High School this Saturday, March 4th at 9:00 A.M. The show was based off of Mary Shelley's original novel, and co-written by cast members Zoe Long, Sarah Delehanty, and Chris Raney. Through diligence, hard work, and dedication, the Drama Society has put together a production that will be sure to electrify the audience! I decided to ask just a few of the cast members, as well as the incredible director Mrs. Calinda, some questions about their thoughts on the progress of the show.
First, I talked to Zoe Long, Sarah Delehanty, and Chris Raney about their conscientious writing process.
How was the scriptwriting process for you? Did you find that your writing styles could blend well together?
Zoe: "It was definitely challenging trying to adapt such a classic that many people know the story of. There is a lot of plot to the story and we had to sacrifice a great quantity of it, but I believe it worked out beautifully. Chris, Sarah, and I worked very cohesively together… they're spectacular writers!"
Sarah: "Without a doubt, I think that we all had very similar writing styles. It was a lot of hard work, but it was really fun! It felt super cool to be a part of that entire process and see it all come together."
Chris: "Our writing styles absolutely blended well together. Mary Shelley's writing style is none of what any of us are really used to, so since we're all attempting to replicate this specific kind of language, it's quite easier to blend together."
I then approached various actors within the show– Zoe Long, Chris Raney, Sarah Delehanty, and Scout Thompson– asking who in the cast they think will stand out from the rest.
Besides yourself of course, which actor in this production is going to blow people away?
Zoe: "Sarah. She's an incredible actress and she shows a lot of emotion in her acting."
Chris: "Scout is going to really capture the audience, especially because of the unique dialect they're using."
Sarah: "Scout is truly going to 'wow' the audience. They've been putting a lot of hard work into their character and it's immensely awesome to watch."
Scout: "Sarah's doing a really great job. She adds a lot of emotion to her character in the way she delivers her lines, and she also has an incredible singing voice."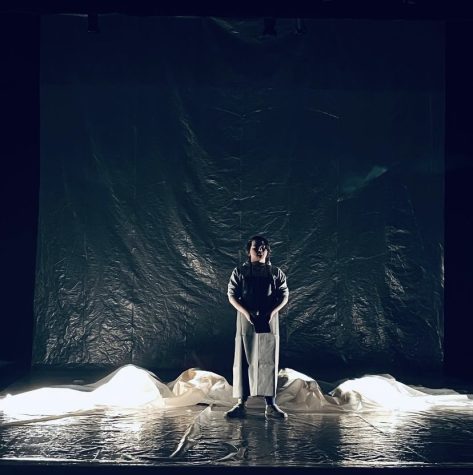 Furthermore, I asked these cast members, as well as the director Mrs. Calinda, about what makes this version of Frankenstein different from the rest.
How is THIS production of Frankenstein bringing something new to the original story?
Zoe: "We focus a lot on power and unbalance, as well as the themes of abuse that are intertwined between Victor and the Monster's relationship."
Chris: "We add a ton to Victor's mental degradation compared to what is in the original story, and there is additionally lots of movement. There also were many general changes to the story itself as to fit the needed time frame."
Sarah: "We are making it more interpretive because there are a lot of things in the original text that are not acceptable in today's society. We also chose to make it more artistic."
Scout: "We differentiate a whole lot from the original plot, such as the way in which Victor dies. It's all very different in our version. As a whole, our show is a really interesting take on the story, and I absolutely love what we're doing with it."
Mrs. Calinda: "I think Frankenstein has been told over and over again… it's only different in the sense that we are trying to add elements of movement and poetry. It's kind of cool, and we have a sparse set design. It's much more elaborate than others, and we tell it in a rustic and neat way instead of in a way that's too long."
Later, I asked some of our leads in the show– Chris Raney, Scout Thompson, and Sarah Delehanty– about the obstacles that come with playing their parts.
What's the biggest challenge about taking on this role?
Chris: "It's a big-time commitment as I'm already really busy outside of the theater. And playing Victor is just a lot. It's all pretty overwhelming, but I enjoy it very much!"
Scout: "The fact that it's just so different and not at all what I'm used to. I'm just trying to portray something that is basically a tall newborn. Learning how to speak, to walk… it's all very new. It's been a bit of a challenge but, without a doubt, very interesting."
Sarah: "It's been a big challenge trying to keep my character interesting, because she's more of someone present only to serve as a crutch or to help Victor's character. It's difficult to make her own dynamic."
Lastly, I asked the director, Mrs. Calinda, some more specific questions about the show, and about her own point of view as someone who plays such an important role within the production.
What's challenging about bringing this script to life?
Mrs. Calinda: "I think that it's a very big story with lots of plot points, and we have to fit it into a play that is 35 minutes long. The kids really have to decide which parts of the story are most important and figure out what will lead us to the core of the story as a whole."
What skills are necessary for a person in your position?
Mrs. Calinda: "A director should be a good collaborator and listen to the ideas of others. I like to let the students decide and come up with most everything about what the play is because it allows them to get more leadership and learning experience. It teaches them to collaborate and listen to each other's ideas, as well as build off of each other's ideas. I have to be patient because I'm nervous about the timeline of the show, but I know that we will get it all done. It's a director's job to have high expectations– the show should be excellent, and I want it to be the best it can possibly be. I just have to push everyone to their fullest potential and try to get the absolute best product."
Clearly, the Winthrop High School Drama Society is incredibly proud of the progress they've made so far with their current production of Frankenstein and is so excited to share it with the rest of the world! If you can't make it to Attleboro this Saturday to see the performance, don't fret… the Drama Society is hosting an open dress rehearsal today- Thursday, March 2nd, at the Neil Shapiro Center for the Performing Arts in Winthrop High School. The show will start at 7:00 PM, and admission is free- but donations are always strongly appreciated! See you there!