What is Lacrosse? An overview of the game and the boys season.

Basic Overview
Lacrosse is a team sport that is played with a Lacrosse stick and a Lacrosse ball. It is considered the oldest organized sport in North America. The sport's origins come from the native people of America, as early as 12th century or 1101 – 1200 AD. Despite its origins the game has been intensely modified since then, mostly to reduce violence. Lacrosse is a physical sport though and players wear helmets, gloves, shoulder pads, and elbow pads. Girls lacrosse does not allow direct physical contact but does allow stick to stick contact. The goal of Lacrosse is to shoot a ball using the Lacrosse stick into a goal. Lacrosse is often played on a Soccer field or a Football field. Here at WHS it is played on Miller Field. The captains here at Winthrop are Jack Hayes, Robert Rich, and Hunter Fife.

Outlook of the season, rules, and overview (By Jack Hayes)
For a more in depth rule overview of the sport and its team. I asked Junior Captain Jack Hayes to help explain it.
Jack Hayes #8 plays Attack:
Lacrosse is a very fast pace physical sport requiring both teams following rules and whoever puts the ball in the net more times and the end wins.
There are 10 players on the field at once for each team. 3 attackers, 3 midfielders, 3 defenders and a goalie. The defensemen have to stay on the defensive side of the 50 yard life and the attackers have to stay on the offensive side inside the 50 yard line. The midfielders are allowed to run all over the field wherever they want. 
The lacrosse team is going to be a lot different from last year with a lot of new talent from incoming freshmen and a lot of first year players who are picking it up fast!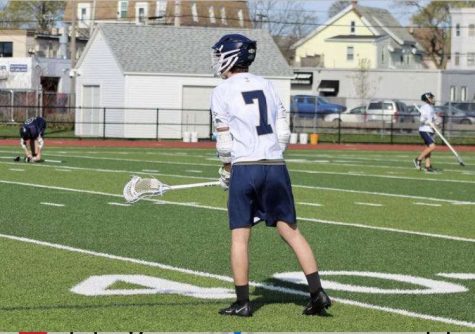 Positions
All sports have positions. Positions are roles in the sport to do. Some examples are the Linemen of Football or the Strikers of Soccer. I decided to ask Lacrosse Junior Captain Robert Rich for what the positions are and the role of them.
Robert Rich #6 plays Midfield
Joe Disney: What are the positions in Lacrosse?
Robert Rich: Attack defense midfield goalie
Joe Disney: What does each one do?
Robert Rich:
Defense can only stay on one side of the field and has to stop the other team from scoring

Attack can only stay on one side and has to score on the other team

Midfield can go all over the field, they have to play offense and defense
Goalies in lacrosse, like any other sport wait in the goal to block a shot.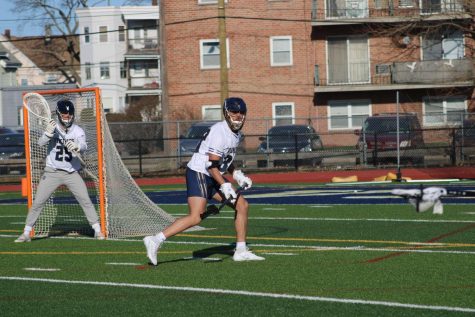 Fun?
Although Lacrosse is considered a very fun sport by many, what makes it so fun? I decided to ask seven people, Stephen Lindinger, Chris Beshere, Donovan Cassidy, Dan Thomai, Welvis Acosta, Dylan Sykes, and Ace Daighneault about what is so good about Lacrosse.
Joe Disney: Why do you like Lacrosse?
Stephen Lindinger #15, plays Midfield: It's another way to keep my grades up, it is overall a fun sport to play, and the people on the team makes it more enjoyable.
Chris Beshere #4, plays Midfield: It's a fun physical sport, nice to play in the spring, fun to play. 
Donovan Cassidy #5, plays Defense: I like lacrosse because it is an exciting way to bond with my friends and play a physical sport at the same time. We get really close with our position groups as we spend the most time with them so when something happens during the game we are all on the same page. It is also a sport where you can show off personal skills such as stick skills and dodges during the game to make a defender miss to help the team or score a goal.
Dan Thomai #33, plays Defense:  It is a physical fun sport where I can be myself.
Welvis Acosta #9, plays Defense: I like the sport because when I first started to play in 6th grade I met some of my best friends.
Dylan Sykes #15, plays Attack: It's fun and it is way better than baseball and any other spring sport in my opinion. 
Ace Daigneault #11, plays Attack: Going bar down is by far the most fun part of Lacrosse.
For people who don't know what the means, it's when the ball hits the top of the goal and into the net.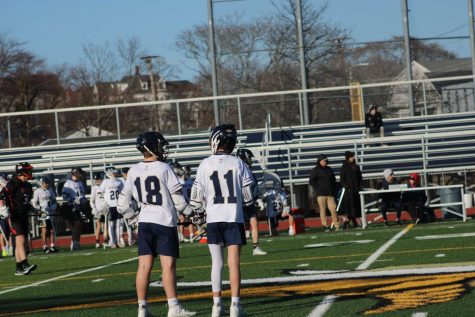 Schedule:  (As of 3/30/23)
3/30 Salem
4/6 @Saugus
4/10 Swampscott
4/13 @Beverly
4/18 @Glocester
4/20 Danvers
4/24 Saugus
4/25 NE Volk
4/27 @Peabody
5/1 @Swampscott
5/8 Masco
5/11 Gloucester
5/15 @Salem
5/18 @Marblehead
5/20 Weymouth
5/22 @Lynnfield
5/23 Revere (Senior Night)
5/25 Malden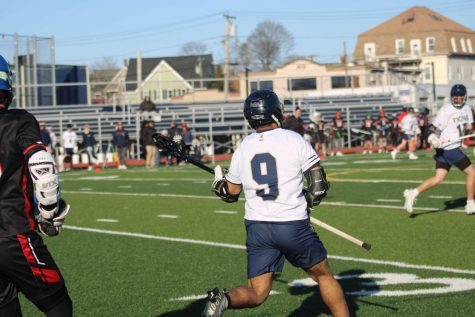 Overall, Lacrosse is a great Spring sport loved by many. The team is always open for any new players who wish to join. If you wish to join talk to coaches Rich Cifuni, Mr. Parsons, or Mr. Donnelly. You can also talk to any player on the team, especially the three captains.
This season will be a great season. It has already started with a strong 17-0 win over Salem. The season only has up to go from here. Goodluck to the Lacrosse team in their future games and season!