Gwyneth Paltrow's Ski Trial
Many people in America enjoy winter sports.  Whether it's to make memories or get better skiing or snowboarding skills, people alike intend to have a day of fun.  On February 26th, 2016 in Utah, Gwyneth Paltrow and Terry Sanderson hit the slopes, both not knowing that there would be a court case seven years to come, going viral (I mean c'mon; a retired optometrist suing an Oscar-winning actress? Seriously).
On that interesting day of skiing in 2016, the actress paid close to nine thousand dollars for her and her two kids, along with her boyfriend at the time and his two kids for ski lessons with a private instructor.  About halfway through the day of skiing, Terry Sanderson would ram into Gwyneth Paltrow, Sanderson suffering brain and rib damage, along with having "no joy left in his life", while Gwyneth Paltrow lost "a half a day of skiing."  Then, she got a massage.
In 2019, Sanderson filed a lawsuit against the actress for $3.1 million, but then the court lowered the price to $300,000.  Honestly, Paltrow can pull three-hundred grand out of her pocket!  NBC News says, "Sanderson filed a lawsuit on Jan. 29, 2019, saying that Paltrow was skiing 'out of control' when she hit him from behind, knocked him down, and then landed on top of him. He said after the collision, the actor got up and skied away and did not offer any help."  Fast forward four years to March 21st, when this case was taken to court where Paltrow countered Sanderson's cost for a singular dollar with reimbursement fees.  Both sides would make their claim, Sanderson saying, "Serious, serious smack. Never been hit that hard."  Paltrow refuted, "Mr. Sanderson categorically hit me on that ski slope."
Throughout the trial, quotes, accusations, and Paltrow's fashion choices made headlines.  At one point, Sanderson imitated a scream that he heard when the crash happened.  I believe he reenacted, "Ahhhhh.  And then, boom."  He ended this phrase with a clap of his hands, leaving the actress suppressing a smile and shaking her head.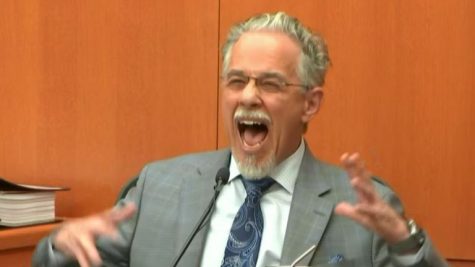 Kristin VanOrman, an attorney for Sanderson, asked if Paltrow was good friends with Taylor Swift.  Why, you may ask?  Well, Taylor Swift won a countersuit for one dollar against David Mueller, a D.J., in 2017.  VanOrman would go on to say silly things; asking Paltrow how tall she is.  Paltrow, just standing under 5'10", makes VanOrman jealous.  She made her jealousy very clear, making Paltrow very uncomfortable.  Some of the things that the attorney says before the height interaction, make spectators believe that she was utterly star-struck and "truly bad."  After her star-struck moment, VanOrman accused Paltrow of lying, exclaiming in hope to throw her under the bus, "She's lied under oath a number of times!"  She would be proven wrong by Paltrow's gobsmacked face and her lawyer.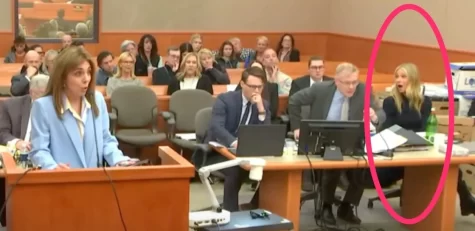 But that's not even the worst part: the visual evidence is hilarious.  Paltrow's party used life-like digital animation to show Paltrow's claim, showing a smooth and accurate display of the accident.  They even included the people that she was skiing with that day.  Meanwhile, Sanderson's party was drawing stick figures on a whiteboard.  I have no idea what the jury thought of this, but the public did not take this seriously (Sanderson is the square-shaped blob at the bottom right corner in the last picture).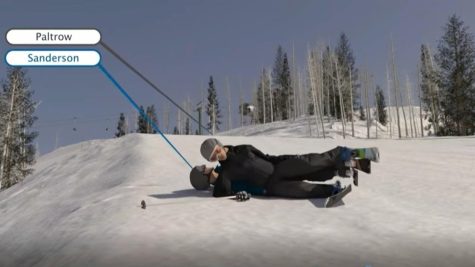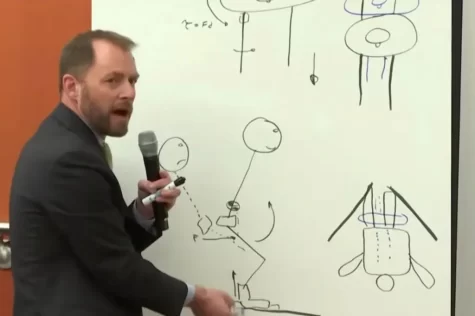 After seeing the contrast, it is clear to see who has their facts straight.  On March 30th, the jury reached their decision after just over two hours of concluding.  They concluded that Gwyneth Paltrow was not at fault, she would be awarded her one dollar, and then the court was adjourned.  That ended another celebrity court case for the history books.  Let's hope the next celebrity court case won't be as facetious as this one.