Movie Review: Love Again
What ABBA is to "Mamma Mia," Céline Dion is to "Love Again."  On Tuesday afternoon, I was able to go to Assembly Row in Somerville to see Dion's new movie, "Love Again."  As a huge Céline Dion fan myself, I could not wait for this movie to be released (I'm also a sucker for rom-coms, so this was right up my alley).
The new film is about a children's writer, Mira Ray.  When she loses her fiancé, she is lovesick and sends remorseful texts to his old number.  But the number has been assigned to the phone of Rob Burns, a journalist.  As Rob is assigned to write a news article on Céline Dion, he is struck by Mira's honesty in her texts.  With the help of the Queen of Power Ballads herself, he hopes to have the opportunity to meet Mira in person and fall in love.
As I walked into the theater, I was filled with excitement.  I was mentally preparing myself with some of my favorite Céline Dion songs; "Imperfections," "Courage," "It's All Coming Back to Me Now," and one of the world's most famous movie love songs, "My Heart Will Go On."  Like seriously, who hasn't heard of it?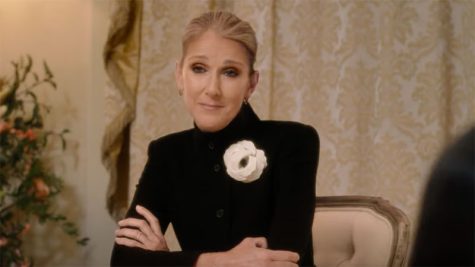 I was expecting some cheesy movie that had Céline Dion plastered all over it.  Surprisingly, it wasn't.  It wasn't as cheesy as expected, but every rom-com has a "cheese factor," so it's unavoidable.  The movie included new songs performed by Dion like "Love Again" and "I'll Be,"(the movie's soundtrack will be released on May 12th, click on the song names to listen to them), a phenomenal cast with Priyanka Chopra-Jonas, Sam Heughan, and Céline Dion herself, with romantic twists and turns.  To be completely honest, the movie is a little predictable.  Even some of the lines I knew before they were said.  Nonetheless, I approve.
As I was writing this, I decided to do a little research about this film.  Rotten Tomatoes rated the movie 23% on their "Tomatometer," reviews written by top movie critics; ignore this.  Rotten Tomatoes despises rom-coms.  Despite Céline Dion being in multiple scenes in the film, actors that appeared on-screen with her never got to film with the singer.  Dion, at the time, was in Canada when the movie was being filmed in October of 2020, while Chopra-Jonas and Heughan were in the U.K.  This was filmed before Dion's tragic diagnosis with Stiff-Person Syndrome, in December of 2022.
All thoughts aside, this movie is great.  It's worth your money if you want to catch a mindless, feel-good movie.  "Love Again" is a movie filled with sentimentality and nostalgia.  Let this movie remind you that destiny is real and "love comes to those who believe it, and that's the way it is." (Céline Dion, "That's the Way It Is")
Author's note: Thank you, my friend, for agreeing to come with me, dragging you to the theater, and totally geeking out whenever a Céline Dion song played.  You know who you are, 😉