Movie Review: The Mother
This week includes another movie review!  Last Friday, May 12th, Netflix released a new movie called "The Mother," directed by Niki Caro.  It is an action-packed and surprisingly emotional movie starring actress, producer, dancer, singer, and model Jennifer Lopez, Lucy Paez, Omari Hardwick, Joseph Finnes, and Gael García Bernal.  The movie follows the story of the Mother (Lopez), an assassin, as she comes out of hiding from her Alaskan wilderness home to save the daughter that she was forced to give up at birth.  The problem is, the mother is trying to protect the identity of herself and her daughter from two assailants who intend to kill her.  I apologize for the vague plot, but I cannot reveal much more without giving anything away.  If you want to know more, you can watch the trailer here (click on "here").
Normally, I enjoy watching a good action movie but am wary of violence.  To add more to my "criteria of action movies," I also try to avoid action movies with an emotional/sentimental subplot, because the acting usually is hit-or-miss.  "The Mother" did not follow my "criteria" (sorry for sounding like a movie snob), and I'm glad I did.  It was violent and sentimental in a keep-you-on-the-edge-of-your-seat and "Oh my gosh, what will happen next?" kind of way.  The violence in the movie includes a lot of shooting (snipers and muffled gunshots resulting in lots of blood) and one instance where someone is punching another with barbed wire around their fist.  There are a couple of occurrences of stabbing, but it is anticipated.  One thing that I liked the most was an epic snowmobile chase, because who needs cars when you have snowy Alaskan hills and snowmobiles?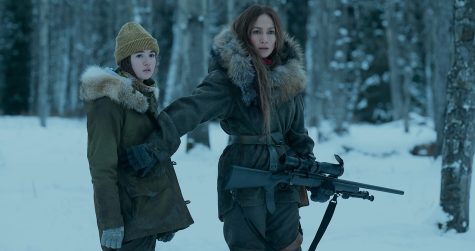 My fellow sophomore, Lily Jarbeau, allowed me to interview her on her opinion of the movie (this may contain spoilers).
Shan Raneri: So, Lily, what do you think of Jennifer Lopez's new movie, "The Mother?"
Lily Jarbeau: I thought this movie was a lot better than her latest other ones, like "Marry Me."  "Marry Me" wasn't that good.  Anyway, she was great.  She did a lot and she looked very good during the whole thing, even though she's 53!  That's crazy!
Raneri: How did you feel about the mother-daughter aspect of the film?
Jarbeau: I thought it was weird.  I don't know how to explain it.  Even though they were mother and daughter, they got close too fast [after everything that happened].  I get that [Jennifer Lopez] was protecting her and all, but I was like, "Oh.  Okay…"  The daughter was just giving up on her hate for her so fast?
Raneri: Thank you for your time, Lily Jarbeau.
Jarbeau: Yeah, you're welcome.
Many have claimed, even Jennifer Lopez herself, that the new film is roughly based on the 2002 movie starring Lopez, "Enough" (you can also watch that on Netflix).  Jennifer Lopez has made me second guess my potential career choices; I should give up on my dream of being an anchor on the Today Show and become a sniper.  I looking forward to new movies that Jennifer Lopez will make, for she can star in anything from a hotel maid in "Maid in Manhattan," a singer in "Marry Me," and a protective mom in "The Mother."  The new Netflix movie was a hit for many.  It is the emotional action movie that we didn't know we needed.