WHS Girls Tennis
Spring sports are wrapping up in the next few weeks. One in particular that I would like to highlight is the girls tennis team.  
The team led by head coach Mr. Beck and assistant coach Capone have been working hard this season to improve in all aspects of things. New lineups were drawn up as the majority of starters last year have graduated. The team welcomed new additions at the start of the season. As a member of the team I can say that it has been great to be able to grow closer to everyone this year. Every match and practice has been filled with people who love to play and overall the whole team has improved so much throughout the course of this season.        
The team has faced many different teams throughout the course of their season. They played challenging matches against Masco, Swampscott, Danvers, and Peabody. As of right now the girls have won 4 matches since the start of their season.          
I caught up with Senior Captain Casey Petersen and Junior Captain Mira Ivanis to get more insight on how the season has been for the team.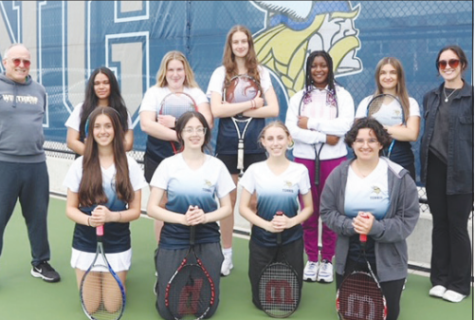 Casey Petersen : "Overall, this whole season has been fantastic. From all the new girls starting out and finding a love for the game on the courts, to being able to create friendships through the team, and so much more. This whole season, a countless amount of people have stepped up to the plate when we needed them the most. Blanca is a great example of someone who stepped up and showed a real love for both the team and the game. I am so sad that I have to leave all these girls but I know they will all be capable of so much in the future!"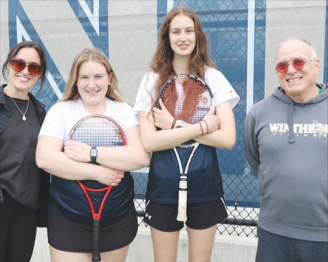 Mira Ivanis : "The season has gone by really fast. It's been awesome playing with the team. The girls have been working hard as always no matter if the score is tied or not, and they've pushed me to work my hardest as well. Everytime I step out onto the court, I see them all practicing and working so hard. They've made me love the sport even more and it's been a great experience!
Some girls who have really stepped up are definitely Emily Barrera, Blanca Gonzalez, and Anila Gjinovci. They've never stopped improving themselves and always work hard to try their best. Although I'm going to miss the seniors, I'm definitely looking forward to another year with the team!"
All in all the girls tennis team has had a great season regardless of how many wins and losses came out of it. The team still has matches in the upcoming weeks and will without a doubt play extremely well. Be sure to come out and support the team on May 25th for their senior night against Peabody.