Anna Kloots is Magic
This Memorial Day weekend I traveled to Austin, Texas.  While there, I was given the opportunity to meet with and take photographs of Anna Kloots, an author and world traveler influencer.  Anna was finishing up the U.S. leg of her book tour, promoting her book, "My Own Magic: A Reappearing Act."  In her book, Anna bravely tells how she overcame her divorce, moved to Paris, and found the magic she realized she always had inside of her.
The night before the book signing, I was brimming with nerves and excitement.  This was a big deal for me; I was going to be Anna's photographer and get to interview her!  As every journalist does, I did some research on the author, coming up with questions to ask.  The next morning, I woke up unusually early because I was just too excited, anxiously waiting until it was time to leave.  When noon rolled around and we were walking across Lady Bird Lake to Anna's hotel, I received another email from Anna inviting me up to her hotel room before her book signing!  Talking about feeling I made VIP status!
When my mom and I got to her hotel, the elevator ride up to Anna's floor seemed incredibly long.  The doors opened, and mustering up all the nervous confidence I had, I knocked on her room door.  I took a deep breath, rolled back my shoulders, and smiled.  When the door opened, Anna smiled brightly and genuinely, her arms wrapping me in a giant hug.  "Shannon!!  It's so nice to meet you!"  From then on, I knew there was nothing to worry about.  With ABBA music playing in the background ("Always", she said when we commented on it), she welcomed us inside.  Anna introduced us to her older sister, Traci, who traveled with her from her home in Houston to accompany her to her last stop in Austin. Traci was just as warm and welcoming as her sister!
After some nervous chit-chat, we made our way to the top floor of the hotel.  Anna and Traci led us to the poster advertising "My Own Magic."  Anna requested a picture, so I shakily took out my camera and snapped one.  Anna and Traci loved it!  Overjoyed, I walked into the venue to get a feel for the lighting and angles.  Then the sisters walked in, Traci introduced Anna, everyone clapped, and the event had begun.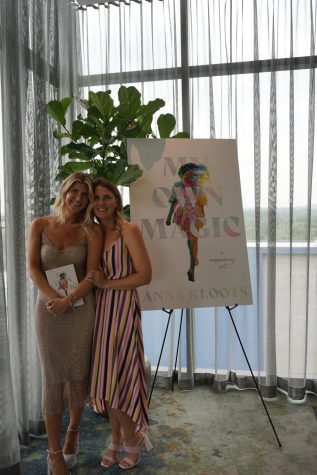 Anna talked about the journey to writing her own book, quoting directly from her book, "Memories are a lot like magic tricks: little moments, full of wonder, that stir our emotions as they unfold."  Everyone watched in admiration of Anna's storytelling.  She told the stories of her childhood, her adventures while studying abroad, and how her love for Paris started and remains.
Anna had picked the perfect spot for the signing; a patio overlooking the amazing skyline of Austin, a pergola casting a pattern of sunlight right where she was sitting.  It was amazing.  Anna met with fans and followers; it was clear she has touched numbers of lives.  One woman went up to her and started crying, it was so heartwarming.  There was even a little boy that so was excited to meet Anna!  With each person, Anna was warm and loving.  She talked to them as if she'd known them forever.  I wanted to make sure I captured every moment with each click of the camera.  As the end of the line reached Anna, I felt as if I had known her for years and my nerves from a few hours earlier faded away.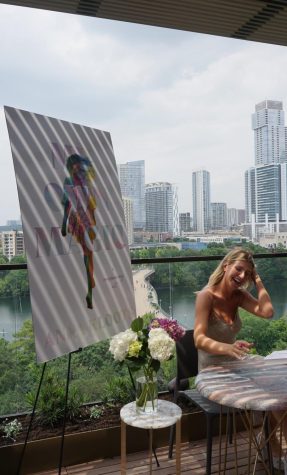 After everyone left the event, a few of Anna's friends and I sat outside and talked.  What was magical was that we didn't say anything about the book event.  In fact, we were so engrossed with other conversations, we both forgot about the interview!  As I got my own book signed and my picture was taken with Anna, she reassured me that I could email her my questions and she'd reply back.  She was true to her word.  The questions and answers follow, and I really hope you can see her inspiring, down-to-earth, magical personality.
Shannon Raneri:  You are the true definition of a phoenix rising out of the ashes.  Divorce is something people give a certain stigma to.  Instead of feeling sorry for yourself, you used your divorce to empower you.  Why did you choose to do this?
Anna Kloots:  I didn't want to spend my days feeling sorry for myself, or letting anyone else feel sorry for me. I realized I could let that setback truly set me back, or let it be the thing that forced me forward, into the life I always dreamed of. I made the choice to try to make something bad into something good.
SR:  How do you stay so positive?
AK:  For me, living through some really dark times and moments has allowed me to really appreciate the light – to realize how much beauty and joy there is in the world, and to not take it for granted.
SR:  It was your dream to live in Paris.  After living there for three and a half years, is there anything monumental that you learned that you are going to take with you wherever you go?
AK:  To slow down, and enjoy life. Paris has taught me to prioritize what I enjoy and not feel guilty making time for it.
SR:  You've been to over 80 countries!  That's incredible!  I have to ask; what was your favorite country to travel to?  And with your love of photography, what was the most picturesque country?
AK:  My favorite destinations are the ones that have felt the most foreign to me, where everything about the architecture, culture, language, is different. I can't really pick a most picturesque, but I'd say Morocco was one of the places I really couldn't put my camera down for a moment!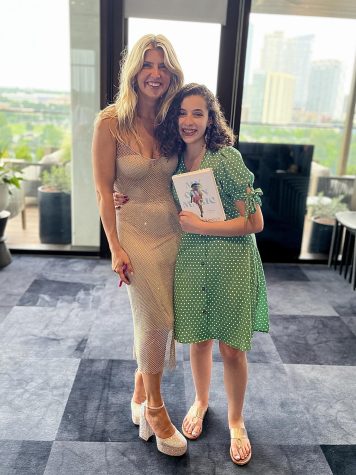 SR:  What do you want readers to take away after reading your book?
AK:  That we are all far more capable, strong, and courageous than we give ourselves credit for. Sometimes it just takes a difficult moment to bring it out. When we realize that, and own that power, it becomes like magic, and we can use it like fuel to go for our dream life.
SR:  For everyone out there that is having trouble finding themselves and loving themselves, what is your advice to them?
AK:  Take ownership of everything you are good at, and have achieved. Give yourself the credit you deserve, and try to see yourself the way you see the people you love. We often default to just tearing ourselves down, but instead focus on lifting yourself up.
To find out more about Anna and her journeys, go to www.annakloots.com