Jordanian Royal Wedding
This past week the world witnessed the extravagant wedding of Crown Prince Hussein of Jordan  to Rajwa Al Saif of Saudi Arabia. Citizens lined the streets as the wedding passed through the streets of Amman, Jordan. Royals and VIPs from around the world were in attendance at the celebration, some of which included the Prince and Princess of Wales, William and Catherine, along with U.S. First Lady Jill Biden and her daughter. It was a spectacle like none other.     
The joining together of Crown Prince Hussein, 28 and Rajwa Al Saif. 29, as husband and wife brought the country alive. A logo was created to commemorate the celebration and anyone entering Jordan on the day had it stamped into their passports.Work was called off for all and the streets were adorned with flags throughout the country. Citizens were filled with excitement as they viewed the live stream of the ceremony.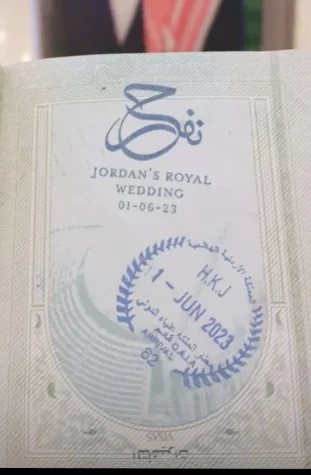 The wedding and lead up to it showcased traditional Middle Eastern customs throughout its entirety. Middle Eastern culture was prominent in the clothes worn by both the wedding party and its guests. The henna party for Rajwa saw her dressed in a custom white gown with gold embellishments. The gown designed by Saudi designer Honayda took close to 1000 hours to create with respect to the intricate detailing. The intricate nature and detail of the gown paid tribute to the Saudi culture of Rajwa as well as the Jordanian culture of Prince Hussein. 
For the wedding Rajwa donned an Elie Saab gown, crafted from crepe fabric featuring 550 petales along with 6 kg of beads, crystals, and pearls. The full sleeved gown showcased an asymmetrical neckline with a detachable train complete with floral detailing. The final product took a team of 20 people to complete over the course of 3 months. In addition, the reception saw Rajwa dressed in a white Dolce and Gabbana chiffon gown with heavy floral embellishments.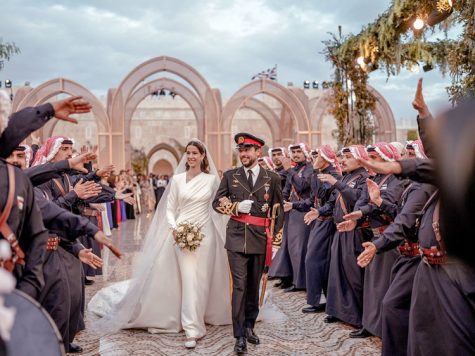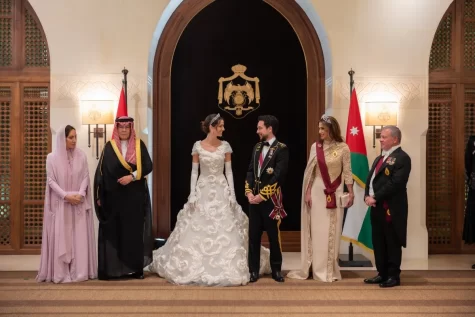 The elegant religious ceremony took place at Zahran Palace where Rajwa Al Saif was accompanied down the aisle by her brother in law Prince Hashem bin Abdullah, 18. The guests gathered in an open air gazebo where the traditional Muslim wedding ceremony, "katb al-kitab" was carried out. Katb al – kitab is an Islamic marriage ceremony which entails verses of the Quran and prayers being recited. Once the marriage is agreed upon by both parties the family will then read Surat Al – Fatiha to bless the marriage. The ceremony is concluded with the signing of the binding contract, which legalizes the marriage both religiously and civilly.
Following the ceremony the couple was taken to Al Husseiniya Palace via motorcade for the reception, entertainment, and state banquet. The procession made its way through the streets and gave the people a glimpse of the future leaders of the country. The royal wedding of Crown Prince Hussein to Rajwa Al Saif brought joy and awe to all across the country.