Welcome back to the Viking Times!  I hope you all had an amazing summer.  School is back in session and so is "The Morning Show."  On Wednesday, September 13th, Apple TV+ will drop a new season of "The Morning Show" with Jennifer Aniston and Reese Witherspoon.  Here's a recap of the past two seasons and what will we expect from the third (and don't worry, I will not spoil anything in season three, I haven't watched it.  Yet…).  Watch the trailer here.
Over the summer, I discovered "The Morning Show."  As a superfan of Jennifer Aniston, I fell in love with Aniston's character; Alex Levy, a feministic, powerful, anchor who is trying to maintain her fifteen-run on UBA's "The Morning Show" (UBA is the fictional network "United Broadcasting Association").  Her compelling character is different from Aniston's usual ditzy characters, save from her 2014 role of Claire in "Cake" (highly recommend if you are in the mood for a tear-jerker).  As each season is released, more and more secrets are unearthed with drama lurking around every coroner.
In the first season, we are met with the firing of Mitch Kessler, accused of sexual misconduct (roughly based on the Matt Lauer scandal in 2017).  As UBA is thrown into disarray, investigating the case, and attempting to cancel Alex Levy, Bradley Jackson (Reese Witherspoon) catches the eye of the country with her powerful statement during a coal mine protest in Virginia.  In search of a new co-anchor and in hopes of saving her career, Alex, though hating Bradley's bold statement, jumps on the opportunity to get Bradley up to New York to see if she is a good fit for the show.  None of this can go without the approval of Cory Ellison (Billy Crudup) and Fred Micklen (Tom Irwin).  Cory is the president of the news division and Fred is CEO of UBA.  Eventually, Bradley is thrown into the position of co-anchor and tension rises.  Behind the cameras and the lights, the Kessler investigation is still on.  Producer Chip Black (Mark Duplass) tries to keep everything under control.  Numerous employees are being interrogated, and some women are keeping secrets.  As the season goes on, Mitch gets slammed with hatred as UBA tries to hold itself together from lawsuits and worried employees.  Complex relationships (personal and social) turn up at every corner.  Eventually, at the end of the season, Alex and Bradley overthrow UBA (with the help of Cory and Chip), getting Fred Micklin fired, exposing all of the secrets of Mitch Kessler's case, and bringing just to the unjust.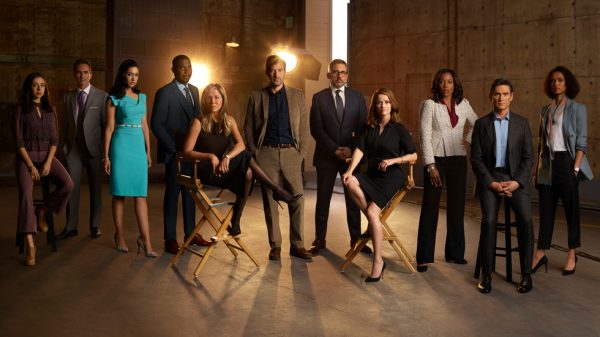 Woohoo!  Victorious!  Actually, not entirely.  We start the second season immediately after the exposé; sending everyone into chaos.  CEOs are mad, producers are trying to cover up the "mishap," and the country's trusted news anchors made history.  Then, there's a quick flash-forward to March of 2020 when COVID-19 has taken effect on the country, showing empty streets in despair.  But, this only lasts a couple of minutes before we flash-back to New Year's Eve, 2019, just three months earlier (I do apologize for jumping around so much.  I'm trying to make this as clean as possible).  Within the wee beginning minutes of the second season, we watched three different periods, all very different.  The current time, New Year's Eve, is a joyous one; Bradley Jackson is doing a song and dance with co-anchors in the holiday spirit (a little cringy).  But it doesn't take long for us to realize that Alex Levy, one of America's trusted anchors, is nowhere to be found.
Let's move up 500 miles to middle-of-nowhere Maine.  In an isolated cabin, with snow profusely coming down.  Alex Levy has retired from her journalism duties to take time to herself.  Writing books.  Okay Alex, what happened?  Before you can ask her herself, the CEO of UBA, Cory Ellison, finds his way up there, begging for her to come back to New York to maintain Bradley's growing popularity.  Eventually, Alex comes out of retirement, causing tense relations and the firing of an anchor. This causes a stir of racial discrimination.  The new president of the news division, Stella Bak (Greta Lee) is demanding equal representation.  Rumors spread like wildfire with the upcoming release of author Maggie Brener's (Marcia Gay Harden) tell-all book about the hidden (and brief romantic) relationship between Mitch and Alex.  Bradley encounters Laura Peterson when she interviews Alex before the release of the book; and sparks fly between Bradley and Laura.  Of course, this would cause quite a scandal, they have to keep their relationship under wraps.  Alex then battles with loneliness as Mitch has moved to Italy.  Even though he's across the pond, the wake of his scandal still has a major effect in the States.  Still deeply connected with Mitch, Alex can't live without him.  Sparing all of the amazing subplots, I must leave this vague, and I do apologize.  But, COVID-19 is on the rise and taking control over the world.  By the end of the season, everyone is working remotely.  Secrets are exposed, COVID outbreaks, and relationships are jeopardized.  This has us all wondering, how will The Morning Show operate online?
As for season three (it will already be released by the time this article is published), we are in for quite the storm.  Supposedly, Jon Hamm is a new character (Paul Marks) and he causes quite the back-stabbing scene.  A cyber attack on UBA, Alex Levy begging for recognition, and Cory Ellison punching a wall as UBA hits a potential financial disaster.  I, personally, based on the trailer, something bad is going to happen to both Alex and Bradley due to Paul Marks' involvement at UBA (and Alex…….).  At the behind-the-scenes at the end of season two, Jennifer Aniston says when asked about season three, "Oh, everybody's got some secrets.  I think you'll like it.  Well, you'll see."  Well, I'm sure she's right.
Again, I apologize for the vague review.  There are so many different subplots that cannot be revealed or else this article will go on for hours and I may bore you to death.  So, tell me, would you watch "The Morning Show?"