Welcome to the first of many joint movie reviews by Lily Jarbeau and Shannon Raneri. While we are juniors in the class of 2025, we share a common love for movies.  Wanting to be active in the WHS community, we aim to write a movie review every month at least.  
"Hercule Poirot is on the case!" remarked critics,  and indeed he is.  On the 15th of September, "A Haunting in Venice," was released; adapted from Agatha Christie's "Hallowe'en Party;" one of her scariest books.  Four days later, we went to see the movie to make this our first review.  This week, we will include a brief rundown of the new movie, compare its predecessors, and then communicate our opinions on the movie together.  The new movie follows the story of Christie's famous Belgian detective, Hercule Poirot, living isolated in Venice during his retirement. His old friend, Ariadne Oliver (Tina Fey), a mystery writer, comes from America to invite him to a seance in Venice on Halloween Night. Reluctantly, Poirot agrees. Little does anyone know, this soon turns into a murder case. Hercule Poirot must come out of retirement to solve one of his scariest cases. Ghosts of the past haunt every character, if the ghosts don't kill them first. Hercule Poirot uses his famous skill to the test; attempting to solve the murders while remaining peaceful with the ghosts of his own past.
Since the book's publication in November of 1969, it has been adapted into a series named "Agatha Christie's Poirot" (the 13 season-show consisted of episodes following a Hercule Poirot mystery), to BBC Radio in 1993, and now we have this new movie to start off the school year. Since its release, it has received acknowledgment reviews from film critics all over the world, with a grossing number of $73 million already (data may have changed since publication).  This is not the first Poirot movie, as he's been portrayed by many actors across 16 different films, with "Murder on the Orient Express" (2017) being the most popular. In this particular film, Kenneth Branagh plays Poirot for the third time. He is also accompanied by many established actors and actresses, including, but not limited to Kelly Reilly, Tina Fey, and Michelle Yeoh.  Kenneth Branagh also starred and directed in two other Poirot movies before his 2023 film. "Murder on the Orient Express" (2017) and "Death on the Nile" (2022) were smashing successes. "Murder on the Orient Express" has actors such as Dame Judi Dench, Johnny Depp, Michelle Pfeiffer, Penelope Cruz, Willem Dafoe, and Tom Bateman.  Bateman is recast for the same role as Poirot's best friend in "Death on the Nile," starring alongside Gal Gadot, Letitia Wright, Sophie Okonedo, Annette Bening, Armie Hammer, and Russell Brand.   
If we were to compare the three movies, we would agree that "Murder on the Orient Express" was the funniest of the three by far.  The other two movies were more solemn.  The recent filming techniques were a little shakier, quite literally. After the movie, we both said that we thought one scene was filmed with a selfie stick held by Kenneth Branagh as he was running down a corridor.  The takes and shots are fairly quick unless there is an element of foreshadowing, when the camera lingers on a character or an object for a hair longer; just long enough for the audience to know that the person or object will be very important in later scenes.  The movie didn't have as much humor as its predecessors, but when there was, it was perfect.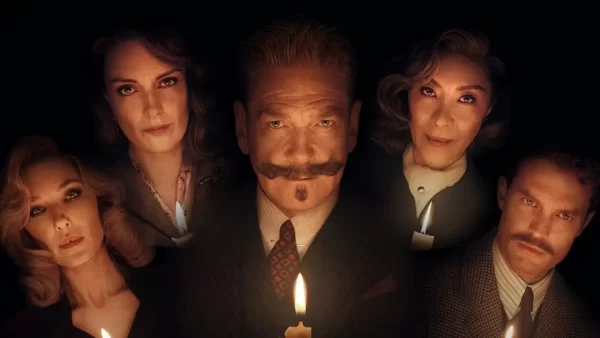 Though we can't consider it a horror, it was quite scary at times. There were many jumpscares, and Shannon screamed in the theater at one point (good thing it was pretty empty). Of course it involved a murder, as all of them do, but it's been the first movie to involve paranormal activity. It was refreshing and made it stand out from the rest. The movie is very dark as well, literally and figuratively, while surprising us around every corner. We can't say too much without spoiling, but we hope this encourages you to see it.
Overall, the movie was very good and took on a different twist. We became invested in who did what, and why this and that happened. There are many mixed reviews, equal amounts of 5 and 1 stars. But we would give it a solid 3.5 out of 5. We really liked the thriller part, but some of the jumpscares were a little too much for someone (Shannon, as she doesn't handle thriller movies well). She clung onto Lily's arm like a monkey to a tree!  All in all, we love a good excuse to see a movie together.  Whether it be the Celine Dion movie that Lily got dragged to or Lily's recommendation for a movie review ("The Mother"), movies are something we love and enjoy watching together. Look forward to many more reviews in the future.