The MLS league stands for Major League Soccer. Major League Soccer is a pro men's soccer league in the USA and Canada. Their are 29 teams; 26 are in the US and 3 are in Canada. The MLS league was founded in 1993 with only 10 teams and struggled financially in it's earlier stages. As of today, they have the 4th highest attendance rate of any American sports league. Although much smaller than many of the European leagues, the MLS league still boasts large numbers with many famous players attributing to it. A very famous player, Lionel Messi, plays for Inter Miami CF, a MLS team based in Florida. The season starts from late February or early March to mid or late October. As of today, September 25th, 2023, there is only a month left in the season.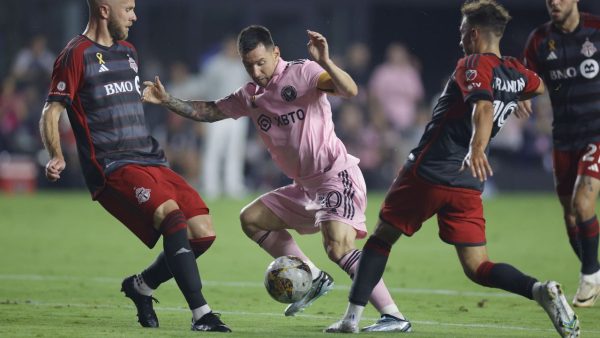 Messi
Lionel Messi plays for Inter Miami CF. Despite being one of the best players in the league, and the world, Inter Miami is currently having a rough season with 9 wins, 5 ties, and 15 losses. However, As of right now Messi is currently hurt with a leg injury. Messi's current contract for Inter Miami lasts for at least two and a half seasons, where he will be payed between 50 to 60 million US dollars annually.
Current Standings (As of September 25th)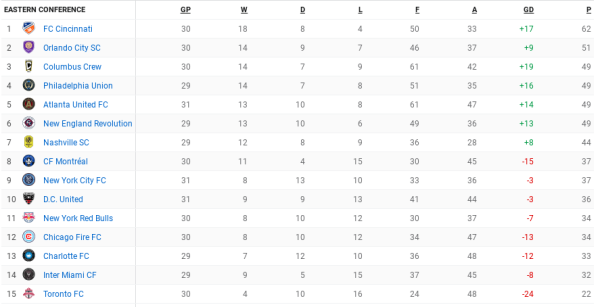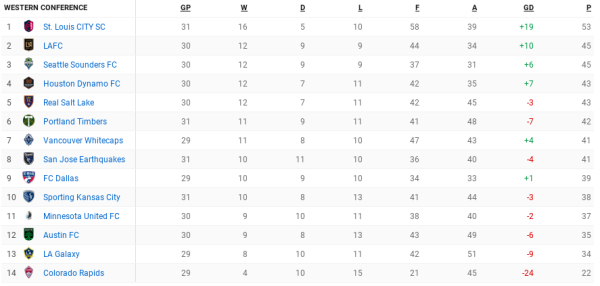 Photo Courtesy of ESPN
What does each column stand for?
GP: Games played
W: Wins
D: Draws
L: Losses
F: Goals for (how many goals they scored)
A: Goals against (how many goals other teams scored against them)
GD: Goal difference (Goals for – Goals against = GD)
P: Points (Teams receive three points for a win, one point for a tie, and zero for a loss)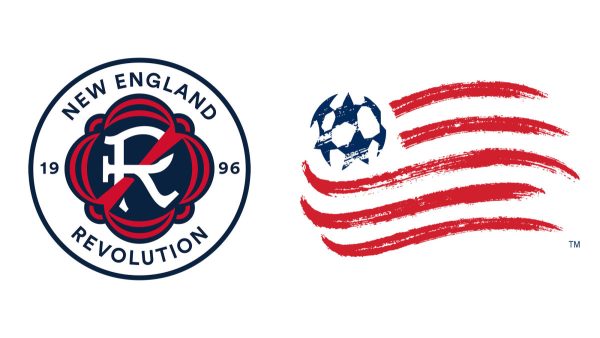 (First logo is the new one, second is the old one)
New England Revolution
The New England Revolution is the MLS team that plays for all of New England. The Revolution is based in Foxborough, Massachusetts, and play their homes games at Gillette Stadium, alongside  the New England Patriots. The field is converted between a football field and a soccer field between games. The Pro shops at the stadium are often stocked with mixed soccer and football equipment, depending on the day you go.
The Revolution has had a pretty good season, going 13 wins, 10 draws, and 6 loses. The Revs are currently undefeated at home and are the only team with that title as of this season. The Revs hope to keep that title as they go into this Saturday @Home 7:30 versus Charlotte FC from Charlotte, North Carolina. Shown here is the Revs roster.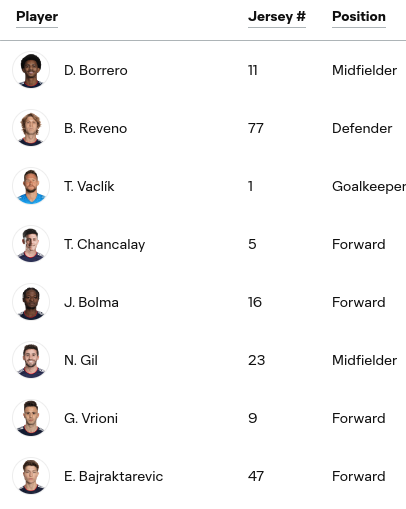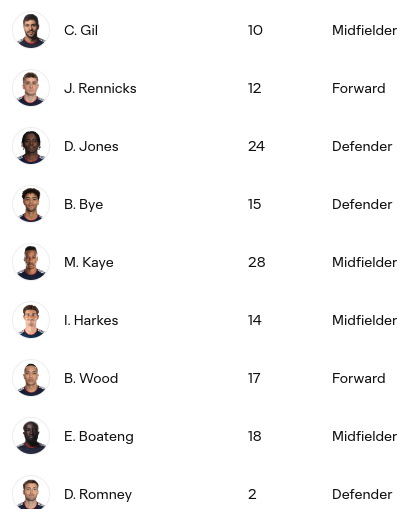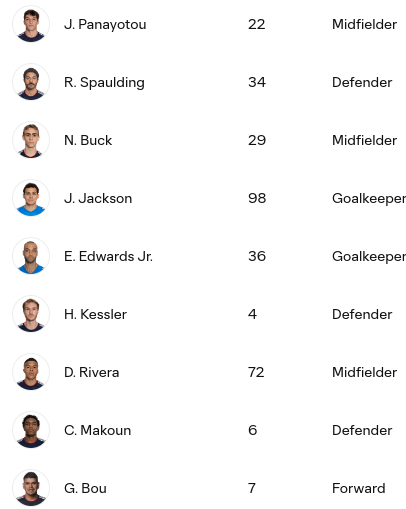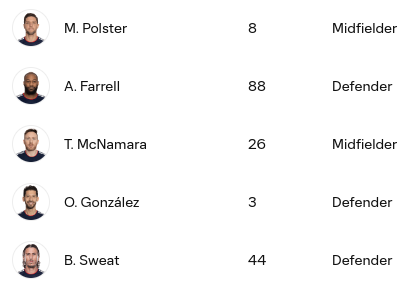 Opinions on how the season will end and has been.
Although the Revs are currently still in regular season, with October coming in soon the playoffs will arrive. I talked with Mateo, Amaury, and Tomas on their thoughts on how the Revolution playoffs will go.
Mateo: I think the Revs can do well in the playoffs. I think they will finish strong as always. Hopefully they dont crash out of the playoffs like always and do good this year with players like Carles Gil and Gustavo Bou, they should be fine. They've been strong up to now and hopefully they continue like that.
Amaury: The Revs started off strong, they were 2nd place for a while. But with the injury of Dylan Borrero it's gotten worse and they've knocked down to 6th. Hopefully we can maintain the decent midpoint we have right now but we can't choke in the playoffs. I think the season will end well as long as the team does not choke.
Tomas: I think New England will finish 3rd looking at the upcoming games.
I take a more optimistic approach personally like Tomas and think New England will finish at 3rd.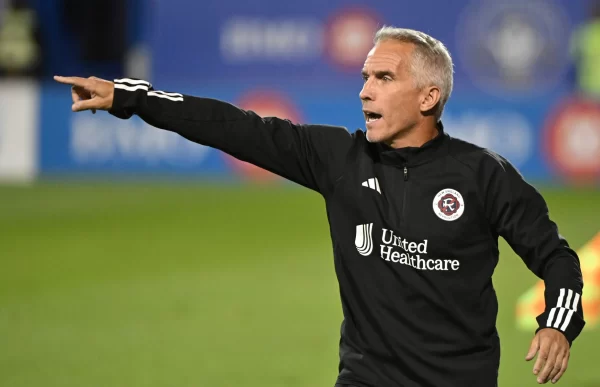 Favorite Players
The Revolution has many good players who are fan favorites, although every player on the team is amazing, some of the players have special characteristics which make them stand out more. I talked with Fabiano, Shak, and Tomas on what their favorite players are and why.
Fabiano: I'd say Carles Gil because he's a very calm and physical player, his iq matches his feet and he's always unmatched on the field.
Shak: Carles Gil, I like him because he's a very technical player and he's good on the ball.
Tomas: Jack Panayotou is my favorite player because he has really good vision on the field and has a potential to be something big (he is currently 19) but I think the best player on the team is Tomas Chancalay even though he is a loan player, he's a scoring machine.
Personally, I like Jack Panayotou a lot as well and I think he will have a bright future on the team as he is only 19 years old.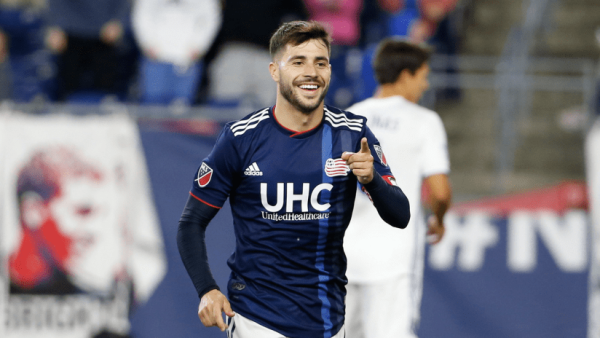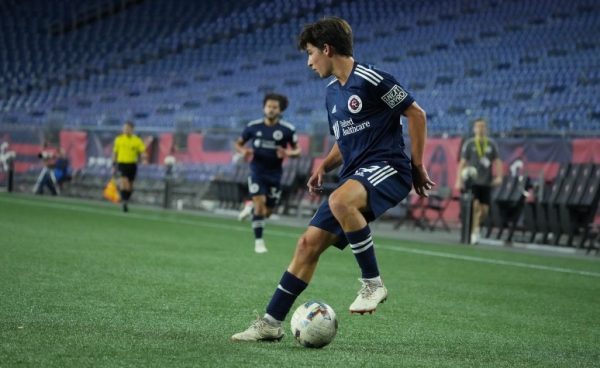 Top: Carles Gil, Bottom: Jack Panayotou
Ending
The MLS league and the NE Revolution both have bright futures and I'm excited too see how it ends and turns out. Good luck to the Revs and make sure to tune in for NE vs Charlotte this Saturday (9/30/23) at 7:30pm!