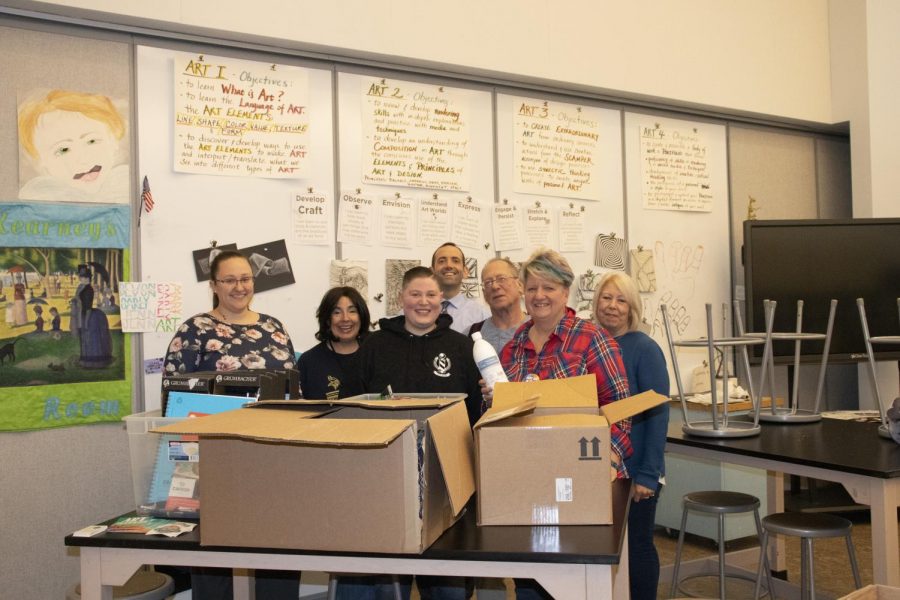 WHS alumna donates art supplies in honor of former student
Kathryn Adelstein, a young woman from Winthrop who has recently passed, was described by her former art teacher, Mrs. Kearney, as a person that was "always smiling"  and "quite creative and talented." Adelstein was an alumna of WHS class of 2009. Her recent untimely passing moved and affected many people, including Lisa Pellechia, a WHS class of 2007 alumna. The news moved Pellechia so much she decided to donate a significant amount of art supplies to Winthrop High School Art Club. 
After hearing about the loss, Pellechia and her wife made the decision that they wanted to make a donation of art supplies to the Art Department and the Art Club at WHS in honor of Adelstein. Pellechia and her wife, Katie, personally had purchased about five-hundred dollars worth of supplies, and received three-hundred dollars in donations from an Artist & Craftsman in Saugus, according to Principal Crombie. 
Pellechia  delivered the supplies to the school on Friday, November 22 where they were graciously accepted by Mrs. Kearney, Ms. Moore, and Principal Crombie.
"I was overwhelmed by the selfless and generous donation," Kearnery said. Some of the items donated were new canvases, paint brushes, speciality mediums for paintings, glue, sharpies, watercolor kits and markers.
Kearney expressed that she felt this donation was important because it  "showed compassion"  and allowed Adelstein's family to "find some small comfort in knowing that someone was moved to memorialize her and her spirit in this way."  She also shared that she was excited about her students being able to experiment with different types of art, such as paint pouring and the use of alcohol inks, due to the donated supplies. 
During the after school donation event, suggestions floated around the room and it was eventually decided that the WHS art club would be officially renamed the Kathryn Adelstein Art Club in honor of the joyful, creative young woman. There is also currently a movement to create an Art Scholarship in Adelstein's 's name, indicating that her love for art will inspire others to help out their community for years to come.